The following post is sponsored by EASY-OFF® Oven Cleaners. I was compensated for this post; however all opinions are my own. Read my full disclosure policy or contact me with any questions.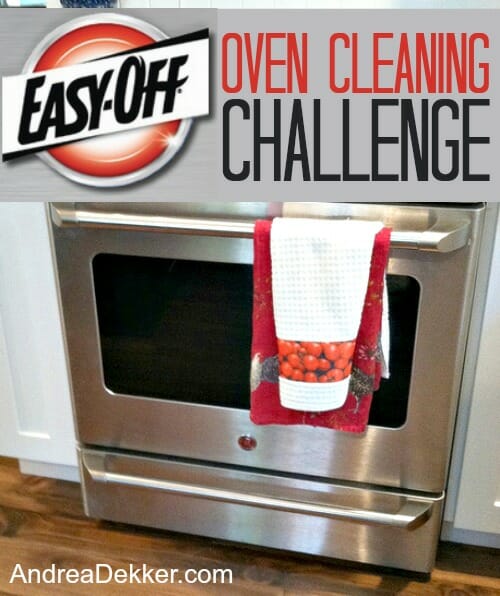 If you're anything like me, your kitchen (and specifically your oven) have probably been getting a workout the last few weeks.
I almost always do significantly more cooking and baking around the holiday season than any other time of year. This year was probably even "worse" than normal as I didn't do much baking at all over the summer due to being somewhat nauseous for most of the summer 🙂
So ever since I started to feel a little more lively in mid-September, my kitchen hasn't had much of a break. Yes, Dave is thrilled!
As many of you know, we completely renovated our kitchen last summer, which resulted in a brand new range that I absolutely love.
BOTH ovens were so shiny, clean, and new — however, that didn't last long.
I can vividly remember my first big spill.
I was making Sweet N' Sour Pork in a roasting pan (not a slow cooker) and as I pulled the pan out of the oven, Nora started walking my way. I tried to quickly pull the pan out in order to shut the door before she got too close. But in the process, I moved the pan a little too rapidly, and all the juices (a.k.a grease) sloshed out onto the bottom of the oven.
Of course, I was just pulling out the pork to test it — I still had to put it back in the oven for another 30-40 minutes… which meant all that juice and grease was FULLY baked on by the time the meat finished cooking.
If only I had known about the EASY-OFF® Oven Cleaners back then.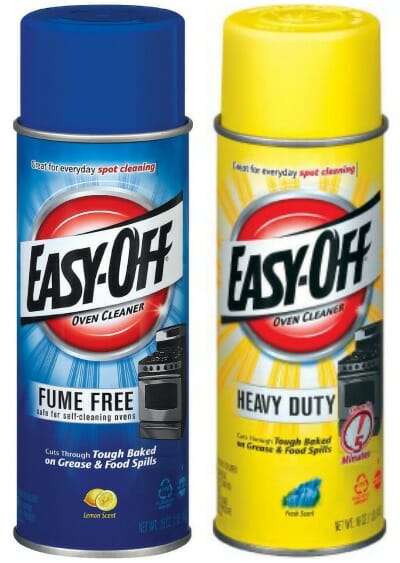 It was summer at the time, so I didn't feel like running the lengthy self-cleaning cycle and heating up our entire kitchen. So instead, I spent a good hour (or more) scrubbing and picking at all the gunk on the bottom of our oven. Not cool!
To be perfectly honest, I never ended up getting all of it out, but just lived with it figuring no one has a perfectly clean oven.
However, when I was recently asked to review the new EASY-OFF® Oven Cleaners, I immediately wondered if they would even be able to remove that super stuck-on grime from months ago.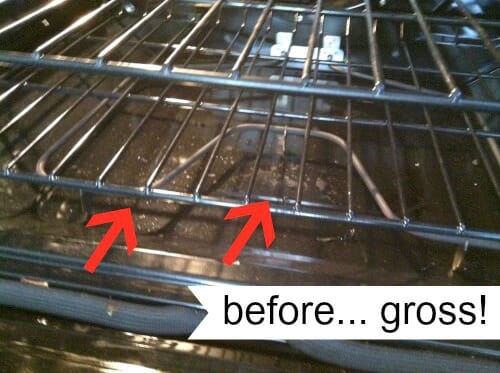 Wouldn't you know… it worked!
With just a quick spray of EASY-OFF®, the gunk and grime completely wiped clean with a damp cloth — NO elbow grease or scrubbing required. Honestly!
I was super skeptical that a simple aerosol spray would be powerful enough to clean my oven (especially since the junk had been stuck to the bottom for a long time) but I have to admit that I was pleasantly surprised by how quick and easy the wiping up process was.
The whole process took me MAYBE 10 minutes of hands-on time (plus 2 hours of waiting after I sprayed the cleaner in the oven).
Looks as good as new — just in time for more holiday baking 🙂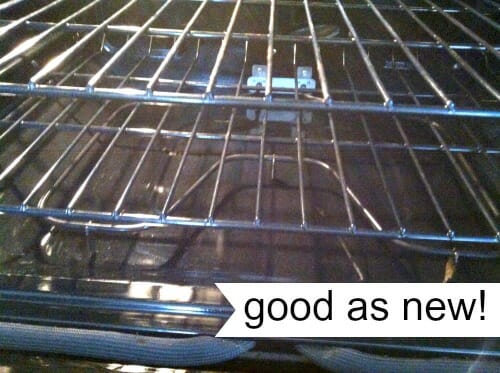 I'm officially a fan of the EASY-OFF® Oven Cleaners — mainly because they work (imagine that!) However, there are a bunch of other reasons I'd highly recommend these oven cleaners for all you holiday chefs out there (or anyone else who might need to give their oven a little TLC).
A Few More Reasons I'm Loving EASY-OFF:
1. It's Fume Free:
Obviously, this one is a biggie for me with being pregnant and having a toddler around. I like that it's not smelly at all. In fact, it had almost no smell — except for a hint of lemon (which I love).
2. It's Safe for Self-Cleaning Ovens:
When I was originally asked to write this review, I didn't think I could do it because most of the other oven cleaning products I've seen in the past were NOT safe for self-cleaning ovens. However, when I realized that EASY-OFF® was perfectly safe for self-cleaning ovens, I was super excited.
Finally, something I can clean my oven with when I don't want to spend ALL day waiting for the self-cleaning feature to run and heat up our entire kitchen!
3. It's Great for Heavy-Duty AND Every-Day Cleaning:
So this is another awesome feature that I haven't seen in other oven cleaners. Not only can I use EASY-OFF® for my big "after the holidays kitchen clean-up", I can also use it any day of the year for minor spills, or even to clean the exterior of my stainless steel oven and stove-top.
This means I need fewer cleaning products cluttering up the area under my sink… and I don't need to worry which product to use for certain spills. EASY-OFF® can handle them all!
4. It's Frugal and Readily Available:
I hate spending money on expensive cleaning products. Period. Even if they work, it just bugs me that I need to spend so much extra money just to keep my home clean.
So I was thrilled to see that a full 14.5 ounce can of EASY-OFF® Fume Free Oven Cleaner was only $3.99 at my local grocery store. It's also available at Amazon.com!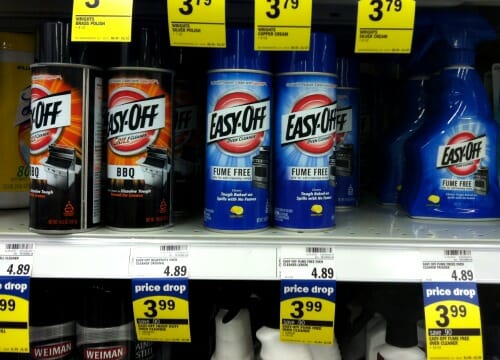 5. It's Fast and Easy:
I'm saving the best for last! After spending all week preparing a Thanksgiving feast (or even after spending 20 minutes throwing some cookies in the oven) the last thing I want to do is spend several more hours cleaning up the kitchen.
Can anyone relate?
With EASY-OFF®, all you need to do is spray the cleaner into a cooled oven, wait a few minutes, then wipe out the residue with a damp cloth. There's no scratching, picking, scrubbing, or hovering over your oven for hours and hours. Just spray and wipe away!
With a super busy toddler, a baby on the way, a husband who just started basketball season, and a LONG list of holiday baking and freezer cooking I want to accomplish, I don't have extra time to spend cleaning my oven.
Thankfully, with EASY-OFF® Oven Cleaners I can enjoy the holidays (and my family) without worrying about cleaning up after!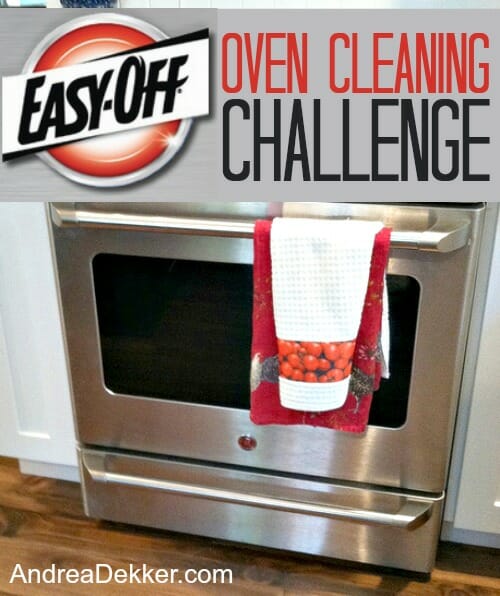 Don't Fear The Cleanup!
Get EASY-OFF® Heavy Duty and Fume Free aerosol oven cleaners.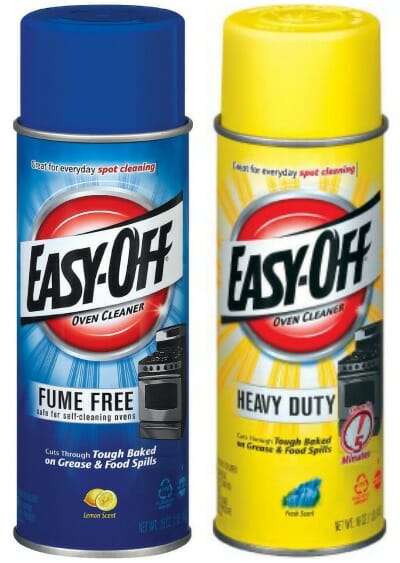 What is your messiest oven mess to date?