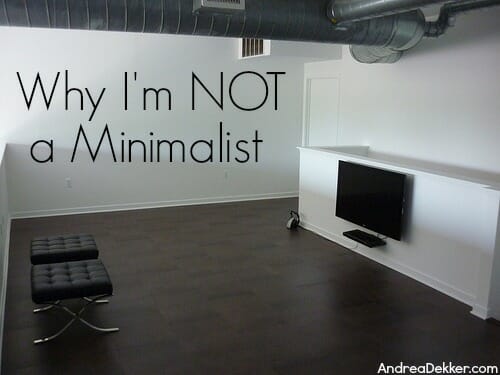 When people learn what I do for a living, they often assume I'm a "minimalist" and can't stand any amount of STUFF in my home and life.
However, that is absolutely not true at all.
I actually LOVE stuff — just as long as I have a place to store that stuff, money to pay for that stuff, time to clean that stuff, and an actual use for that stuff.
No, I don't buy stuff just to buy stuff.
No, I don't bring stuff (even free stuff) into my home unless I have a use for it AND a place to put it.
No, I don't hoard extra stuff "just in case".
But I DO like SOME stuff.
I like extra pillows and blankets on our couches, chairs, and beds.
I like old-fashioned and antique decorations on our shelves and counters.
I like pictures on our walls.
I like toys — as long as we play with them and have a place to store them.
I like books — as long as we read them and enjoy them.
I like clothes — as long as we wear them and feel great in them.
I like kitchen gadgets — as long as I use them regularly.
I like my extra freezer and pantry stockpile — as long as we actually eat the food.
However, as I mentioned above, I ONLY like this stuff IF we have the time, space, money, and energy to take care of, store, buy, and use this stuff.
If you ask me, minimalists are essentially the exact opposite of hoarders. If you look at the definitions of both, I think you'll agree:
Hoarder: Someone who gathers or accumulates much more than necessary or essential. (source)
Minimalist: Someone who owns or offers no more than what is required or essential. (source)
Obviously, if I had to choose to be either a hoarder or a minimalist, I would most definitely choose the minimalist route — but neither option is really how I would ideally want to live.
While I'm always intrigued by people who live in teeny tiny homes with only the basic life essentials, I'm also a fan of "everything in moderation".
Just as hoarders often live their life obsessing over KEEPING everything, minimalists can tend to live their live obsessing over PURGING everything or doing without things that could make their lives simpler, easier, and more convenient.
While I don't think we need to live excessively extravagant lives, I do enjoy my stuff. I enjoy using tools that help me to simplify, I enjoy having extra food and toiletries on hand just in case we run out, and I enjoy all the extra space we have in our house!
If you come to my house, it will almost always be relatively neat and organized. We won't have mass amounts of dirty dishes piled up on the counters, we won't have excessive amounts of paper shoved in every drawer and file, we won't have toys, games, and books covering every surface, and we won't have clothes lying all over the floor (unless Nora is helping me with the laundry).
Yes, we have plenty of that stuff, but only as much as we need and use, and only as much as our home can comfortably hold.
While I definitely lean more towards the minimalist side of the spectrum than the hoarder side, I also like my stuff and enjoy having a "warm, cozy" house instead of a more "stark, sterile" home.
I will still keep all my white though!
What are your thoughts on minimalism?