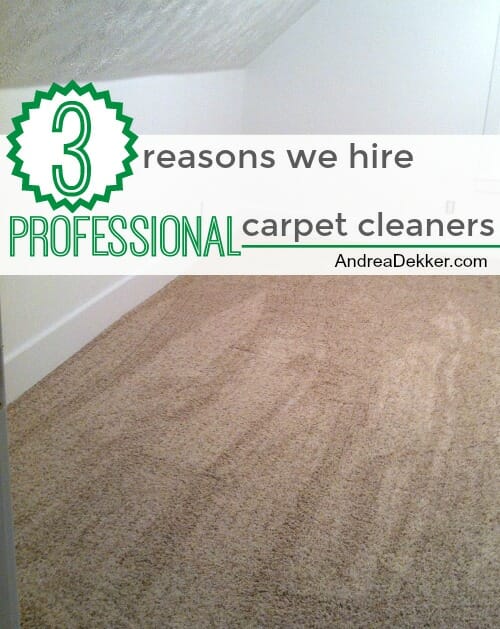 Over my 9 -10 years of blogging, I have gotten SO many questions regarding carpeting… more specifically:
1. How often we clean our carpets…
2. What tools we use to clean them…
3. If we hire a professional carpet cleaner or try to DIY…
Here are my quick answers:
1. I vacuum our carpets 2-3 times every week. I spot-treat as necessary. We get our carpets professionally deep cleaned once a year (or more if needed).
2. I have a Sanitaire vacuum and a Hoover canister vac (with all the attachments). I also have a can of spot treatment I purchased from our carpet cleaners
3. We ALWAYS hire professionals to clean our carpets.
I know it might seem odd that my frugal, DIY self would want to pay someone else to clean our carpets every year… but as I mentioned in this post, there are just some things Dave and I feel are worth paying the pros for — and carpet cleaning is definitely on that list!
Our carpet cleaner (TLC Carpet Cleaning) is my parents' neighbor, so I grew up with his family and we always had him clean our carpets. When Dave and I got married, it just seemed normal to continue hiring him for our once-a-year carpet deep cleaning needs.
Since then, we have faithfully had our carpets professionally cleaned each year, despite the fact that I've been sent numerous in-home carpet cleaners and steamers for review (I gave them all away).
Today, I'm sharing why!
NOTE: This post is not sponsored in any way — my carpet cleaner doesn't even know I'm publishing it today.
Miss Nora "vacuuming" (2013)
1. Professional carpet cleaning is SO much faster.
We get our carpets cleaned once a year (sometimes more if we're doing lots of construction projects) and it takes LESS THAN 1 hour for him to clean all the carpet in our home — a large living room, stairs, 2 good size bedrooms, and the landing area.
It's amazing!
In the 2 experiences I've had with using an in-home carpet "steamer" or cleaner, it has taken me almost an hour just to get everything set up and running. Not to mention the time it takes to continually empty out the dirty water and replace it with clean water.
We do usually move almost all the furniture in the rooms (besides the beds and couches) so it's easy for him to clean without stopping to move more furniture, but even still, there's no way I could come close to cleaning all our carpets in less than an hour — it would probably take me the better part of a weekend if I were doing it with an in-home unit!
.
2. Professional carpet cleaning is SO much more powerful.
If you've ever had your carpets professionally cleaned, you know how loud it can be if you're out by their truck/van. The motors are so powerful — it's really not even comparable to using any sort of DIY cleaning unit.
We've gotten large stains in our carpeting that I COULD NOT GET OUT… only to have our carpet cleaner come and have the carpet looking like new again in 10 minutes.
Seriously, Nora once dumped an entire bottle of Kitchen Bouquet on our light colored carpeting. I tried 10 different things to get that stain out… then I contacted our carpet cleaners and it completely "disappeared" like magic. That was 6 years ago and the stain has never come back!
.
3. Professional carpet cleaning gives me SO much more peace of mind.
I've always had a "thing" for dirty carpets, which is probably why we've chosen to go with mostly hard flooring on the main floor in our home.
I CANNOT stand dirty carpets… especially with little babies crawling and laying on the carpets (which we've had for the last 7 years).
I vacuum regularly (2-3 times per week), we don't wear shoes inside, we don't have pets, and we rarely eat anything in carpeted areas. Even still, there is so much dust, human hair, dead skin cells, little bugs, etc. that can get embedded into our carpet fibers on a daily basis — just from normal life.
Knowing we get all our carpets thoroughly deep cleaned by a professional every year gives me a little more peace of mind… and yes, I know this is just my own weird carpet issues, but truly, our carpeting looks and feels brand new every time we get them cleaned.
.
Having your carpets professionally deep cleaned probably isn't as expensive as you might think either.
I've called around to a few local companies (mainly for research on this post!) and we could get all the carpets in our home cleaned for less than $300.
Considering the amount of time, effort, and sanity this saves me — and the fact that it's only a once-a-year expense for our home makes it more than worth it in my opinion.
Less than $1 a day for professionally cleaned carpets? Yes please!
I know this is just a personal preference for me… not the "only" way of doing things. I have friends who prefer to use their in-home carpet cleaners on a monthly basis (or weekly when necessary!) — and that IS a perk of owning your own unit. I just know I personally wouldn't take the time to get my steamer/cleaner out that regularly, so by the time I got around to cleaning the carpets on my own, they'd be extra dirty and it would take me even longer.
My goal for this post is not to say every person should pay to have their carpets professionally cleaned, but rather to share what works for us and why we choose to pay professionals for this job… now I can just refer all future carpet questioners to this post!
How do YOU clean your carpets?