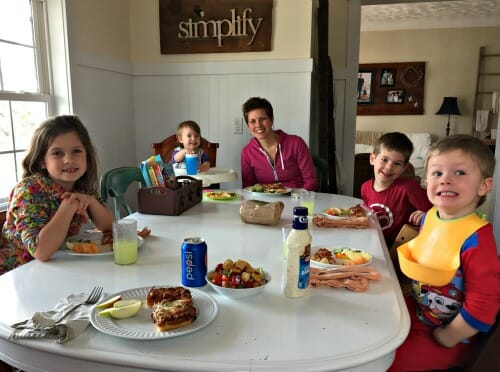 I know it's technically not Spring quite yet… but we are SOOOOOO close! Just a couple more days!
My kids have been counting down the days until the official start of Spring because we told them we would put up the trampoline they got for Christmas "in the Spring" — which they interpreted as "the very first day of Spring".
Since our backyard is still covered with snow, I don't think they will be jumping on the trampoline any time soon, but it definitely IS on our to-do list over spring break (if the snow clears up!)
We have a short list of fun activities we hope to do over Spring Break this year — nothing crazy or expensive, but I'm certain our kids will enjoy themselves. Hopefully they'll get tired out during the day so they go to bed nice and early, giving the adults a little extra time to relax in the evening.
I have 2 Netflix movies I want to watch sometime soon, 3 books on my phone, and I'm SLOWLY working my way through the most recent season of Fuller House.
I know that if I don't finish these by the end of spring break, I won't get to them until summer as I'll be doing yard work most evenings once the weather warms up!
It will warm up eventually… right?
My Whole Grain Bread Baking Update:
After several months of baking hard, dense, brick-like loaves of whole grain bread, I have "turned a corner" and am FINALLY making deliciously soft, fluffy, high-rising 100% whole grain bread with grain I grind myself at home!!!
Seriously, I could put 100 more exclamation marks behind that last sentence… THAT'S how excited I am!
Yes, yes, I know everyone wants "the recipe" but the truth is, I don't really have one to share just yet.
I've been mixing and tweaking and changing and testing a compilation of at least 10 different recipes as I try to figure out what I like best. I have a whole notebook full of tips, ideas, measurements, weights, etc. that I've tried over the past 4 months… and I'm finally starting to figure out what methods seem to work well for me.
Once I find a specific recipe that works every single time, THEN I'll share it on the blog — but it will most likely be a while before that happens.
HOWEVER, I can say that without a doubt, the biggest "game-changer" for me has been getting a stand mixer with a dough hook attachment!
NutriMill sent me their Artiste stand mixer to review about a month ago… and WOW is it amazing!
I've been able to mix 12+ dozen cookies at one time, and I'm told it can handle up to NINE pounds of bread dough (I've only tried 4 pounds so far).
I can make the exact same recipe using the exact same ingredients and the bread will turn out significantly better, lighter, higher, softer, etc. if I knead it in the NutriMill versus kneading it by hand.
I honestly think I would have given up on my whole grain bread baking journey if I hadn't tried kneading the dough in a stand mixer — it makes THAT much of a difference!
.
Enough about me and my bread, here are some highlights from the kids…
Nora still LOVES school, her teacher, and all her classmates (she really does have such a fun class this year!)
She is taking a ballet class and seems to really enjoy it. I'm not big on dance classes, but we're trying it until the season is finished in June!
We also chopped her hair (per her request) — I love her with short hair! Plus, it's SO much easier to brush!
Simon is still basking in the glory of his birthday a couple weeks ago — all the new toys, special parties, fun crafts and games, special rewards at school, extra treats, etc. etc.
He talks in detail about all his favorite birthday things, and he's already helping James come up with ideas for his birthday party (in July!)
In case you can't tell, Simon still loves blue!
James is such a funny boy — always cracking jokes, making silly faces, talking in strange voices, and trying to get everyone to laugh.
He is BUSY and always getting into something.
James has started taking Clara on as his little "project". He's always asking to feed her, "help" her with things, and he regularly brings her toys, water, snacks, etc.
He'll be the good big brother when Simon is gone all day at Kindergarten next year!
Clara is still as cute as ever — of course, I'm not biased or anything.
Her hair is growing like crazy, which means pigtails are a regular occurrence (my favorite!)
Clara is starting to talk, mimic, and make animal noises. She babbles non-stop during the day, and has a fairly low voice — which always catches people off guard considering how tiny she is.
.
My Mother's Ring:
I got an early Mother's Day gift this year… and by "gift" I mean, I totally picked it out on my own. 🙂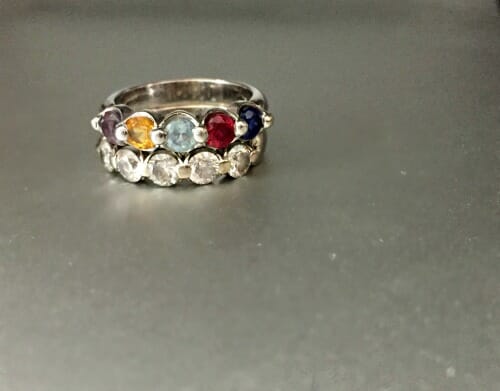 I've had this exact ring pictured in my brain for years and years (because I always thought I'd have 5 children). I designed it to match my wedding band in terms of style as my wedding band has 5 diamonds in the exact same setting.
NOTE: My mother's ring (and my wedding band) were both custom-created by Engel's Jewelers — the place I've purchased every single pieces of "real" jewelry I own!
The stones are my own birthstone (Alexandrite), and then the 4 kids' birthstones (Citrine, Aquamarine, Ruby, Sapphire). I'm super happy with how it turned out!
In case you haven't noticed, Dave and I are pretty relaxed in the "gift-giving department"… in fact, we rarely ever get each other gifts for anything!
Dave is not a gift-giver, so if there's something I want, I mention it to him and then say, "I'll get it for myself sometime, OK?!" He just smiles and nods! 🙂
It works out well for both of us!
.
Our Week's Menu Plan:
This is what we actually ate last week… I've included our breakfast menu this week too.
One thing I want to mention… I roast 2 huge pans of vegetables every 3-4 days and then reheat a variety of them in my cast iron pan every single morning. I often eat them on a bed of spinach along with whatever else I make for breakfast. Dave and Clara often eat them as a side dish along with their breakfast. The older 3 usually do not eat them unless I "hide" them in eggs or quiche!
I get questions on this all the time, so I want you to know that I "practice what I preach" and I personally eat veggies for breakfast every single day!
SUNDAY:
Breakfast = homemade whole wheat cinnamon rolls, scrambled eggs, roasted vegetables, fruit
Dinner = leftover roasted chicken, mashed potatoes, stuffing, butternut squash, roasted vegetables, applesauce (pictured above)
MONDAY:
Breakfast = oatmeal pancakes, scrambled eggs, bacon, roasted vegetables, fruit
Dinner = chicken soup, fresh bread, spinach salad, peanut butter truffles
TUESDAY:
Breakfast = oatmeal pancakes, fried eggs, cheesy sausage balls, roasted vegetables, fruit
Dinner = tuna zoodle casserole, roasted veggies, applesauce, fresh bread, brownies
WEDNESDAY:
Breakfast = cinnamon banana bread, scrambled eggs, roasted vegetables, smoothies
Dinner = baked chicken, oven roasted potatoes, roasted carrots, green beans, applesauce, fresh bread, Oreo truffles
THURSDAY:
Breakfast = multi-grain waffles, scrambled eggs, sausage balls, roasted vegetables, fruit
Dinner = burgers on the grill (I made the buns), grilled veggies, lettuce salad, baked beans, no bake pudding pie (for Pi day!)
FRIDAY:
Breakfast = Oatmeal, leftover banana bread, roasted vegetables, fruit
Dinner = pizza sandwiches, raw veggies, fresh fruit, monster cookies
SATURDAY:
Breakfast = poppyseed muffins, vegetable quiche, fresh fruit
Dinner = shrimp scampi (with zoodles), baked parmesan pollack, fresh fruit, applesauce, chia seed chocolate pudding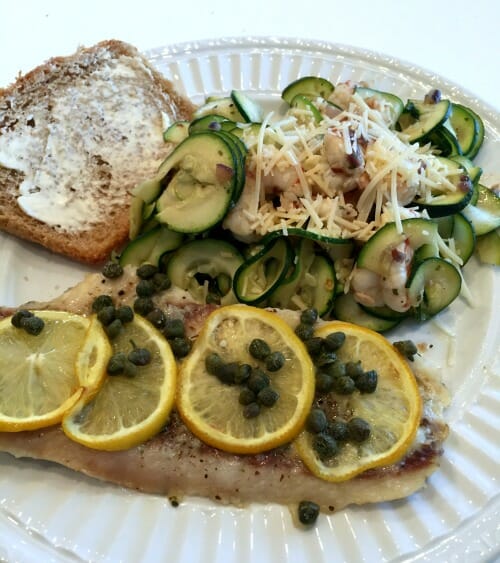 I'll be back in a few more weeks to share a Peek Into Our Spring Break!
Until then, I'd love to know what you've been up to…
Have you tried any new recipes?
Have you tackled any organizing projects (big or small)?
Do you have any fun vacations or family time scheduled?
Do you have a new "favorite thing" you'd like to share?
Happy (almost) Spring!!