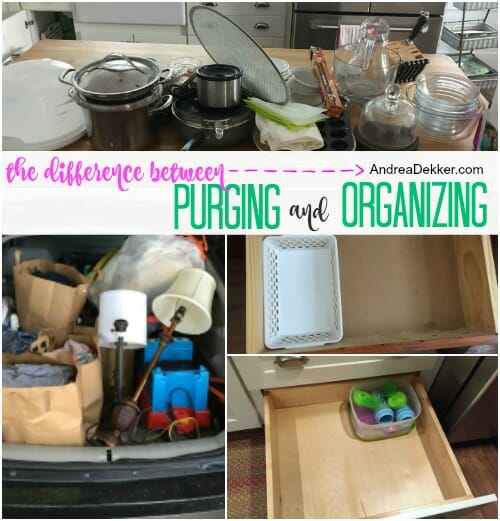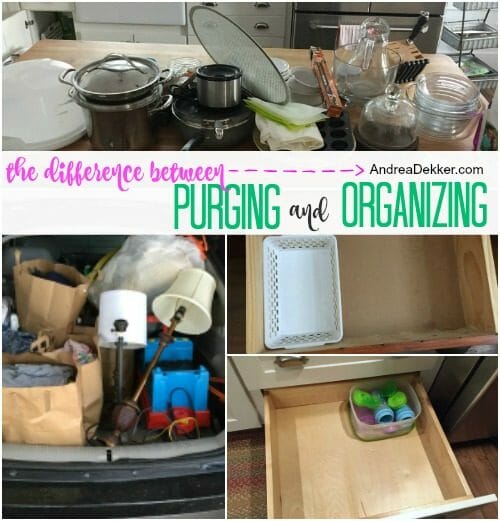 When I was in college, I had a friend who owned more clothing than anyone I'd ever known… probably 3 times more clothing than anyone I'd ever known!
She had a huge closet full of clothing, multiple dresser drawers filled with clothing and accessories, under-bed storage for more clothes, AND a free-standing armoire filled with clothes.
It was all immaculately organized.
Color coded, by type, by length, by weight, by season, by style, etc. etc.
She knew where every item of clothing was (and if it was missing) and she took great care to keep her massive amounts of clothing extremely neat and organized all the time.
If I had a smart phone back then, I most certainly would have taken pictures!
.
Over the years, I have thought about this friend's insane amount of clothing several times — and I've used it as motivation to purge on a regular basis.
When I saw how many clothes this person had and how much time, effort, energy, and money she spent keeping it all organized, I realized for the first time that being organized isn't necessarily the most important factor in simple living.
Up until that point in my life, I had always assumed that as long as I was organized, as long as I had a place to store everything I owned, and as long as I put everything back in it's place each day, my home and my life would be simplified.
However, I didn't factor in the huge amount of time, effort, space, and even money I would potentially need to KEEP things organized… or the fact that the amount of time, effort, space, and money I would need was exponentially tied to the amount of stuff I had to organize.
I recognized the big difference between PURGING and ORGANIZING!

We can organize hundreds and thousands of items we don't actually use, need, want or love — the items will LOOK nice, but they will require continual care and maintenance to stay looking nice and functioning properly.

OR… we can purge the things we don't actually use, need, want or love and enjoy considerably more space, time, and energy to use in whatever way we desire.
As I've mentioned before, I am NOT a "minimalist". I love my farmhouse decorations, I probably have a few too many kitchen gadgets, and our array of thrift store toys is more than I care to count.
HOWEVER, I am an advocate for removing anything and everything from our home that we don't need, use, want, or love — and I do this regularly (often daily!)
.
My encouragement for YOU today (and all week long) is to look for things to purge all around you — in your home, your office, your garage, your car, your purse or wallet, etc.
Keep a box or bag in the bottom of every closet, put an empty grocery bag in your car, start a pile in the garage, fill up your trash can and recycling bin.
PURGE the things you don't need, use, want, or love without taking the time to organize anything.
After a few weeks (or months) of regular purging, you will have considerably LESS to organize — making that process much less time-consuming and overwhelming.
Even if you only have 5 extra minutes today (and I know you can all find 5 minutes), look for 5 things to purge from your home and set them aside in a designated spot (or trash them). Continue to add to this pile each day and each week (taking the items to the thrift store as necessary).
Eventually, you will notice a difference in the amount of clutter in your home… and the amount of time, effort, and energy required to take care of the things in your home.
In my own experience, I have found that continual purging is far more beneficial for simple living than meticulously organizing an array of things I don't even need, use, want or love.
Give it a try… don't spend any time or energy worrying about the best way to organize your stuff. Instead, simply focus on purging the things you no longer need, use, want or love!
Who knows… by the time you're finished purging, you might not have anything left to organize!