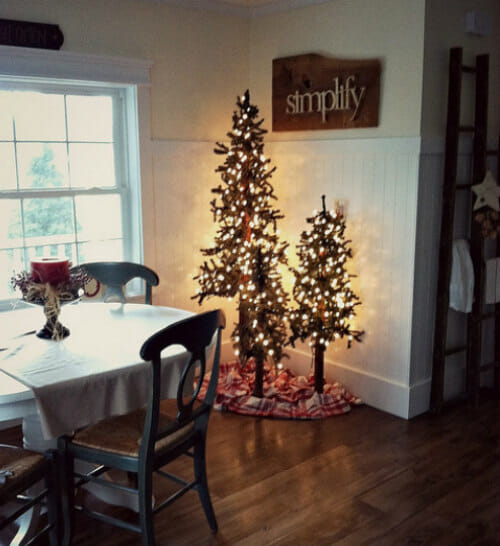 While I'm not an overly sentimental person — and I always try to evaluate whether a certain tradition is still enjoyable for me and for my family, some of my favorite things about the holidays are the fun family traditions I look forward to year after year.
Growing up, we had many family traditions:
We almost always set up the Christmas decorations the day after Thanksgiving.
My mom would make all sorts of bread and a HUGE batch of her special homemade hot chocolate mix.
My mom would often wrap our presents in "code" so we never knew which ones were ours (she used a specific pattern or type of wrapping paper for each kid).
We got together with all the relatives from my mom's side of the family on Christmas Eve and then with the relatives on my Dad's side of the family on Christmas Day.
We ALWAYS had ham for Christmas dinner.
We usually got to open one present before church on Christmas morning but then had to wait to open the rest of them until Christmas night
Etc. etc. etc.
And now that we have our own little family, Dave and I have started a few traditions of our own…
Putting up a Christmas tree and our wooden Nativity at some point between Thanksgiving and Christmas.
Sending out some sort of holiday card.
An "ugly sweater party" with our friends.
Christmas parties with various sides of our extended family.
Watching a few favorite Christmas shows on Netflix (Dave ALWAYS needs to watch National Lampoon's Christmas Vacation, and I like to watch Elf!)
Two other traditions I'd like to start once the kids are a bit older:
1. Do something to give back to a person, family, or organization in need. But not just a financial donation… I want our whole family to physically do something like volunteer at a soup kitchen or deliver gifts or meals to a needy family. I think it's good for them to see others who are less fortunate and to realize that Christmas really is not about getting gifts, but rather giving them.
2. Implement a more "simplistic" gift-giving routine where we would give our children only a few gifts: 1 clothing gift, 1 educational gift, 1 experience gift, and 1 fun gift. Not only will this make shopping and planning a lot easier, it will also help the kids to realize that Christmas isn't all about gifts (which is really easy to forget these days!)
I know there are SO many other fun and creative holiday traditions… so today, I'd love to know:
What are some of your favorite holiday traditions?
They don't have to be big or fancy and they can be traditions from your family, your work, your friends, or even from when you were a child. I'm just interested in what other people do to celebrate/remember the holiday season.