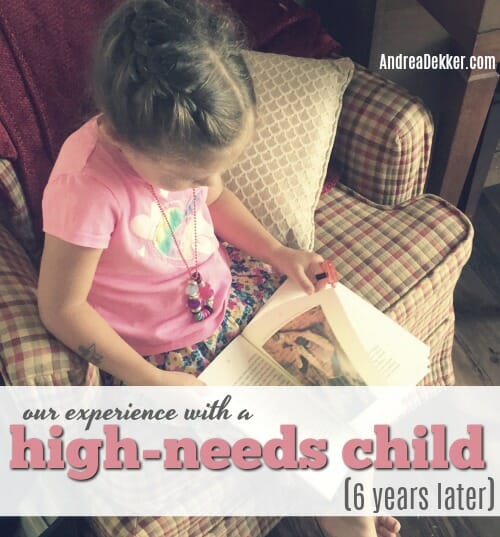 Exactly 6 years ago today, I shared a difficult post about Nora's "high needs" personality and how much of a struggle the first 20 months of her life had been for me.
I was nervous to hit "publish" as I didn't want any more people telling me what I should do (or should have done) differently. Much to my surprise, I received nothing but heartfelt encouraging words from hundreds and hundreds of readers (and lots of strangers too).
Since that day 6 years ago, I have received some sort of comment, email, or Facebook messages almost EVERY SINGLE DAY… asking questions regarding Nora's personality, sharing a similar story, thanking me for writing the post, or simply venting to an empathetic listening ear!
It's astonishing how many of you are struggling (or have struggled) with a high needs baby or toddler!
I never imagined it at the time, but I'm thrilled that one of my posts has offered so much encouragement to so many strangers I'll probably never meet in real life!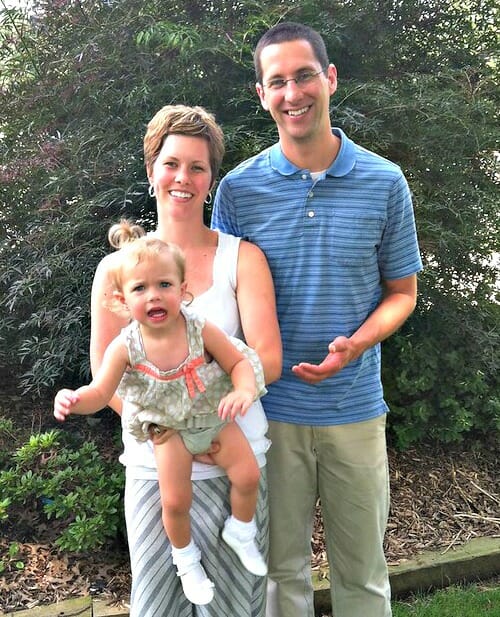 So… What's Our Update?
Fast-forward 6 years and I can honestly say Nora is just like any other typical child her age — with weird quirks, mood-swings, and personal preferences, but able to function appropriately in the majority of situations.
she easily interacts with other children and adults
she handles change and disappointment as well as any other child
she cleans her plate at every meal (even if she doesn't care for one of the foods)
she willingly tries new foods without huge struggles or issues
she wears socks without a fit
she got her ears pierced (it was a HUGE accomplishment!)
she got her first pair of jeans (jeggings) last year and she actually wears them!
she gets her face wet in the pool and shower (she's a total fish)
she hears loud noises without panicking
she finally made it through a full dental exam when she was almost 6 (it was rough, but she's a pro now!)
she can get shots without 3 extra nurses in the room to hold her down (still fairly anxious, but we make it through)
she spends all day away from me at school with no issues
she occupies herself for extended periods with no "help" from me (reading, writing, playing, etc.)
she sleeps soundly all through the night, every single night!
Can I get an Amen!?
What Made the Difference for Us?
Honestly, I'm not exactly sure — and yes, I know how unhelpful that information is!
We tried SOOOOOOO many different things to get her to eat.
We tried even more things to get her to sleep!
We stayed home A LOT.
I tried to plan and prepare for every type of situation, meltdown, etc. any time we did go out.
I eventually accepted the fact that she would be attached to me almost 24/7 for an extended period of her life (just over 2 years in the end).
.
An Added (and unexpected) Bonus…
After so much trial and error, I learned many helpful tips, tricks, tools, and resources that didn't necessarily help me right away with Nora, but have been invaluable throughout the past several years of parenting our 4 children.
It's amazing how often I think back to something I read, something someone told me, something we learned at therapy — then the ah-ha moment happens in my brain, and I'm able to solve an issue for one of our children with very little trouble, hassle, or tantrums.
This is not to say my children are perfect or that I'm an amazing mother, BUT I will attest to the fact that my very steep learning curve with Nora has paid off exponentially with the rest of our children!
Thanks, Nora 🙂
Thinking back, I honestly can't even remember exactly how tired, how angry, how frustrated, or how desperate I felt 6 years ago when I published my original post. Those horrible memories have been magically pushed from my brain to make room for happy and positive memories.
It's almost like I'm reading about a different family when I re-read many of my old blog posts from 6 and 7 years ago!
Unfortunately, I know happy updates are not always the case for every family…
My intention for this post is not to "rub it in" to those who are still struggling with high needs children on a daily basis. Rather, I hope this update offers hope to those of you who are "in the thick of it".
It's horrible. It's crappy. It feels like it will never end… I know!
However, even if it doesn't end as quickly as you hope or pray it will, I have found that the situation often starts to FEEL easier because I'm learning and growing and adapting to a "new normal" along the way.
The trial and error you experience now WILL eventually help you in some way, shape, or form, somewhere down the road of your parenting journey.
Do you (or did you) have a high-needs baby or child?
What was/is most helpful for you?