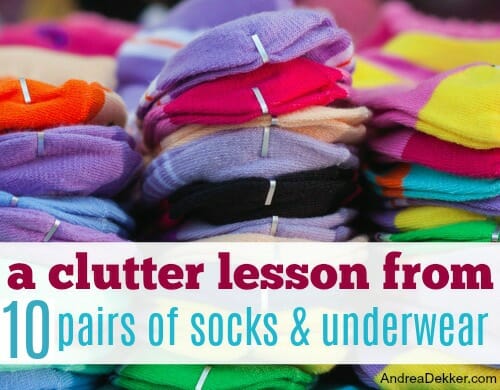 For the majority of my life, I've had drawers stuffed full of socks and underwear — not because I necessarily NEEDED that many pairs, but simply because I had them.
Growing up, we almost always got socks and underwear as stocking stuffers, and in college, I got those "free underwear" coupons from Victoria's Secret almost every month (you know I'm a sucker for freebies!)
My dresser drawers were always neat and organized, but I had significantly more pairs of socks and underwear than I ever needed, especially since I always did laundry at least once or twice a week.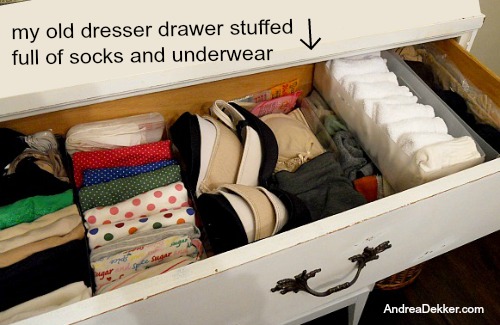 You can't see it in the picture above, but those clear plastic organizers are stacked 2-high — I had roughly 40+ pairs of socks and underwear! Yikes!
About 4 years ago, right before Simon was born, I decided I was DONE having so much extra. I purged EVERYTHING, because it was either very old and somewhat worn out, or it still had the tags attached if it wasn't a style I liked (I donated the brand new items).
Then, I went out and purchased 10 of my most favorite pairs of underwear (I love these from Aries — they are often on sale 10 for $30), 7 pairs of white no-show ankle socks, 2 pairs of black dress socks, and 1 pair of Smartwool socks.
Since then, I've been wearing the SAME 10 pairs of underwear and the SAME 10 pairs of socks day after day after day!
And you know what… I survived just fine!
The items are still in good condition, even after hundreds of wears and washes these past 4 years.
Also, I've never ever "run out" of clean socks or underwear because I now do laundry 2-3 times per week. Even when we go on vacation, we always have access to a washing machine if we'll be gone for more than 4 or 5 days.
NOTE: I do also have 2 pairs of tights to wear with skirts or dresses and fuzzy slipper socks for sleeping.
Now obviously, not everyone could get by with only 10 pairs of socks and underwear; nor do I think it should be a goal for everyone to have the bare minimum when it comes to clothing (or anything in life).
However, I DO think it's worth sharing today's post because it shows how few things we actually NEED.
In all honesty, I could probably get by with only 4 pairs of socks and underwear since I do laundry every 3 days — 10 pairs is more than enough for me.
My children also have a minimal number of socks and underwear for the same reasons — they just don't need more. Of course, I replace theirs every year as they get bigger, but they get 1 new pack of underwear and 1 new pack of socks every year (usually around 6-10 pairs each) and that's more than enough.
Even with bathroom accidents and getting dirty outside, we've never once run out of clean socks or underwear for any of our children.
The one exception is Miss Clara who had GOBS of socks, tights, and slipper socks as they are apparently a favorite baby gift amongst our friends and relatives 🙂
As I've mentioned before, I'm definitely NOT a minimalist when it comes to clothing (or really anything in life). However, I do think it can be valuable to regularly evaluate how much of something we actually NEED.
Did I need 40 pairs of socks or underwear? Not a chance!
Yes, I had room to store them.
Yes, I kept them neat and organized.
Yes, most of them were completely free.
BUT I DIDN'T NEED OR USE THEM!
I've been perfectly happy and content to wear and re-wear the same 10 pairs of socks and underwear for the past 4 years… and when they start to wear out, I'll order 10 more pairs and start all over again. Who knows, maybe I'll go with only 7 pairs the next time!
Of course, if I get to the point where I feel it would be beneficial for me to have more than 10 pairs, I'll certainly just buy more — but right now, I'm loving my mostly empty drawer and the fact that I no longer have so much more than I need!
I'd love to know, have you purposefully limited your socks, underwear, or anything else in your life – simply because you know you don't NEED more.
.
Oh, and if you're worried about losing your socks (or your children's socks) in the wash, here's my super simple tip to essentially eliminate lone socks!