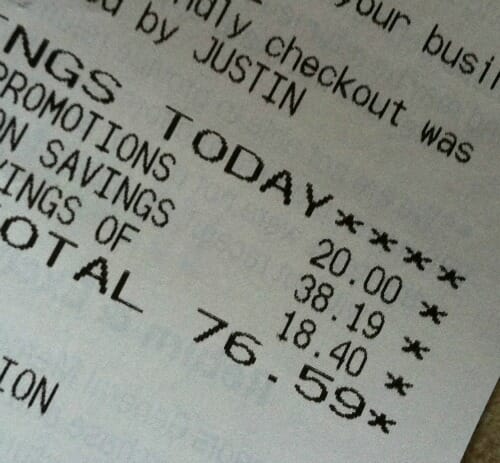 Believe it or not, grocery shopping has sort of become a favorite pastime of mine and the kids!
Not that I anxiously await the immense amount of fun I'm going to have with all 3 of them — but I certainly don't dread going anymore, and Nora and Simon actually have a lot of fun.
Nora holds my list and helps me "spy" for the right items on the shelf, Simon points and waves to everyone, they both enjoy their free "kids cookie" from the bakery right before we head to the checkout lane, and then they get to ride Sandie the horse as I look over my receipt before we leave.
James is usually quite content to lay in his shopping cart hammock, and if I know we're shopping when he normally takes his morning nap, I'll just wear him in my Boba carrier and he'll sleep the entire trip!
There are definitely stressful, tense, and "hairy" moments when I question why on earth I didn't just wait to get groceries until Dave got home… but for the most part, as long as I do a decent amount of pre-planning, our grocery shopping trips are relatively fun!
That said, I still like to get in and out as fast as I can — and, if possible, save a few bucks in the process.
If you share my "in-and-out" grocery shopping philosophy, here are 7 EXTREMELY simple ways I save both time and money at the grocery store (no coupon-clipping required).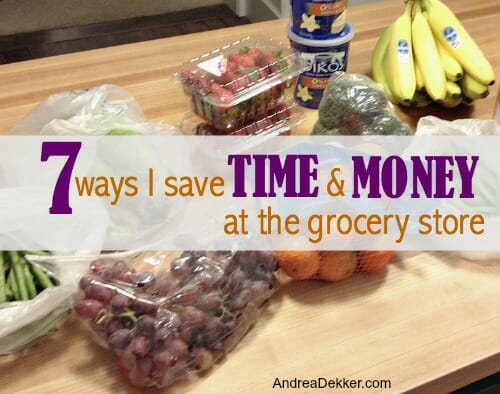 1. Write your list according to the layout of your store.
I actually wrote a full blog post about this a while back — but it literally is the single most effective thing I do to save boatloads of time in the grocery store.
Plus, since I can just go right down my list in order, I almost never forget anything (which obviously saves even more time!) and I don't buy impulse items because they aren't on my list.
2 Do a quick price evaluation in the aisle.
It's rare that I use any coupons anymore these days — mainly because we no longer get the Sunday paper, but also because there just aren't a ton of coupons for the things I buy anymore.
So often when people don't use coupons, they always buy the store brand to save money. And while this is often a good money-saving method, there are PLENTY of times when the national brands are actually cheaper than the store brands due to a special sale… so it always pays to quickly check.
Also, make sure you check the ounces of the products you are comparing. I've found that many times, the item on sale has fewer ounces, so it's still less expensive per ounce to buy the non-sale item.
It only takes a few seconds to do a quick price check and you'd be surprised how much money you can save!
3. Look "up" and "down"
Advertisers and marketers know what they are doing — and they sneakily place higher priced items at eye level on the shelves. By simply looking on the top or bottom shelves, you might find an almost identical product for a significantly cheaper price.
This is especially true with cleaning products, cosmetics, paper products, and other non-food items. Just the other day, I had to pick up more mascara — I almost mindlessly grabbed the one closest to me, but then remembered my own advice and checked the bottom row. The price was over 50% less ($4.35 versus $9 and $10)
Since I'm not picky about makeup brands, I was more than happy to snatch up the better bargain (and so far, it's working just fine on my short stubby lashes!)
4. Look for discount produce, bakery, and meat products.
I can't tell you how much money I've saved by quickly scanning the discount produce, bakery, and meat racks at our store.
I realize that not all grocery stores have these discounted options available, but if your store does, definitely take a look. Sometimes there aren't any great deals, but I'll often get deep discounts on expensive bakery and meat items that are reaching their sell-by date — and then I just put them in the freezer when I get home.
I also regularly buy produce from the discount rack — the bananas are a steal and great for banana bread!
5. Find a competent cashier.
Please don't think I'm being rude here — but I think we can all relate to wasting bucket loads of times standing in line, waiting for a cashier who doesn't know what he or she is doing.
When I'm ready to check out, I try to quickly scan the row of cashiers and pick one who knows what they are doing. I have my favorites at the 2 locations I regularly shop, and I'll wait in a little longer line to get them because they are more efficient.
Also, if I can find someone in a manger outfit, I'll go to their lane — that way, if there is a question, price adjustment, or if I need a raincheck for something, they can do it right then and there without needing to call for additional help.
6. Check your receipt.
This is another biggie — and it only takes a second to do.
I always, ALWAYS check my receipt before I step foot out the store — and more often than not, I find that I was charged for something extra or that one of the items didn't ring up correctly according to the ad.
If there is a dispute, I quickly bring my receipt to the customer service desk and it's always taken care of immediately. Sometimes, I've even gotten an extra $5 because our store policy is that you get $5 if something is priced incorrectly!
7. Just ask!
If the store is out of something you want, don't be afraid to ask them to check the back for more — or substitute with a different brand. Often times, a manager will let you do this… which saves you a trip back to the store to look for the same items later in the week
If they won't let you substitute for a different brand, then ask for a raincheck so you can get the deal the next time you're at the store.
These are just a few of the many simple no-coupon-required ways I manage to save time and money at the grocery store (even with the 3 munchkins in tow).
Do you have any great money-saving or time-saving tips or advice to add to my list?