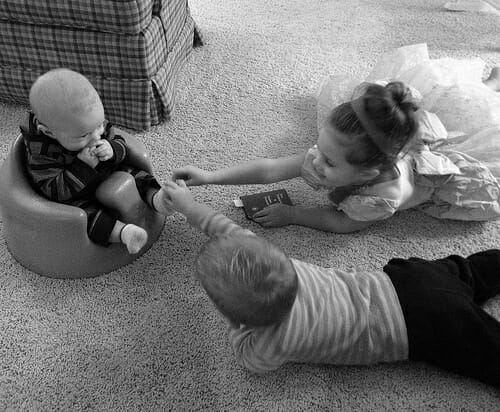 Last week was a crazy week — in part, because we were preparing for a busy weekend this past weekend with friends, parties, dance recitals, trick-or-treating, etc — but also because we were still "recovering" from our first mini vacation as a family of 5.
We were only gone a few days (and it was only about an hour away) but there sure was a lot of planning, packing, unpacking, and laundry to do! I'm certain we will try another mini trip sometime soon… practice makes progress, right 🙂
On Monday, Nora got to wear her Halloween costume to our weekly story hour at the library… and honestly, you would have thought it was Christmas morning by how excited she when she bounced out of bed!
I had been inquiring about this Cinderella costume on Craigslist for several weeks… and we finally got it the Saturday before story hour. And yes, it was totally worth $5 (and many emails) to see her face when I showed it to her!! Also, as you'll notice by the pictures in this post, she wore the Cinderella dress almost every single day last week.
Monday was a GORGEOUS fall day, and we spent several hours outside playing and doing yard work.
We had lots of fun plans on Tuesday — but Nora woke up screaming that her leg was "broken" and she literally refused to walk ALLLLLLLLL day! I had to carry her downstairs, and then she spent the entire rest of the day sitting on the couch in her PJ's.
I had to cancel all our plans, she missed school, a fun play date with friends, and one of her favorite weekly pastimes — getting groceries with mom.
We're still not sure what was going on. My theory is that it was either growing pains or a really bad cramp in her leg. She is VERY sensitive to pain, so it would not be unlike her to blow the whole thing out of proportion… however, I still can't believe that a 3 year old could lay in the exact same spot on the couch from 8:00am – 9:00pm and never move except when I carried her to the bathroom 2 times.
She's stubborn to a fault, but something must have actually be hurting, otherwise I don't think she would have been willing to skip so many fun activities that day.
.
On Wednesday, my schedule was "full" of fun activities at home… I put the finishing touches on a Prince Charming costume for my sister's husband (Dave will also wear this for Nora's upcoming birthday party!), did a couple craft projects with Nora, and a bunch of baking for our Fall / Halloween party.
It was super cold and rainy on Wednesday, so Nora and I had plenty of "bonding time" while the boys napped. We've been reading the Little House Chapter Books (it's a special early-reader series). We finished the 2nd book on Wednesday and started the next one.
Nora has an amazing attention span when she's listening to stories — and I LOVE the Little House stories, so we are both really enjoying these books! Thankfully, our library has a bunch of them, so hopefully we'll be able to read them for another month or so!
Oh, and in case you were worried, Nora miraculously recovered from her leg "injury" 🙂
.
Thursday was a LONG day because Dave was gone all night for parent teacher conferences. I felt like my main goals for the day were to make it to nap time and then bedtime… we made it 🙂
Thankfully, my parents came over for a bit in the evening (and brought a freezer meal for supper!) so that made the day a little more bearable!
.
Friday was the "big day" of our party (Nora was super excited).
I got up early, hauled out my slow cookers, and started cooking and baking away. My sister took Nora to run some errands in the afternoon while the boys were napping, so I had a little extra time to cook and bake (see below for our menu).
It was a last-minute party, but a fun opportunity for the kids to wear their costumes and get some candy without being outside in the cold and rain (we don't go trick-or-treating yet!) Plus, it was actually fun for us adults too… and we all enjoyed the candy!
Oh, and my sister and her husband won the costume contest for their couples' Halloween party 🙂
Friday was a good "mail day" for me too!
I got my Blue Apron meal delivery, some free pictures from Shutterfly, 2 paychecks, my 2016 planner from Personal Planner, a new supply of children's medicine from Maty's Healthy Products, and a pre-release copy of Crystal's newest book, Money Making Mom (it's out on shelves this week!)
.
Saturday was Nora's Dance recital. She said her leg was bothering her again, so she wasn't nearly as enthusiastic about her dance recital as I hoped. The pictures below are blurry because I was rocking James to sleep and trying to zoom at the same time — but the overall 'cuteness' is still there 🙂
It rained ALL day Saturday so we put our yard work on hold and did a bunch of housework instead. Then Dave's parents came over for pizza.
After the kids were in bed, I worked on my October photo pages for my digital photo album, backed up both computers and all our pictures for the month, and then sent out all my October invoices. Then, Dave and I went to bed WAY too late… but at least we got an "extra" hour of sleep 🙂
Our Menu Plan:
MONDAY
Porkchops (with this marinade)
Mashed Potatoes
Broccoli, corn, and zucchini
Crescent rolls
TUESDAY
Baked Puff Pancakes (recipe coming soon!!)
Bacon
Fruit
WEDNESDAY
THURSDAY
A freezer meal from my parents
Steamed broccoli and cauliflower
Peaches
Chocolate cake
FRIDAY
We had some friends and their kids over for a little Fall / Halloween party. Here's what I made to eat:
SATURDAY
Pizza with Dave's parents
Leftover salad and dessert from Friday's party
SUNDAY
Leftovers for lunch
Potluck at church for supper
A few more pictures from last week: