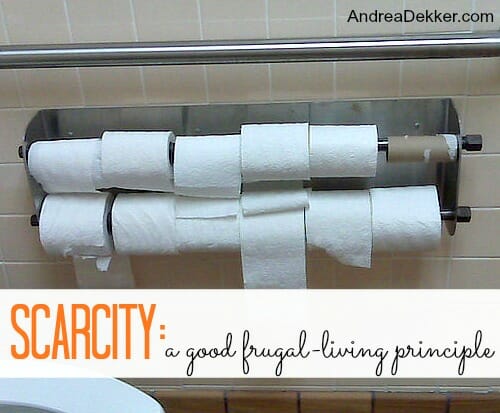 Over the years, I've regularly talked about my efforts to keep our pantry and freezer stocked with plenty of go-to snacks and meals. I'm also fairly adamant about keeping a hefty supply of diapers, wipes, toilet paper, and paper towel on hand — because those are items you just never want to run out of!
I've shared our journey of frugal living, budgeting, and living well below our means…however, I've often thought about how much wiser we might steward our resources if they were extremely scarce.
For example, if I knew I only had 2 diapers and 2 wipes left in my entire house, you better believe I'd make the most of them and only change Nora's diaper when absolutely necessary — using only one wipe per time.
If we only had a little milk left in the house, I certainly wouldn't be eating cereal for breakfast, making pudding, or wasting even one drop (yes, we love milk over here).
If I only had 1 load of laundry detergent left, I'd most definitely wait until I had enough clothes for a very large load — none of those half-full loads just to empty the hamper.
If I only had 1 T. of salad dressing or pasta sauce left, I'm going to scrape out that container with a rubber spatula — and maybe even add a little water to really get every last drop out.
If I only had $50 in the bank, we'd start eating out of the pantry, canceling our cable, cell phones, newspapers, and magazines, and selling anything I possibly could on Craigslist.
But since we always have a reasonably large stockpile of all these items, and we thankfully have more than $50 in the bank, I change Nora's diaper more often than necessary, I use more wipes than necessary, I drink milk whenever I want, I do laundry whenever I want, I don't think twice about throwing out a tiny bit of salad dressing, pasta sauce, ketchup, mustard, or any other condiment, and I don't monitor every single penny that passes through my hands.
So is that wasteful?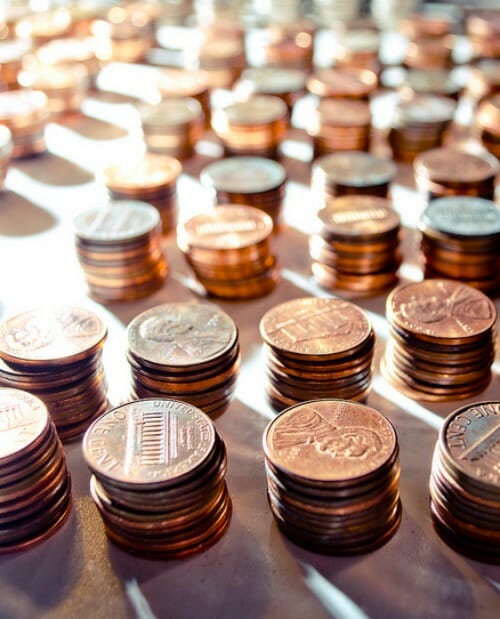 I honestly wouldn't consider myself wasteful at all; it's just a lot easier to inadvertently waste when you have plenty.
Don't you think?
.
I've even noticed that as our income has increased these past 7 years, we are MUCH more willing to splurge on little things like basic cable, smart phones, frozen custard at Culver's (still with BOGO coupons), a special treat for Nora at the grocery store, running the air conditioning a little more in the summer, bumping the heat up a few degrees in the winter, snatching up a good deal on Craigslist, or even extra special finishing touches on our house projects.
We are most certainly NOT living outside our means (read this post from last week if you're questioning us!), we're not going into debt to make these purchases, we're not spending frivolously… and to be fair, our income has increased more than our spending has.
We're just spending a little more freely than before because funds aren't as scarce as they were when we were fresh out of college, just starting our jobs, and working like crazy to pay off those student loans.
But for the most part, if we're really honest, none of the things we're splurging on are necessary at all. We could manage without the air conditioning, we could put on another layer to stay warm, we could go without ice cream, cable, smartphones, Craigslist, house projects, etc. etc.
We COULD, but we DON'T.
So again, is that wasteful?
I'm fairly certain that if we were constantly running low on everything, we'd use less and waste less… just because we HAD to. So maybe there's a fine line between being organized, prepared, and "fully stocked" and being wasteful.
On one hand, scarcity forces us to be excellent stewards of our resources, waste less, live frugally, live simply, etc.
On the other hand, it can cause stress, unhappiness, and greed (which can then cause debt and more stress)
Dave and I have worked hard to stay out of debt, live below our means, organize our finances, plan ahead, etc. so that we CAN afford to live more comfortably — and even splurge every now and then. But I also know that we COULD live without cable, smart phones, Culver's, and so much more — and then give the extra money to charity.
I'm not saying we should all start living like we're poverty-stricken (believe me, I'm not planning to do that either). I just think that scarcity is a good principle to think about every now and then.
It might be surprising how much we could all save (and how much less we'd waste) if we simply stopped to think how we might act if this was our very last dollar, diaper… or roll of toilet paper 🙂
What are your thoughts on scarcity and stewardship.