In case you missed it, I took the entire month of August off from blogging.
It was a really nice break, but I will admit, I was just a tiny bit hesitant to take a full month off — especially leading up to my biggest traffic months (Sep-Feb).
The month-long break was a break I had planned in advance and had nothing to do with the fact that I was pregnant and semi-nauseous for most of August — that was just a coincidence!
However, after I announced I was taking a full month off — and all throughout the month of August — I found it interesting that MANY other bloggers emailed me asking more about why I took a break, how I decided on a month, and if I would share some of my thoughts once I returned.
I figured that was a reasonable request — and it also forced me to really reflect on my time away (which is always a good thing).
First of all, if you're wondering WHY I took a full month off, why I picked August, or what I did during that month this post should answer those questions.

As for some of my thoughts and answers to the questions you asked — I'm sharing those below!
freezer cooking — one of the things I did more of during my break!
What were you most worried about?
I don't know if "worried" is the right word — but there were a few things I definitely thought about as I was planning to take a full month off.
Here are 4 of the top concerns that come to mind:
1. Loss of income:
Income really didn't play much of a factor in my month-long break decision… but of course, when you're taking a full month off from work (and you don't get paid vacation days) it has to be at least a small consideration!
Since my blog traffic is normally lower in the summer months anyway (which is a good thing — that means you are all out "playing" instead of sitting inside on your computer!), I figure I lost out on 1/3 of my advertising revenue for the entire month. Honestly, that's not bad — especially considering that one of the main reasons I took the month-long break was to help out a friend on maternity leave, and I definitely made up the difference working for her in August.
2. Loss of readership:
I wasn't too worried about losing mass amounts of readers — I figured any semi-loyal reader would be patient enough to stick around for 31 days until I came back. Plus, it's not like there's a lack of content on my blog — with well over 1000 posts in the archives, I'm sure anyone desperate for organization could find something to read!
I know I lost a handful of readers — but not the loyal ones who come back day after day, week after week, leaving nice comments, sending encouraging emails, and helping me realize what I'm doing here IS making a difference 🙂
3. Loss of Google love:
Honestly, this was probably the thing I was most concerned about… because anyone who does anything on the internet knows that you DO NOT want to make Google mad or confused. And sometimes, if you stop publishing new content for an extended period of time, Google might get confused and think that you don't deserve their love — so they will stop sending search engine traffic to your blog.
So since I get hundreds of thousands of monthly pageviews compliments of Google search engines (and those pageviews turn into ad dollars), this thought did cross my mind a few times as I prepared to take an entire month off.
Thankfully (from what I can tell so far) no harm was done and Google still loves me and my simple living advice!
4. Loss of my own interest:
Although I really can't see myself packing up my keyboard anytime soon, I did have a few moments where I thought, "what if I love the break so much that I never want to go back again?"
Considering I only make 1/2 of my monthly income directly from my blog, it would be relatively easy (financially) for me to just pick up a few additional VA gigs, write a few more guest posts for other blogs each month, and free up HOURS and HOURS and HOURS of time in my schedule.
Under any normal conditions, I would never ever think about quitting my blog (I seriously love writing here — so don't worry!) but due to the fact that I was in my first trimester, WAY more tired than normal, feeling overwhelmed with the thought of Dave going back to school, and mentally tallying everything I still wanted to accomplish before it gets cold and snowy, the thought of closing shop did cross my mind.
For the record, it was only for about 10 seconds… and then Dave stopped me and said I was clearly sleep-deprived or crazy because there was no way I would ever quit my blog. And he's right!
.
Would you do it again?
For sure! I think I might take an extended break every summer — just because that's when it makes the most sense. Dave is off from school, the weather is nice, we can have lots of family time, and my blog traffic is usually lower thanks to the fact that you guys are also enjoying the great outdoors and spending time with your own families.
It's weird to think about taking a full month off from work — and to be honest, I didn't totally check out. I still monitored comments every few days, I still posted some updates and pictures on Facebook, and I still checked my email. But it was definitely nice to have a break from writing and deeper thinking for a few weeks.
.
Would you encourage other bloggers to do this?
Yes and no — or maybe my answer is, it depends.
Obviously, if you feel you need a break — then take one otherwise you'll burn out and never come back. Blogging is a crazy weird job that often occupies at least parts of our thoughts 24/7. It's a rare occasion when a blogger can totally break out of "work mode" 100%. I suppose it's kind of like being a parent — even when you are away from your children, you can't really block them out of your mind 100%.
Blogging is not like a job where you can finish your work, drive home, and not think about it again until the next morning. I had one of those jobs once and hated it — but looking back, it was super nice to be able to mentally check out at the end of the day.
For me and my blog, this break made sense. I don't blog about current events, I don't share coupons or time-sensitive deals, I don't share information that is vital to sustain life… so I knew you could all handle living without my spelling mistakes and Nora pictures for 31 long days!
Also, I've been blogging for long enough that I have tons of content in my archives for anyone to comb through, for a new reader to learn more, for search engines to index, and for extra traffic via periodic Facebook post updates. Not to mention the fact that I've had 3 years to grow my blog traffic and I knew you wouldn't all disappear in one month.
So if your blog is similar to what I've stated above, then yes, I think it totally makes sense for you to take an extended break if you want to or feel you need to.
However, if you are a brand new blogger trying to grow your blog or if you share coupons, daily deals, current events, etc. it might be a little more challenging — but that doesn't mean you CAN'T do it.
Consider hiring someone to run the blog for you for the month (or the week), or find a handful of people to write guest posts for you, or work like crazy the month before to write your posts and schedule them in advance. There are options for sure!
Also, try to remember that it's JUST a blog. The absolute worst thing that could happen would be that some your readers left and Google stopped sending traffic your way for a short while. It certainly would not be the end of the world — at least in my own opinion 🙂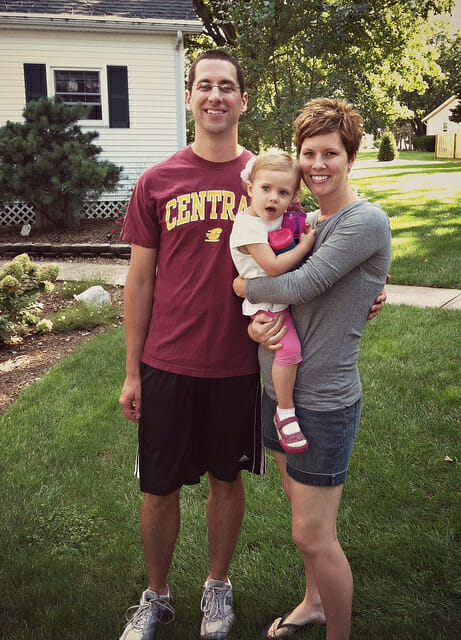 a recent family pic — and the first baby-bump sighting on the blog 🙂
Looking back, I'm SUPER happy with my decision to take a full month off and I'm so glad I didn't chicken out and only take 1 or 2 weeks off instead. I'm also glad that I didn't over-work myself before the break trying to pre-schedule a full month's worth of posts or trying to find and edit a bunch of guests posts to run during my break.
I just wanted a month off… no pressing deadlines, no updating social media with every new post, no monitoring and responding to comments throughout the day. Just a break from the everyday routine and time to savor the last few weeks of summer.
And besides my lack of appetite and lack of normal "Andrea Dekker energy", that's just what I got!
Thanks for sticking around over my break and thanks for ALL the many emails, Facebook messages, and blog comments you sent me last month — assuring me of your appreciation for the content here on my blog. It was really fun to log onto my computer every day and find happy messages instead of more work requests or nagging to-dos!
If you're a blogger, what are your thoughts on taking extended breaks?