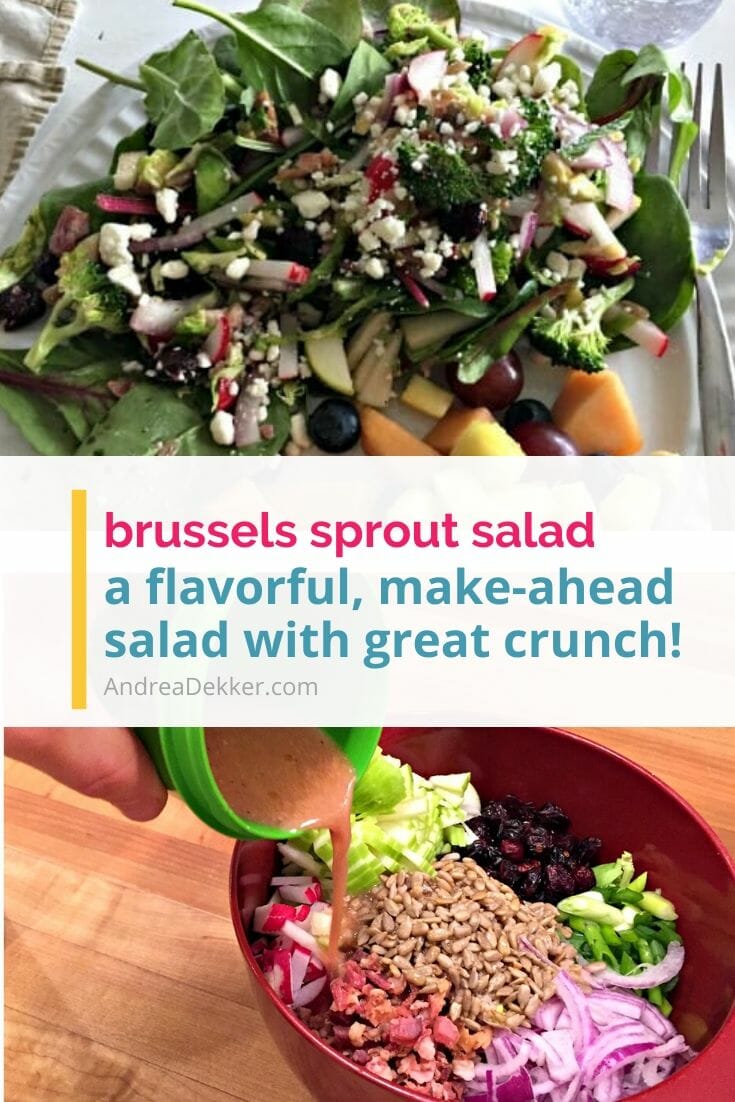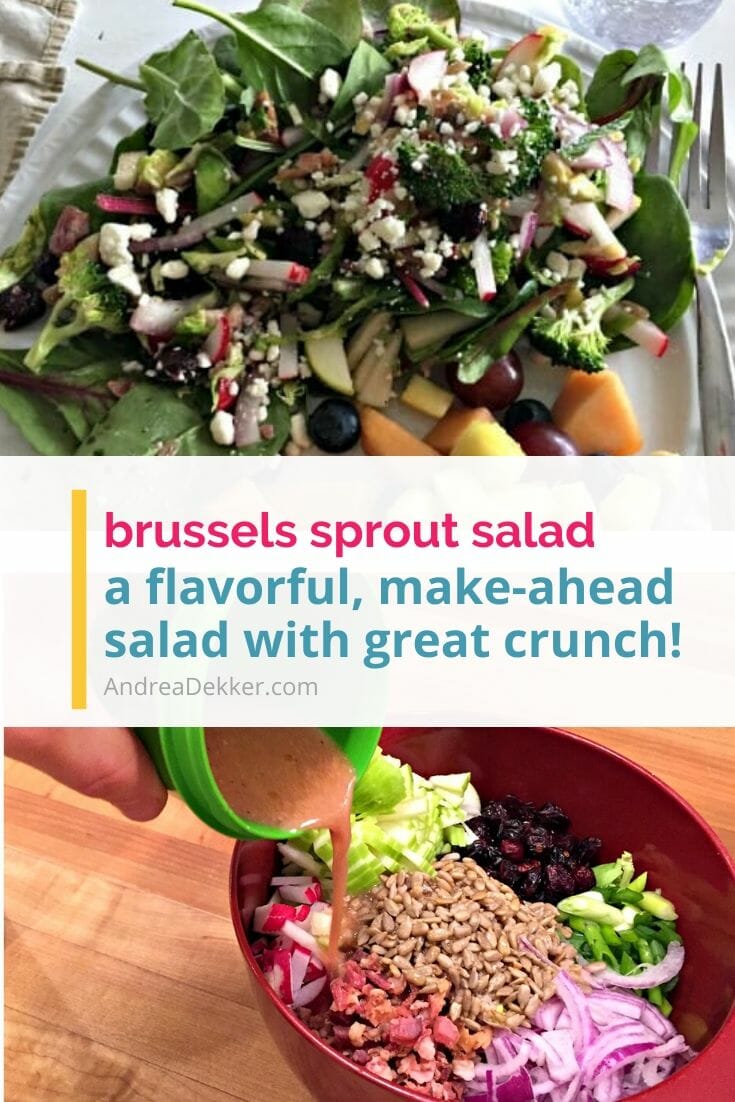 If the thought of eating raw Brussels Sprouts has you ready to click away, let me beg you to give my Shredded Brussels Sprout Salad a try before you judge!
I first got the inspiration for this recipe around Christmastime, a couple of years ago. I was experimenting with various recipes I could make with lots of red and green foods, and the idea of shredded Brussels Sprouts caught my attention.
The results were so tasty that I have since made my "famous" Shredded Brussels Sprout Salad so many times, in all 4 seasons, for so many different meals and functions. It has become one of my staple recipes (and, believe it or not, I almost always get asked for the recipe!)
Seriously, even if you hate Brussels Sprouts, I have a feeling you'll be pleasantly surprised by how tasty this Shredded Brussels Sprouts Salad is.
I know I was personally shocked, and I actually enjoy the taste of roasted Brussels Sprouts!
The flavor of the raw Brussels Sprouts is very mild, the crunch is fantastic, and the mix of different flavors and textures (sweet, salty, savory, crunchy, chewy) is amazing!
The dressing has just the right tang, and best of all, it's an easy recipe to mix up in advance — even a day or so before you plan to eat it.
NOTE: you may just want to tell people it's a new recipe for "coleslaw"… and drop the Brussels Sprouts bomb AFTER they try a few bites!
If you're looking for another super easy, make-ahead salad or side dish, pick up some Brussels Sprouts the next time you're at the store and give my recipe for Shredded Brussels Sprouts Salad a try!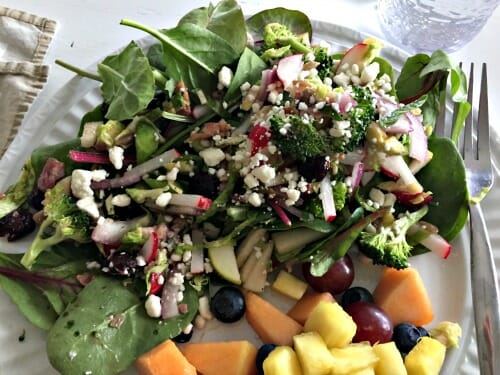 Yield: 4-8
Shredded Brussels Sprout Salad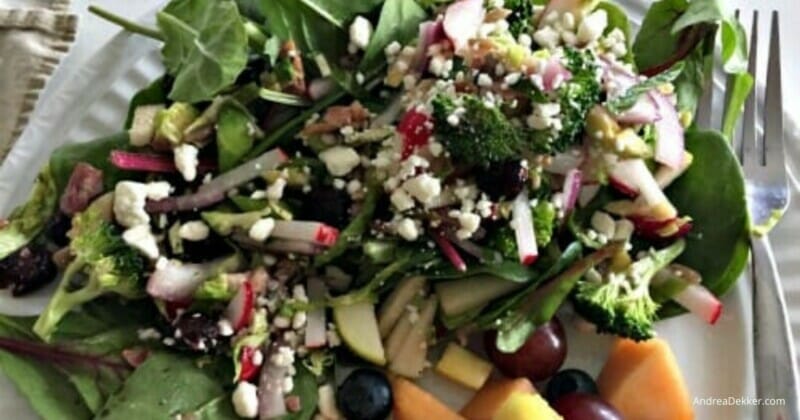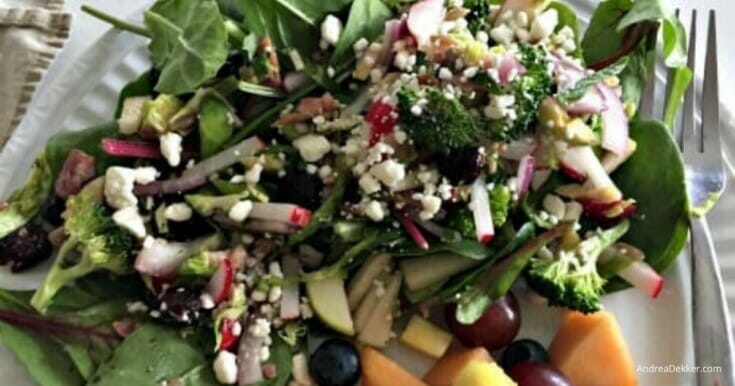 If you're looking for another super easy, make-ahead salad or side dish, pick up some Brussels Sprouts the next time you're at the store and give my recipe for Shredded Brussels Sprouts Salad a try!
Ingredients
For the Salad
1 pound Brussels Sprouts (about 20); shredded or thinly sliced
1 c. chopped broccoli florets
2 green onions; thinly sliced
1/2 red onion; diced
5 radishes; diced
1/2 Granny Smith apple; diced
1/4 c. sunflower seeds or any type of seed
1/4 c. bacon crumbles
1/2 c. Craisins
For the Dressing
1/4 c. olive oil *(see notes below)
1/4 c. vinegar (red wine or apple cider are my favorites for this salad)
1 T. maple syrup (or honey or sugar)
1 T. Dijon mustard
1 clove garlic; minced (or 1/4 tsp. garlic powder)
salt and pepper to taste
Instructions
In a medium-size mixing bowl, combine shredded Brussels Sprouts, chopped broccoli, sliced onions, diced radishes, apples, seeds, nuts, bacon, dried fruit, and any other ingredients you'd like to add.
In a smaller container with a tight-fitting lid (or in a blender) combine all dressing ingredients. Shake or blend to combine.
Taste dressing by dipping a piece of broccoli in. Add more seasoning to your taste.
Pour dressing over salad and stir to combine.
Cover and refrigerate for at least an hour before serving (I often make this in the morning if we're eating it for dinner -- or sometimes even the day before).
Store leftovers in the fridge -- they will easily stay fresh for a few days (if they actually stick around that long!)
Notes
All ingredients are "optional" -- seriously, you can add in (or omit) whatever veggies, dried fruits, nuts, seeds, you like.
Also, if you 100% will not eat Brussels Sprouts, you can make it using 3 cups broccoli florets!
About the Vineagrette... technically, a true "vinaigrette" uses THREE times the amount of oil as vinegar -- however, that's a lot of extra fat and calories.
I always cut back on the oil and increase the vinegar. I really like a stronger vinegar taste.
In my opinion, this salad tastes fantastic as written! However, feel free to adjust the oil/vinegar ratio as your taste buds prefer.
Nutrition Information
Yield
6
Serving Size
1
Amount Per Serving
Calories

225
Total Fat

14g
Saturated Fat

2g
Trans Fat

0g
Unsaturated Fat

11g
Cholesterol

3mg
Sodium

324mg
Carbohydrates

24g
Fiber

5g
Sugar

15g
Protein

5g
Nutritional information is approximate and does not account for additional ingredients or added toppings.
We regularly enjoy this "coleslaw-type salad" as a side dish to a variety of meats. It's amazing with burgers, pulled pork, or beef brisket!).
However, I also enjoy it as a "topping" to a bed of spinach or salad greens.
If you think about it, this salad is essentially composed of a variety of salad toppings WITH the dressing already included!
I just scoop a few spoonfuls on top of whatever greens I have in the house, add a sprinkle of Feta or fresh Parmesan, and maybe another drizzle of vinaigrette and I have a DELICIOUS lunch salad without chopping or prepping anything extra!
Doesn't that look tasty!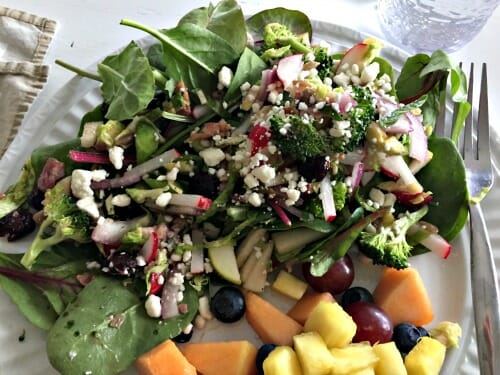 I make this non-lettuce salad at least once a month and Dave and I enjoy the "leftovers" for a few days in a row — mixing up how we eat them each time.
It's extremely satisfying with all the yummy crunchy ingredients. It's also more exciting than eating plain raw veggies, and it's quite nutritious.
Add my Shredded Brussels Sprouts Salad to your salad rotation, or bring it to your next pot-luck. Either way, try it out! You might be surprised how much you like Brussels Sprouts!
What is your favorite way to enjoy Brussels Sprouts?
Click here for more of my favorite salad recipes.
Visit my virtual recipe box for more simple, delicious, family-friendly recipes!