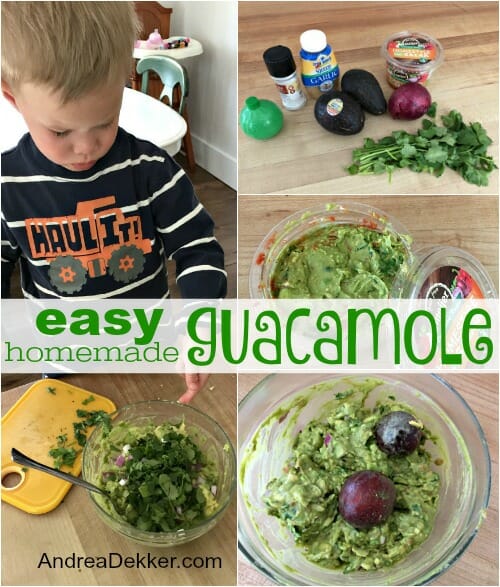 Now that the weather is warming up, I find myself making "party foods" so much more.
And by "party foods" I mean foods I would normally make for bigger groups of people, cook-outs, backyard BBQ's, etc.
One of my favorite, super easy party foods is the 7-layer chip dip I shared on the blog 2 years ago. It's AMAZINGLY delicious, super simple to prepare, and it can easily be made a day in advance for those of you who like to plan ahead!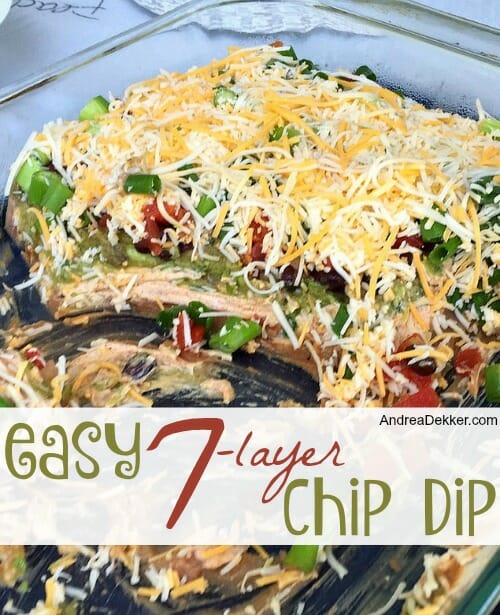 One of the 7 layers of this dip is a super simple guacamole layer — it's the recipe I use whenever I want to make homemade guacamole.
As I mentioned a couple months ago, we love the single-serving guacamole packs from Costco — but whenever I'm making food for a crowed (or even just a few guests) I always opt for a big bowl of homemade guacamole… and THIS is always the recipe I use!
It's so fast and easy, and if you use the simple tips I shared below, your guacamole SHOULD stay looking nice and fresh for several days.
Oh, and it's a really good recipe for kids to help with — mine always "fight" over who gets to mash the avocados in the bowl, so I've started making it when only one of them is available to "help" me! 🙂
Recipe for Easy Homemade Guacamole
Makes approximately 2 cups
INGREDIENTS:
4 small (or 2 large) avocados; pitted and peeled
1/4 c. salsa or diced tomatoes
1/4 c. onion; diced
1/4 c. fresh cilantro; chopped
2 T. lime juice
1 T. minced garlic (or 1/2 tsp. garlic powder)
salt and pepper to taste
DIRECTIONS:
Mash avocados in a medium bowl (save the pits).
Add all other ingredients and mix until combined.
Taste and add more lime, cilantro, garlic, salt and/or pepper as necessary.
Eat immediately, or put guacamole mixture in a covered food storage container WITH a couple of the pits.
Cover tightly and refrigerate until ready to eat.
Pretty easy…huh?
I specifically made the recipe easy to remember by using 4 small avocados and 1/4 c. of most of the ingredients — however, feel free to play with this recipe and add more or less, depending on your preferences!
.
Over the past year, I learned that keeping the pits in the guacamole mixture will help the avocados retain their green color and not go brown as quickly (fun tip, huh!) I've found that the fresh salsa contaiers from the deli department are a great size for storing guacamole — the lids fit nice and tight, and I often finish off the salsa when making guacamole, then dump all the guacamole back into the salsa container.
Also, if you want to store your guacamole in a bowl, press plastic wrap directly over the surface of the guacamole so no air can touch the dip. Then, put a 2nd layer of plastic wrap over the entire bowl — this makes a HUGE difference in how long your guacamole will LOOK fresh.
And I say "LOOK fresh" because even if it does turn brown after a few hours (or a day) it's still completely edible. You won't get sick from eating brown day-old guacamole — but it definitely doesn't look as appetizing (and there's no way I'll get my kids to eat it!)
One more tip for using avocados…
Let them sit on the counter until they are almost fully ripe (fairly soft when pressed) then put them in the fridge. They should keep in the fridge for several more days without getting over-ripe, like they would if you keep them out on the counter.
I'd like to try experimenting with different flavor combinations for my guacamole — but we're finally to the point where all my kids will eat my guacamole so I don't want to go messing with the recipe!
That said, I'd love to know if you have any good recipes for various flavors, spices, seasonings, etc. that you add into your guacamole!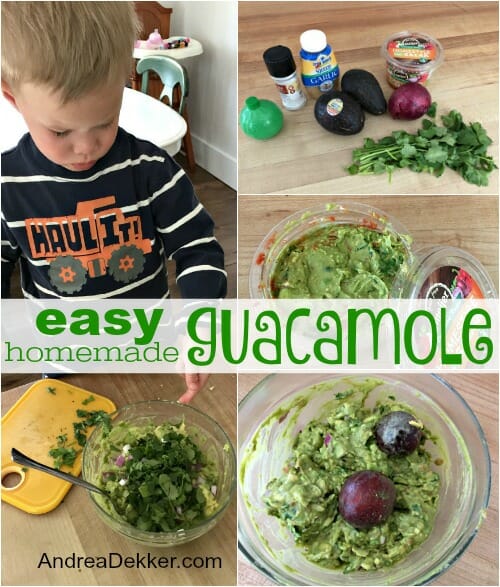 And as always, visit my virtual recipe box for more simple, delicious, family friendly recipes!
.