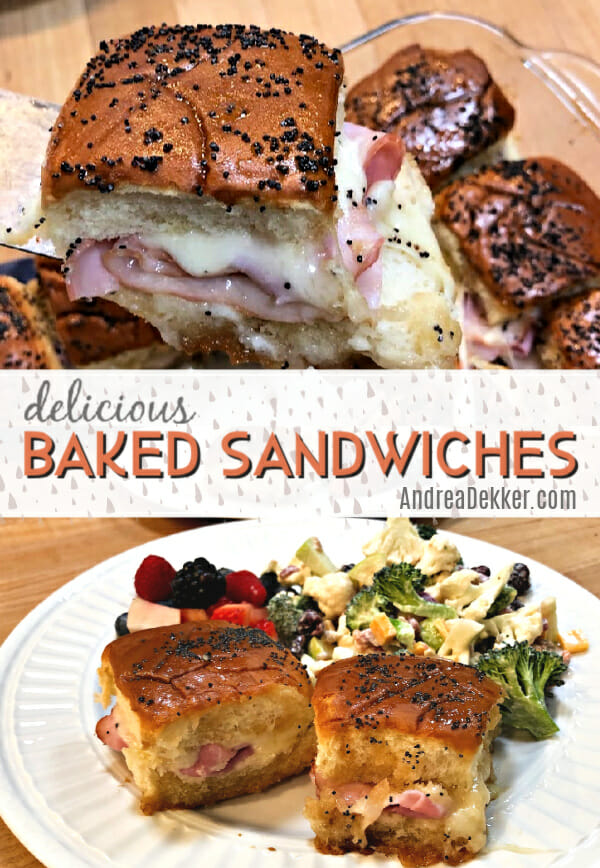 I first shared my recipe for Delicious Baked Sandwiches back in 2011, and since then, the number of emails and comments I've gotten as a result is just craziness!
This recipe has been "shared" on the internet thousands of times… and I've made them for our own family (plus extended family, friends, dinner guests, and random holiday functions) almost as many times over the past 10 years!
What can I say… these baked sandwiches are a HIT!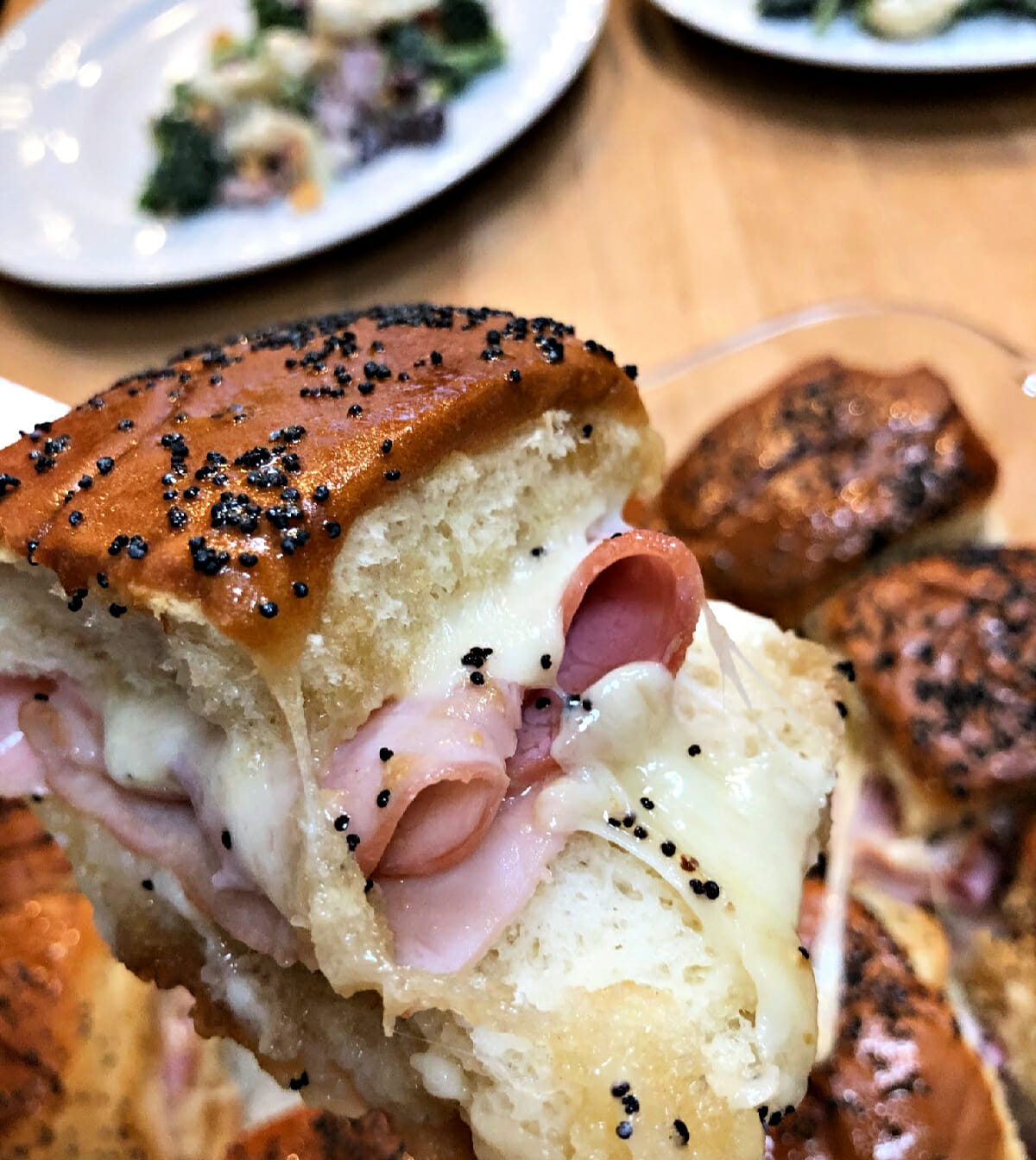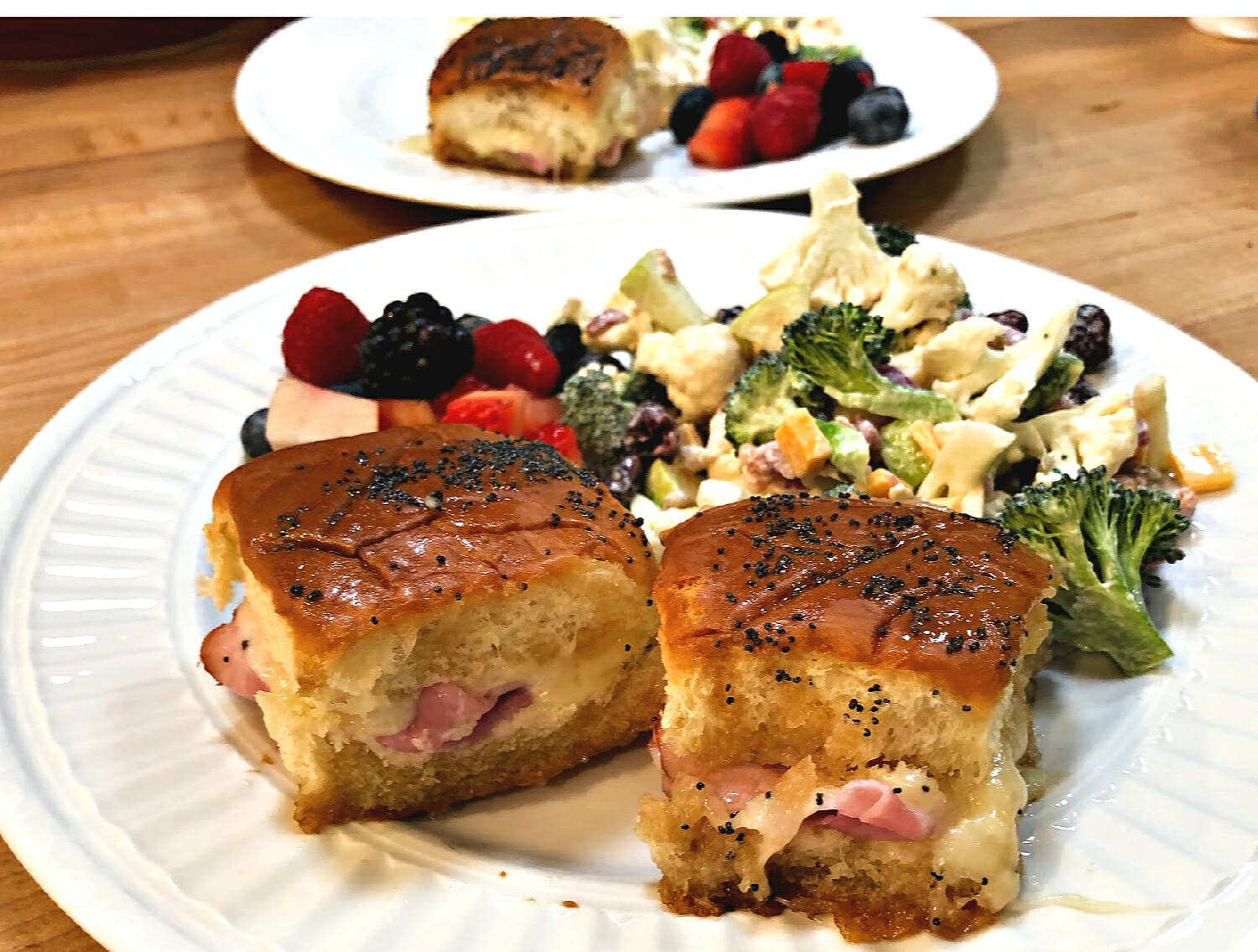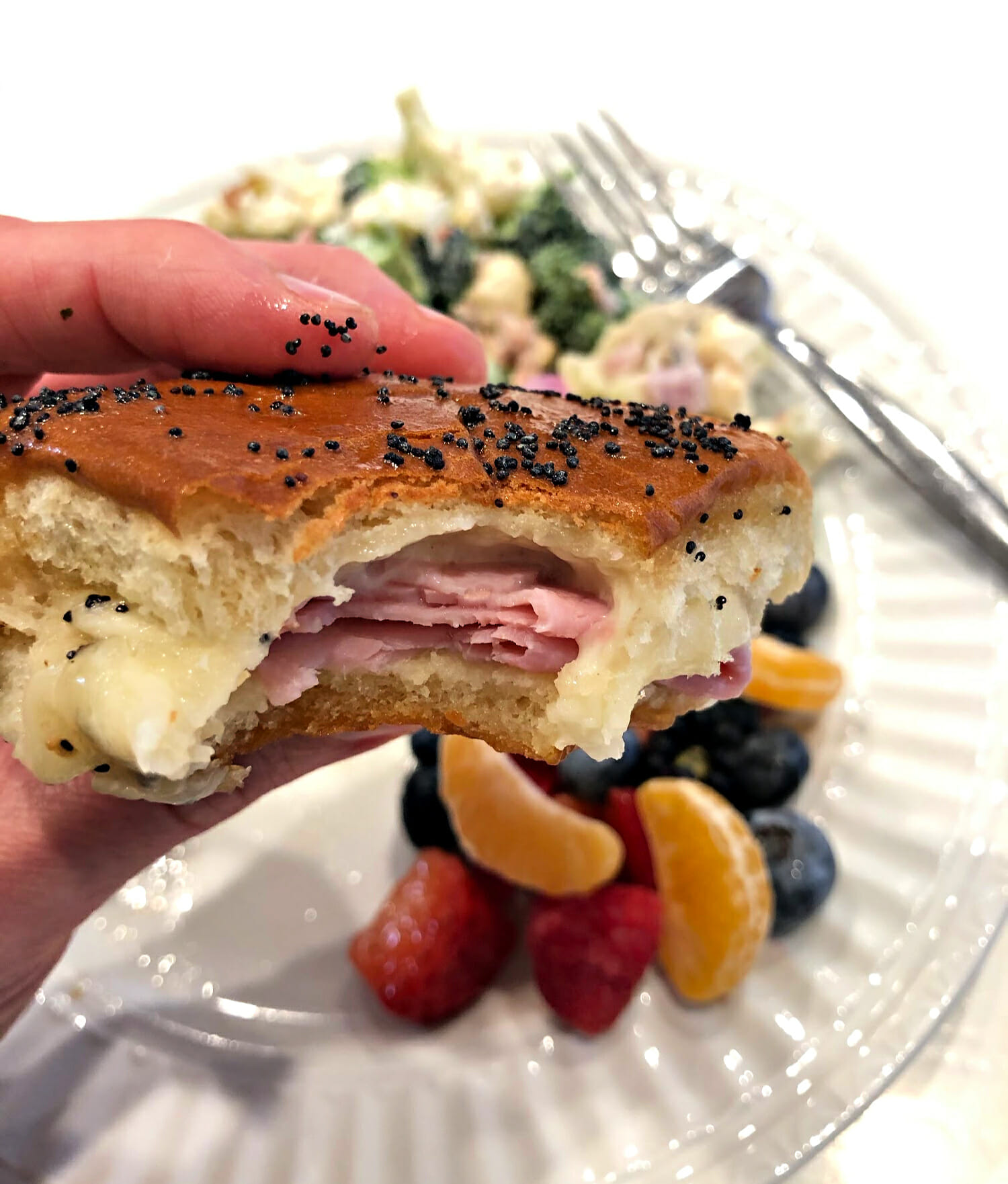 I suppose any time you mix soft rolls, melty cheese, savory meats, and lots of butter, the finished product can't taste bad!
Add in the fact that these sandwiches only take about 10 minutes to prep AND can easily be made a full day in advance… and you literally have yourself the perfect weeknight meal.
They are also a fantastic appetizer (make them on slider buns), a delicious addition to your "game day" spread, and a great simple meal to take to others. Just make sure you bring a printed copy of the recipe because anyone who eats these WILL ask for it!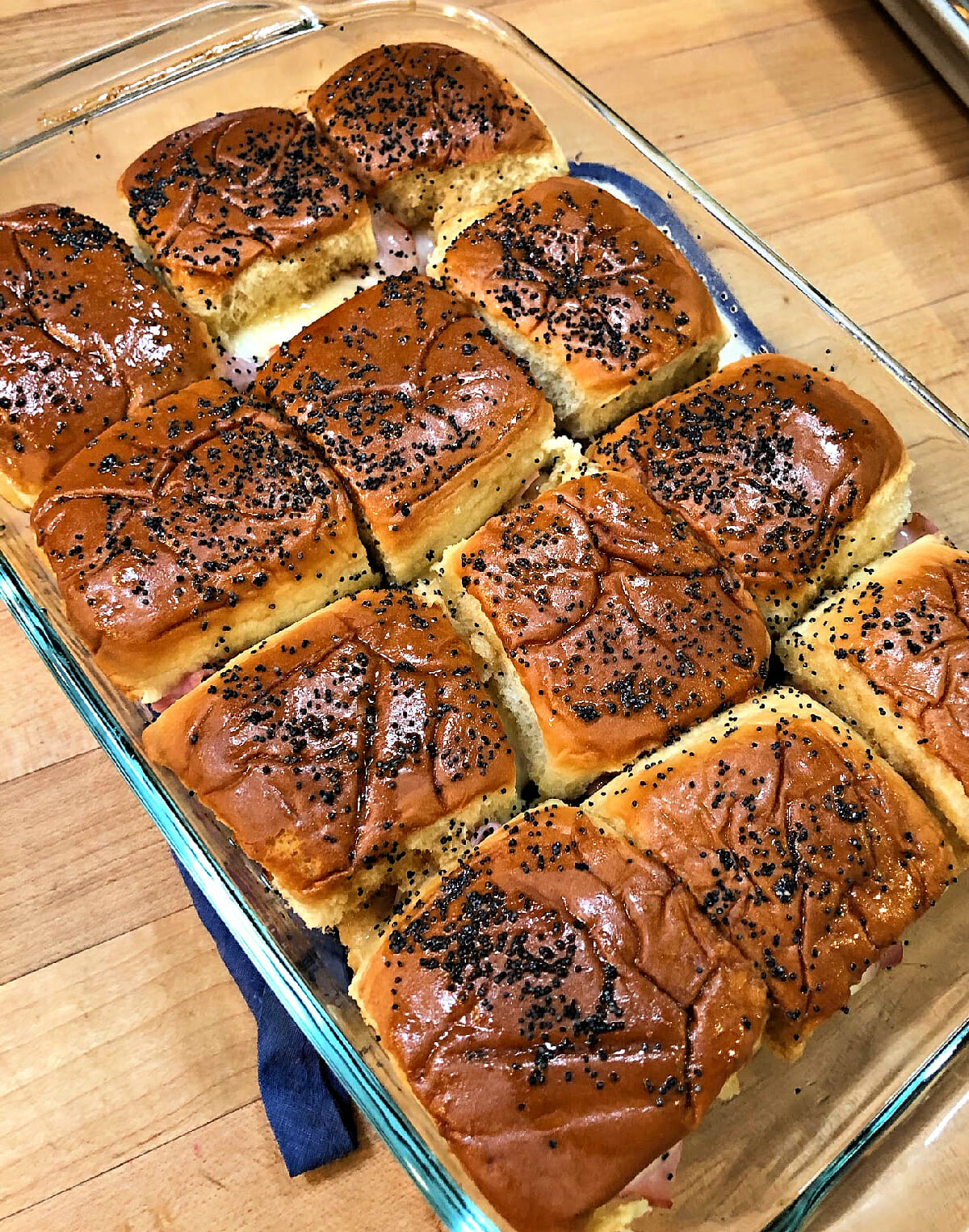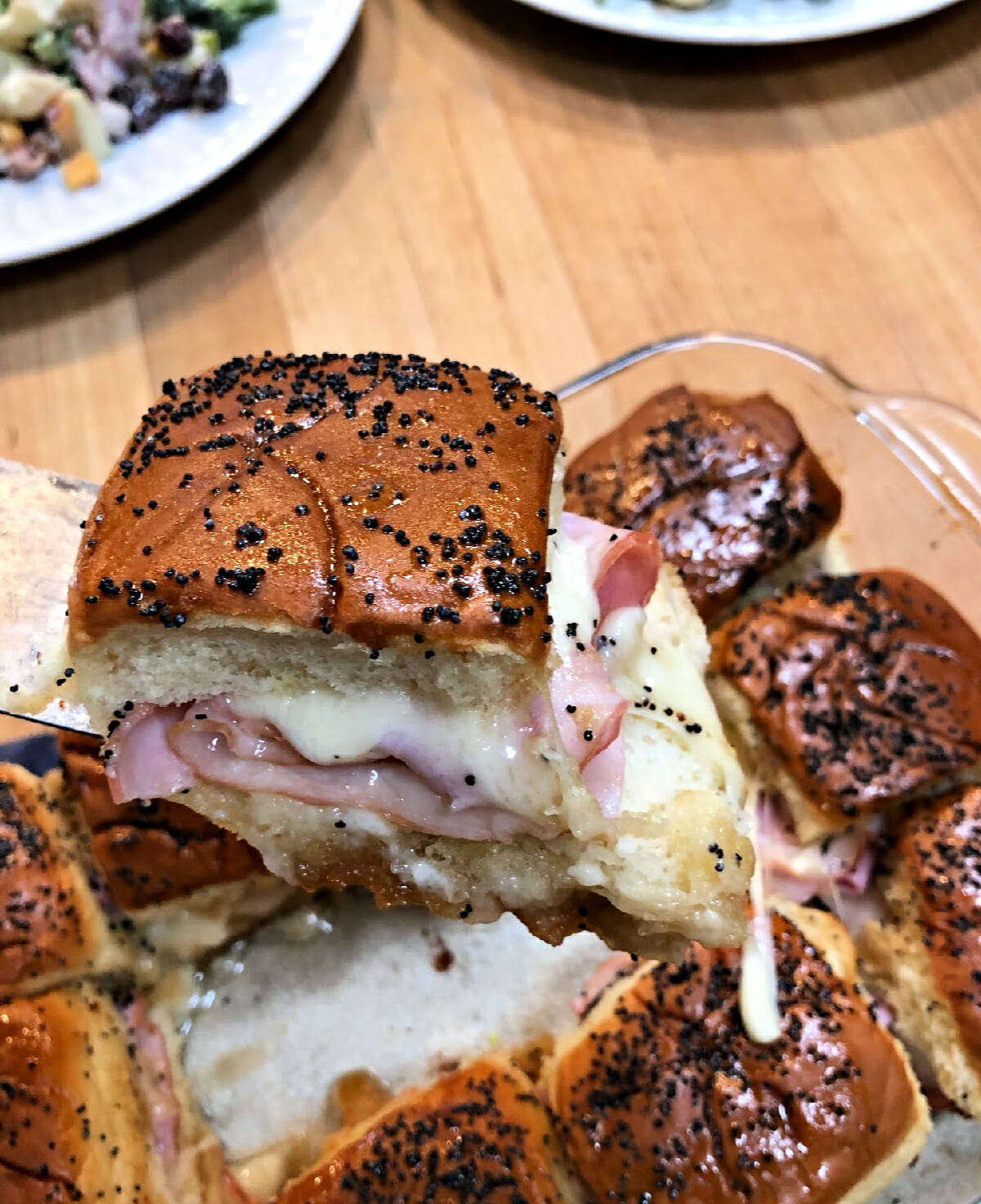 These baked sandwiches really are as amazing as they look and sound!
.
In case you're still "on the fence" about giving them a try, I want to assure you that you can mix and match almost ANY type of roll, meat, and cheese and the results will be delicious!
3 of Our Favorite Baked Sandwich Combinations:
Ham + Swiss
Turkey + Cheddar
Salami/Pepperoni + Mozzarella (here's my recipe for pizza sliders)
Use leftover meat and rolls from a big holiday meal, or deli meat and store-bought rolls of your choice.
Over the past year, I switched from store-bought rolls to my homemade whole-grain dinner rolls with excellent results!
Seriously, I can't think of one time (over 10+ years of making these baked sandwiches) that they haven't turned out wonderfully!
Just assemble the sandwiches, pour the melted butter sauce over top, and bake for 20 minutes — DONE!
OR, if you know you'll be super pressed for time, assemble the sandwiches ahead of time (up to a full day in advance) and let them sit in the butter sauce in the fridge.
I've even assembled the sandwiches and frozen them (without the sauce) for a later date — the still tasted wonderfully fresh when pulled out of the oven!
Add this recipe for delicious baked sandwiches to your menu plan this week (and then again next week)!
You won't regret it!
Yield: 12 Sandwiches
Delicious Baked Sandwiches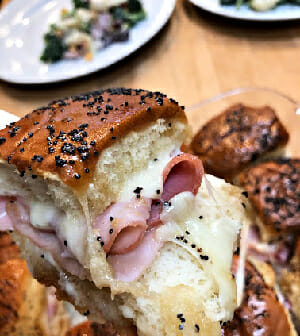 What do you get when you mix delicious deli meats, gooey cheese, fresh rolls, and a healthy amount of butter?
The most delicious baked sandwiches ever!
Ingredients
1 dozen buns or rolls
1/2 lb. to 3/4 lb. thinly sliced meat
12 slices of cheese
For the Sauce
1/2 c. melted butter
2 Tbs. honey or brown sugar
1 Tbs. mustard
1 Tbs. Worcestershire sauce
1 Tbs. poppy seeds
Instructions
Assemble sandwiches by layering your choice of meat and cheese on buns or rolls.
Place sandwiches in a baking pan and set aside.
In a small saucepan or glass measuring cup, mix all ingredients for the sauce and boil or microwave until butter is melted.
Pour sauce over sandwiches.
Sprinkle poppy seeds over sandwiches.
Bake now (instructions below), or refrigerate for several hours (even overnight)
Bake at 350ºF for 20 - 25 minutes, or until the tops are brown and the cheese is melted. Cover loosely with foil if you don't want your sandwiches to get as brown.
Notes
MEAT + CHEESE:
Feel free to use any combination of meat and cheese for these delicious sandwiches. Here are a few of our favorite combinations:
ham + swiss (Christmas leftovers)
turkey + cheddar (Thanksgiving leftovers)
pepperoni/salami + mozzarella (pizza slider recipe here)
BUNS:
You can honestly use any type of bun, roll, slider, or even regular sandwich bread for this recipe.
I regularly use my homemade whole-grain rolls, but previously I used Brown 'n Serve rolls or Hawaiian Rolls. I also know many people who use hamburger buns and even sliced sandwich bread!
You really can't mess this recipe up, so use whatever bread products you have in the house.
PAN SIZE:
Use the following pan sizes with each different type of bread/roll.
Brown 'n serve rolls = 9" x 13" pan
Hawaiian Rolls = 7" x 11" pan
Homemade Rolls = (whatever size works best)
Sandwich Bread = large sheet pan
LEFTOVERS:
Yes! They are amazing!
We eat these sandwiches cold in lunches the next day and they are SO good (of course, they taste great warmed up again too!)
Nutrition Information
Yield
12
Serving Size
1
Amount Per Serving
Calories

391
Total Fat

23g
Saturated Fat

12g
Trans Fat

1g
Unsaturated Fat

9g
Cholesterol

74mg
Sodium

322mg
Carbohydrates

28g
Fiber

1g
Sugar

7g
Protein

19g
Nutritional information is approximate and does not account for additional ingredients or added toppings.
Our family loves these baked sandwiches so much I sometimes make 2 full pans so we can eat one for dinner and have the other one for lunches throughout the week.
They are surprisingly tasty cold or reheated later in the week.
I serve our sandwiches with some type of salad (this broccoli salad is a hit), a variety of fresh fruit, and sometimes roasted veggies or potato wedges.
It's one of the few meals no one ever complains about! 🙂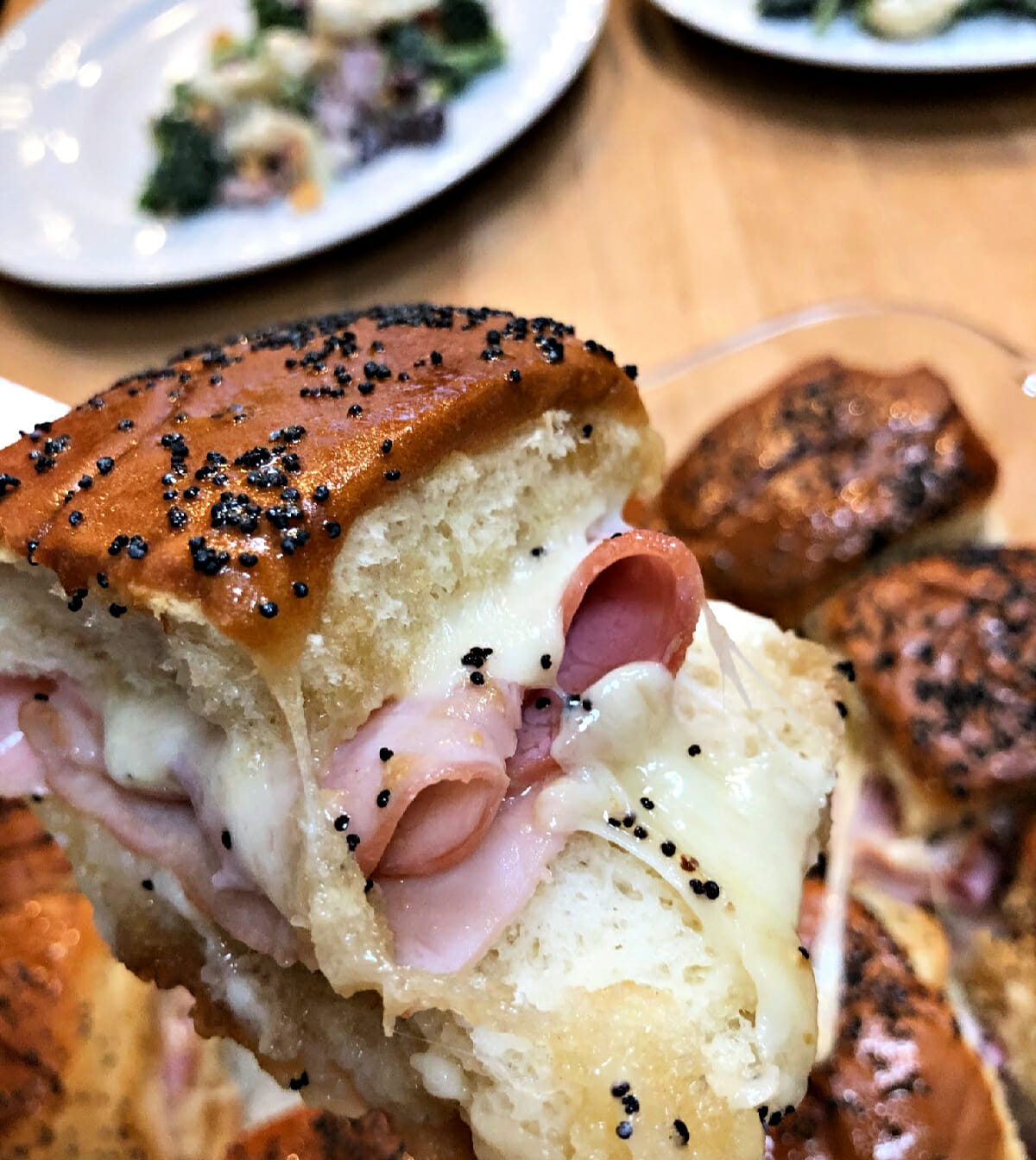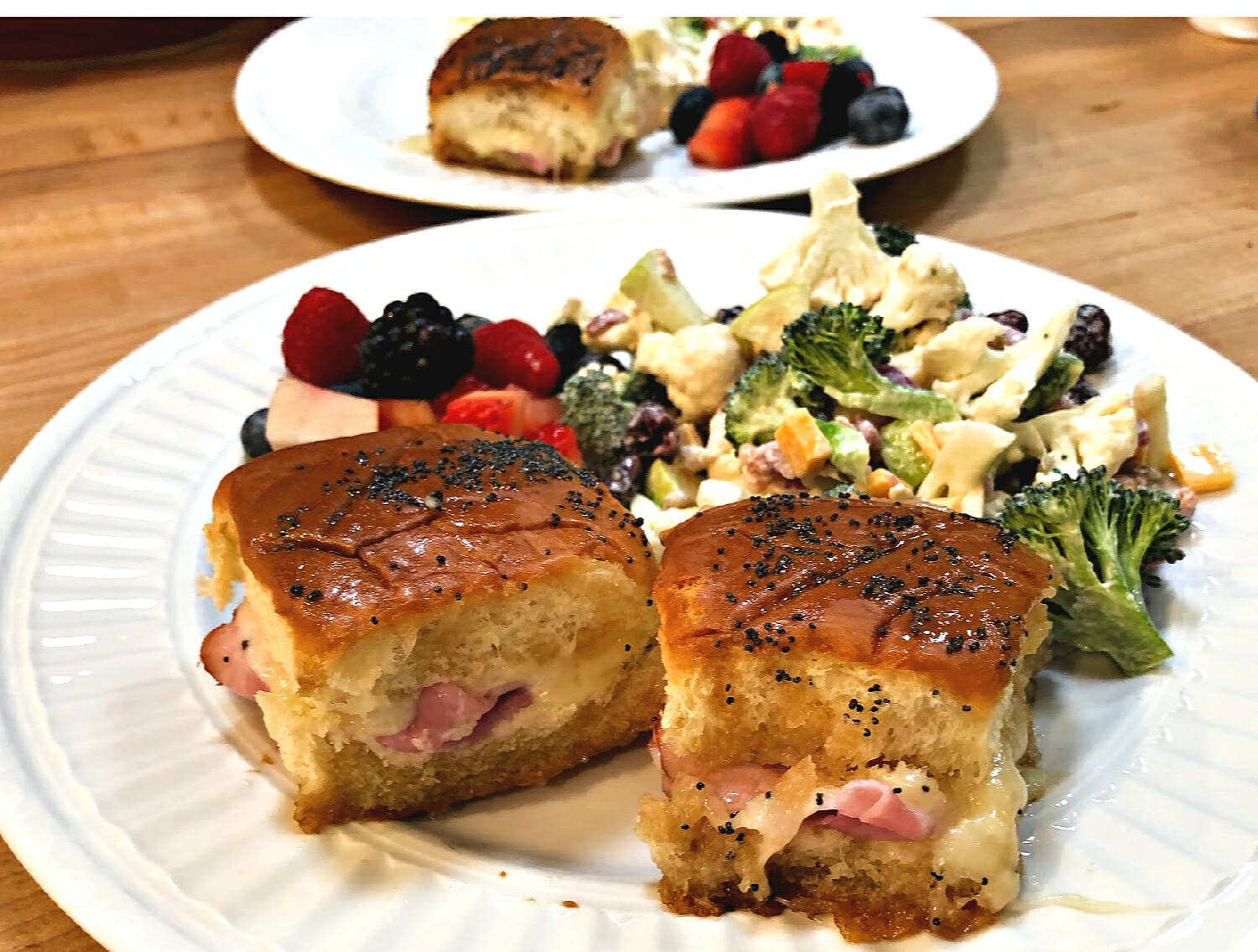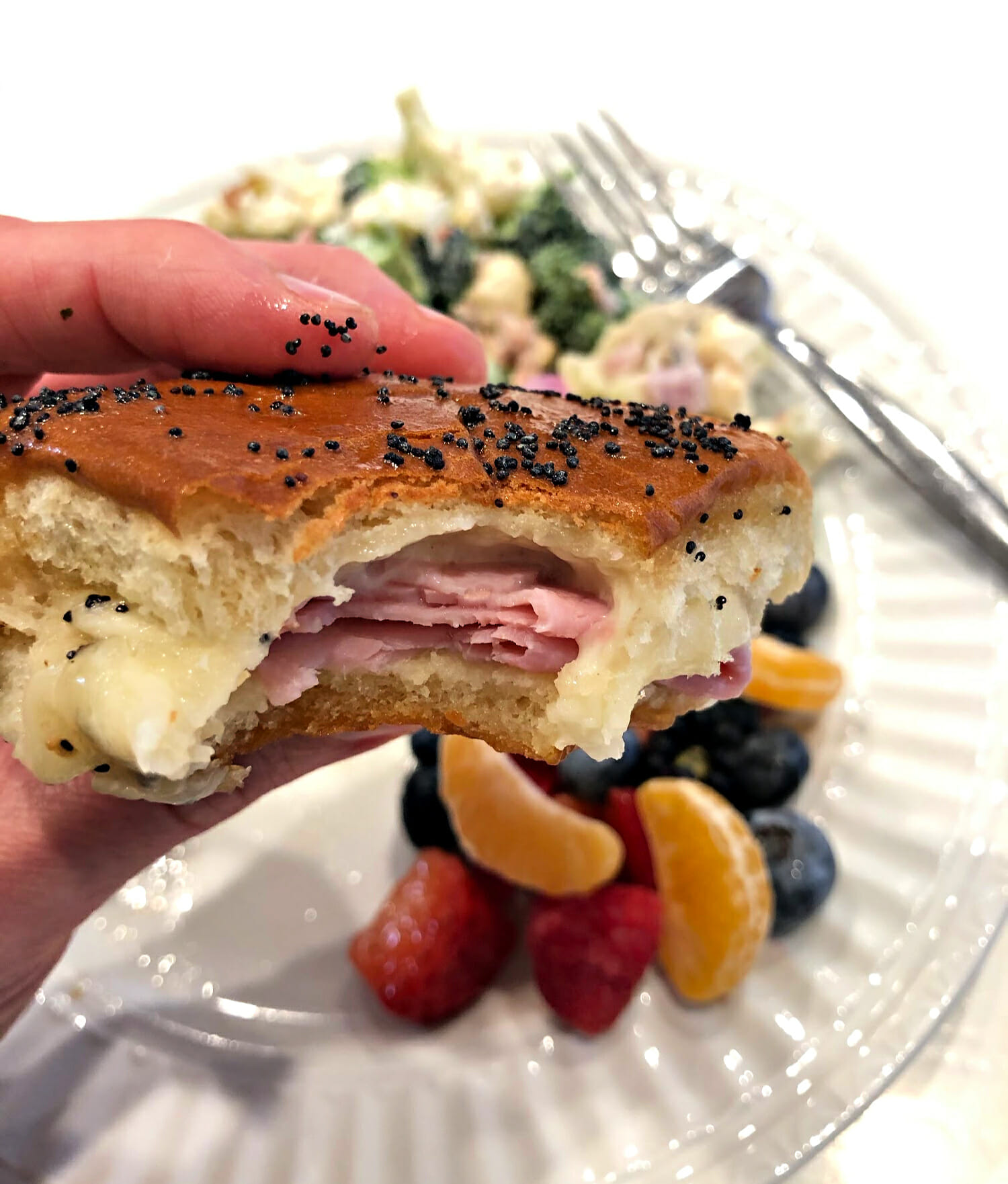 Have you tried this recipe yet?
If not, what's stopping you?
Visit my virtual recipe box for more simple, delicious, family-friendly, recipes!