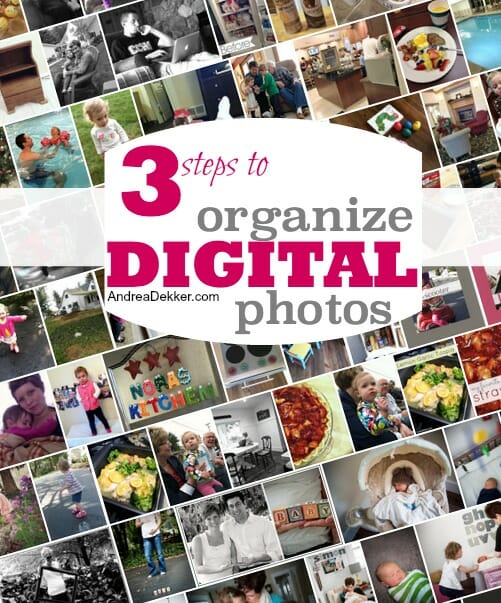 Ah…. photos!
Based on the email questions I get, and my past experiences working with in-home organizing clients, I would dare to bet that photos are one of the most commonly stressed-about areas of "clutter".
Would you agree?
In some ways, having digital cameras and smartphones has lessened the physical clutter of photos — but in other ways, it makes photo organization seem THAT MUCH MORE overwhelming because there are such massive quantities of photos everywhere, and we don't know where to begin.
Since I rarely print individual pictures, and since I have scanned in every picture from Dave's and my childhood, my main method of photo storage is digital — on my computer and/or online. This is super convenient because it doesn't take up space in my home, I never need to look at piles of photo clutter, and I really don't need to worry about my photos being ruined or lost (see below for how I backup my photos and photo books).
HOWEVER, if I didn't have a system to organize my digital photos, I'm certain it would feel much more overwhelming to locate specific photos filed away on my computer.
If you're struggling to find a functional (yet simple) way to organize and keep track of all your digital photos, take a look at how I do it — maybe some of my ideas will work for you.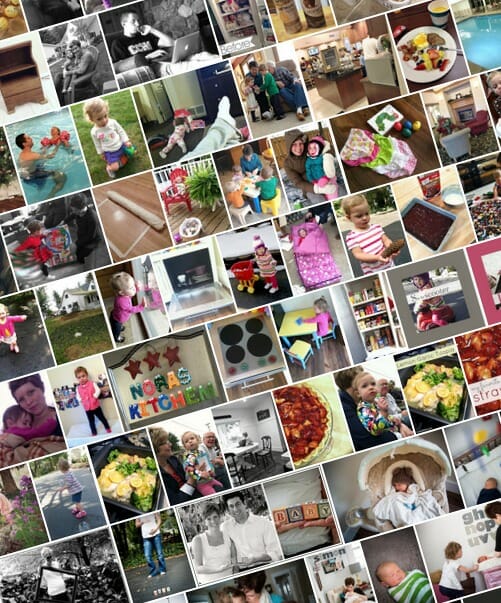 One thing to note is that Dave and I take 100% of our photos with our iPhones; and we both use Mac computers that are synced together and to both of our phones. That in itself helps to simplify and streamline the process. However, everything I mention below can definitely be done without any Apple products — I know because I organized my digital photos this way for years before we had iPhones or Mac computers.
Here is the step-by-step process of exactly what happens from the time I take my pictures to the time they are fully organized (digitally).
STEP 1. Transfer photos to computer.
The first step (in my opinion) is to get all your photos in one place. That might mean transferring photos from multiple phones, cameras, tablets, etc. — but there really is no way you can get your photos organized unless you get them all in one general location within your computer.
I'm lucky that 95% of the time, this happens automatically for me due the fact that our phones are synced with our computers. There are occasions when, for some reason, a few photos fail to transfer, and in those situations, I can simply plug my phone into my computer and manually transfer them over.
Whenever I plug my phone into my computer, it automatically tells me if there are photos on my phone that did not transfer over — and gives me the option to transfer them at that time (SO SIMPLE!)
.
STEP 2. Create a designated file (or files) for your digital photos.
All our photos are stored within "Photos" on our computer. I have specific files for each year — and within each year, I have individual files (or albums) for each month. I average about 200-300 pictures each month and every single picture goes into the appropriate month's files.
Our computers have a massive amount of storage, so we've been told by Apple that there really isn't any way our computer will be slowed down by photo storage (we'll see if this holds true over the next few years though!)
Since I can almost always remember what month I took a certain photo, it's a fairly quick process for me to go in and find a specific photo I might need. Monthly and yearly file succession makes the most sense for me — but feel free to organize it by event, holiday, family member, etc.
Also, all the photos stored on my computer are the "originals". They are not edited or formatted in any way — which is really nice for me because I know that even if I do edit a photo, I can always go back to the original later.
I didn't start doing this until roughly 2011, so all my photos before then are edited versions and I usually edited down the size, so the resolution of my photos from 2006-2011 are all really small (I learned that lesson the hard way I guess!)
.
STEP 3. Backup your photos.
I suppose the one huge downside to storing photos digitally is that you could potentially lose all your photos if your computer crashes or if it's stolen — but as long as you do regular computer backups, you don't have much to worry about (at least when it comes to lost pictures!)
Since all our photos are stored within "Photos", they are essentially backed up to our cloud server. However, I also back up both computers (and all our photos) every couple weeks, just to be safe. We use this portable hard drive — and I actually also store all our photos on a separate USB drive as well (so the photos are backed up in 2 different places).
On top of all of that, I also edit my favorite photos using PicMonkey and save them to my Flickr account online (PicMonkey and Flicker are both free programs). I edit roughly 25% of my photos — and those are the photos I use for my blog and for my digital photo albums.
The other 75% of my photos are still easily available to me at any time, but I don't spend time editing them upfront.
.
That's it!
Once I upload, organize, and backup my photos — I can easily access them whenever I want to or need to.
However, I suppose a 4th step could be:
STEP 4: Enjoy your photos!
I personally feel like it's somewhat wasteful to take a bunch of pictures if you aren't actually going to do anything with them.
I'll often print a few pictures (using freebie codes with Shutterfly and Snapfish) to send to our parents and grandparents. I also put a few printed pictures in frames, and get one large one for the wall above our couch — usually every 2 years.
I put the rest of our photos (or at least our favorites) into digital photo albums. (Read about my digital photo books here)
I make one large family book each calendar year (yes, I'm almost finished with our 2016 book!) and the kids each get their own individualized books after each birthday.
This system has worked so well for me for the last 10+ years… and I cannot tell you how much it has simplified my life. In general, I'm a big fan of "organized systems" but when it comes to digital clutter that easily goes unseen, I think organized systems are that much more important.
Without an organized system for my digital photos, I would spend considerably more time searching for the photos I need for my blog posts, I probably wouldn't be organized enough to create quality digital photo albums, and I most certainly would end up losing many of my photos in various files of my computer.
.
But is digital storage really safe?
The biggest argument I get when I suggest storing photos digitally is that they could get lost in cyber-space, be deleted, become a corrupted file, or just "disappear".
I realized it can feel a bit scary to only have digital copies of your photos — but if you think about it, your physical photos could also be lost, misplaced, stolen, burned in a house fire, or lost in a flood. That hasn't stopped you from keeping them tucked away in your attic or basement for all these years!
If you're worried about losing your digital photos, consider how Dave and I keep ours safe and sound…
#1: They are all stored on the Cloud and accessible using our Apple ID
#2: They are all stored on BOTH Dave and my computers
#3: They are all stored on 2 different portable storage devices — one of which is in our fireproof safe
#4: My favorite photos are stored online via Flickr AND many of them are also on my blog's server.
#5: I have printed copies of our favorite photos from each year of our life (all the way back to Dave and my birth) in my digital photo books.
#6: My digital photo albums are stored forever on Blurb's server with the ability for me to reprint them at any time.
So, unless our house burnt to the ground with both our computers inside and the fire destroyed our fire-proof safe, the Apple Company went out of business, AND the internet totally crashed all on the same day, I feel 100% confident that I cannot lose our photos. EVER!
Also, while it would be very disappointing and sad to lose our photos, it would not be the end of the world. Yes, I would forget many of the memories and fun times — but I wouldn't forget everything and I personally don't think it's worth hoarding massive amounts of pictures in bins in my attic or basement "just in case".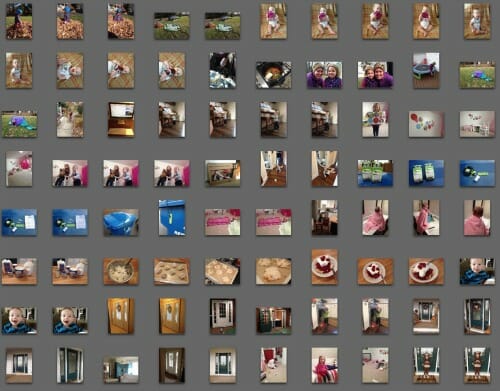 Digital photo storage works for me… period!
I 'd love to hear if you have any other simple ways of organizing your photos (digital or hard-copies)