Almost a FULL YEAR ago, I shared the first post in what I hoped would be a series of posts about all the simple home projects I do on a daily and weekly basis to keep my home neat enough, clean enough, organized enough, and efficient enough for my family and myself to enjoy spending the bulk of our time at home each day.
It was such a fun post to write and I was excited to write more…
But then I didn't write anything more — until today!
Over the last 11 months, I've certainly started and finished and tackled and completed more mini maintenance mode projects than I could ever list out in this post (or at least more than anyone would ever care to read about in this post). However, I just never felt compelled to write about them.
I suppose the thing with mini maintenance mode projects is that they are often very small, boring, unexciting, and fairly normal.
But at the same time, if I never did any of these small, boring, unexciting, normal projects around my home, they would eventually turn into really big, time-consuming, overwhelming projects that I would dread doing.
So they are super important… but not all that exciting to write about!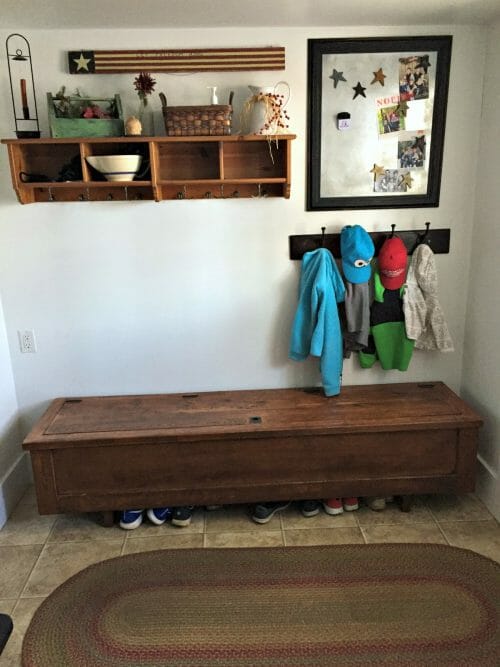 As I re-read through the post I shared almost exactly a year ago, I chuckled to myself, realizing that I did many of the same exact maintenance tasks over the past couple of weeks…
wiped out the refrigerator shelves and drawers
threw out holey socks
purged and rearranged kids' clothing
refilled all soap dispensers
wiped the crumbs out of the silverware drawer
snaked the shower drain (SO nasty)
However, I also have a short list of other simple, non-routine projects I tackled over the past 2 weeks in an effort to maintain my home.
.
1. Washed the insides of several windows.
The sun is finally starting to shine again in West Michigan (it truly is very dark and gloomy for most of the winter) so I wanted to be able to see clearly out of my main floor windows again!
I used my super frugal window cleaning cloth to very quickly clean the insides of all the kitchen, dining room, and living room windows. I did it all while the boys were finishing breakfast — it hardly took any time at all.
Eventually, once we get the outside of our house power-washed in a couple weeks I'll go back through and rewash ALL the windows, inside and out, including the window sills — but for now, this quick wash is good enough!
.
2. Washed all our pillows, blankets, and comforters.
I honestly hate doing this — but we have really nice pillows from The Company Store, and I know they will hold up better and last longer if I wash them regularly… and by "regularly" I mean roughly 2 times per year.
I do use 2 pillowcases on each pillow (and wash those every week) but I figure my kids literally spend half their lives laying on their pillows, so the pillows themselves should probably get washed a couple times a year!
I had a crazy experience washing my pillow this time though — it's a true feather pillow (not down) and it completely filled up with water, to the point where I couldn't get it to wring out, even after multiple extra spin sessions on the washer.
I ended up just putting it in the dryer for a LOOOOONG time, then running the spin cycle again, then drying it for a LOOOOONG time again. It turned out to be an all-day process that I wasn't too thrilled about, but I did finally get it dry.
I'm 100% positive I've washed that pillow several times before, but after looking up washing instructions online, it says NEVER to wash a true feather pillow in water. So I don't know if I've just gotten lucky in the past or what!
Have you ever washed a feather pillow before? If so, what happened?
.
3. Cleaned out the van.
This wasn't a big job at all — but it needed to be done eventually.
I just did a quick pick up, changed the trash bag we keep in the van, wiped down the surfaces the kids touch ALL the time, and vacuumed it out. Everything seems so much fresher and it only took me about 20 minutes!
Eventually, I will clean out the car seats and booster seats again — but not right now!
.
4. Vacuumed out the couch.
Even though we have a white couch, we let our kids eat snacks on the couch — so it doesn't take long before the cracks are filled with crumbs.
Sort of gross, but for some reason, it doesn't bother me. I vacuum them out occasionally, and figure, as long as I can't see the crumbs, I'm OK with it!
.
5. Better organized our game closet.
Over the summer, we turned the area under our stairs into a super functional game closet with TONS of storage.
Since then, we've celebrated Nora's birthday, Christmas, Simon's birthday, and Easter — all of which involved our children getting gifts of games, puzzles, etc. I also recently purchased a bunch of a games for the kids at our local thrift store because they were all $0.50 and I just couldn't pass them up!
So last week, I took 15 minutes to quickly purge a few items we no longer need and better stack, sort, and arrange the items we have now.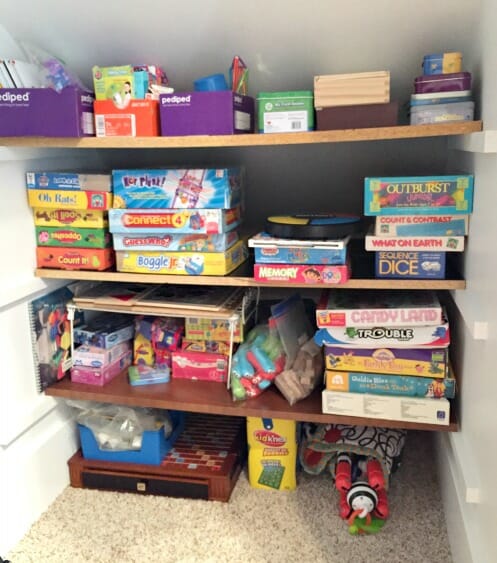 6. Better organized our pantry cabinet and deep freezer downstairs.
I noticed that I purchased 3 things at the grocery store that I already had in our pantry cabinet downstairs — because I didn't SEE that we had those items.
So I figured it was time to do a once-over of the pantry and freezer, better organize the shelves, and make a few weeks worth of menu plans to use up some of our stockpile!
.
7. Ordered a bunch of freebie gifts!
I've had several freebie coupons sitting in my email "follow up" folder for weeks (maybe even months) so I finally went through them all and either deleted them or ordered the free items.
I got a handful of free prints from Shutterfly, a free canvas from Canvas On The Cheap (I have the perfect spot for one!), and 3 free rolls of super cute washi tape (Nora LOVES this stuff) from Cultivate What Matters.
Then, thanks to the bonuses I got from the Ultimate Homemaking Bundle, I ordered a free Kiwi Crate for Nora and a free book box subscription from Bookaroo for Simon and James.
Of course, I definitely don't always use all the freebie coupons I get (I blogged more about why in this post) but these freebie offers were all for things we can actually use right now or for subscription services we've been wanting to try… so it worked out well!
Oh, and if you're interested, you can currently get $10 off your first month subscription to Kiwi Crate (normally $19.99 a month). I can't attest to whether or not we like it, but if we do, I'll definitely let you know!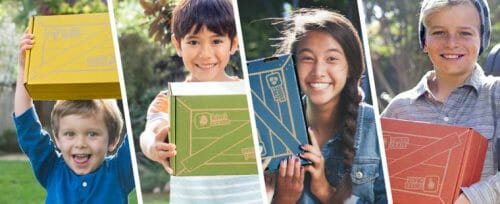 .
8. Purged one grocery bag of toys.
As the weather warms up, our kids start playing outside more and more — which means they think about their inside toys less and less.
I use this as an opportunity to purge a few of their inside toys every week.
They almost never notice, and if they do, they never really seem to mind as they are playing with all their outside toys again.
I use the same strategy in the fall to purge several of our outside toys!
.
9. Reorganized the mudroom.
After washing and putting our winter gear away a few weeks too early, I re-washed it all last week and officially put the boots and snow pants away (I haven't purged them yet just in case!)
I also got out the beach towels, bathing suits, sandals, sunscreen, and other summer gear.
We did a little rearranging of the benches in the mudroom (see #10 below for more on that) and I'm in the process of figuring out the best way to store everyone's shoes now that we have 6 people storing ALL our shoes, boots, sandals, etc. in this one space.
.
10. Hung new hooks in the mudroom.
My uncle recently built us a new (huge) storage bench for our mudroom, so I hung new hooks over part of it to balance it in the room a bit more. The new set of hooks was something I already had in the house (we previously used them in our dress-up closet) and I hung them nice and low so the kids can easily grab their own coats.
I think the extra storage from the hooks and the bench will be fabulous!
Here's how that area looked BEFORE the new bench and hooks:
And this is what it looks like now…
.
As I mentioned above, none of these project (aside from maybe the new bench in the mudroom) are very exciting or noteworthy — however, they all need to be done eventually. By doing them in little bits throughout the day, week, month, and year, they seem SO much less overwhelming, SO much less time-consuming, and SO much more do-able.
I certainly wouldn't want to take a full weekend to tackle any of these projects, but taking 10-20 minutes to do them now, interspersed between my other daily chores, really doesn't seem bad at all!
There will always be more little projects for me to tackle… but for now, I can add these 10 mini projects to my "done list"!
What Mini Maintenance Mode projects are on your list this week?
.