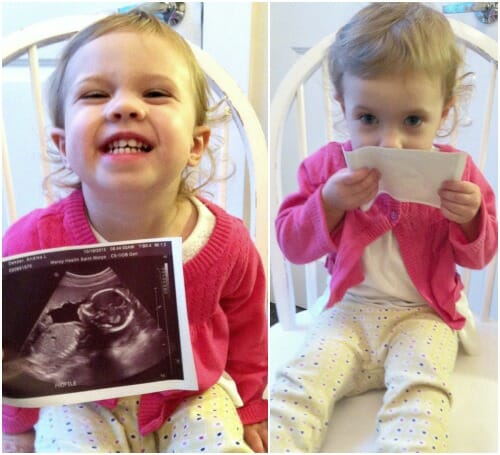 The results are in, and Baby Dekker #2 is a…
.
.
.
.
.
BOY!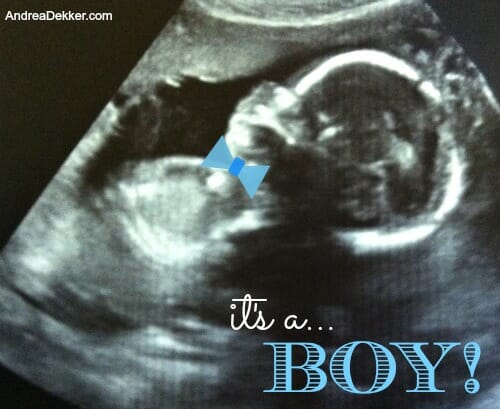 Truthfully, Dave and I didn't care either way.
On one hand, a girl would make it easy to share bedrooms, share clothing, etc.
But on the other hand, a boy is something new for us… and he will probably stand a better chance of "holding his own" against a bossy big sister.
The most important thing is that he (I love saying 'he') is seemingly very healthy… and VERY wiggly!
So yes, we are thrilled!
.
I emailed the good news to Dave after my ultrasound last week, and then we emailed the rest of our brothers, sisters, and Dave's parents later that day (with the baby boy picture above).
Obviously, all our family members are so happy for us — but I think my dad is probably the most excited since this will be the first son/grandson for him (all girls so far in his life besides the family dog).
We specifically didn't email my parents, but instead, told them by having Nora deliver a special gift to them later that night.
Yup, he and my mom were excited!
Although, I think the main reason my mom is so excited is because now she has another reason to shop for tiny baby clothing since we have no boy clothes (besides the 2 items in the picture above).
.
A girl would have been so fun — but having one of each seems really special too. And I'm certainly glad I didn't hang onto ALL Nora's old clothes since we clearly won't need girl clothes for a while (maybe never).
So we're over half way now (which still seems like we have an awfully long time to wait) but we have lots to do before this baby arrives so I'm sure the time will fly.
Here I am at almost 21 weeks… and growing 🙂
Oh, and in other news, I'll have a 2 year old in exactly one month!
I still don't think she understands the whole new baby thing — but she does keep asking me to look at the "baby brofer in mom's bewwy" — referring to the ultrasound photo 🙂