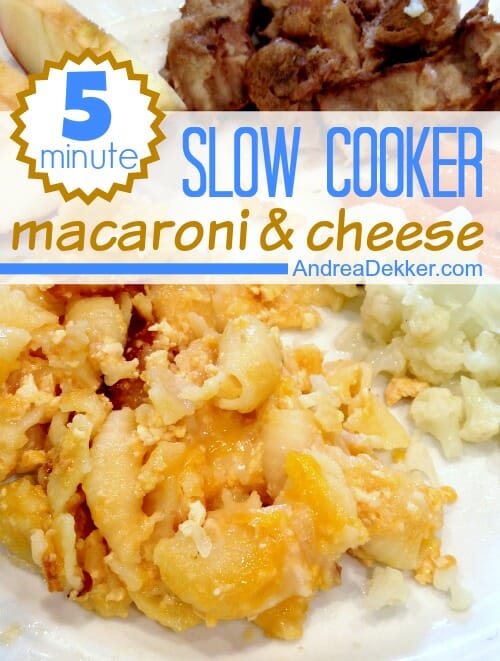 You know how much our family loves pasta and cheese — so it shouldn't come as a huge surprise that we love Mac and Cheese!
We're actually pretty big fans of the Kraft Mac and Cheese (especially Nora) but Dave and I also LOVE homemade, baked macaroni and cheese every now and then. Often, we'll eat it as a side dish, but sometimes we'll just have a big bowl as our main meal.
I've made baked macaroni and cheese several times — but what I really wanted was to find a super delicious (and super simple) slow cooker Mac and Cheese recipe that didn't involve boiling the noodles first — because who wants to get 2 different pans dirty for one pasta meal? Not me!
I read through tons of recipes and reviews online, I tried a few different recipes at home, and finally decided that when it comes to macaroni and cheese, the simplest recipe really is the best (at least in my opinion.)
The recipe I'm sharing today honestly takes 5 minutes or less to toss in a slow cooker — and in just a few hours, you have creamy delicious, homemade Macaroni and Cheese.
Recipe for Slow Cooker Macaroni & Cheese
Serves 4-6 as a main dish, and 7-10 as a side dish.
INGREDIENTS:
cooking spray
1.5 cups milk
one 12 oz. can evaporated milk (here's a recipe to easily make your own)
2 c. shredded cheddar cheese
1/2 t. salt
a pinch of Paprika (optional)
8 oz. UNCOOKED noodles (half of one 16 oz. box)
1-2 cups additional shredded cheese (I used Colby Jack)
DIRECTIONS:
Spray the bowl of a slow cooker with cooking spray
Mix both milks, cheese, salt, and paprika in bowl of slow cooker until well combined
Stir in uncooked noodles, cover, and cook on low for 3-5 hours or until noodles are fully cooked.
Add additional shredded cheese, stir, cover and cook for 15-20 minutes or until cheese is melted. You can also add a little more milk at this point if it seems too thick for your taste.
Serve and enjoy.
I usually dump everything in the slow cooker as I'm cleaning up our lunch dishes and then turn it on around 1:00. That way, it's perfectly cooked by 5:00 (we eat dinner very early).
I have wondered if our slow cooker cooks hotter than other slow cookers, so yours might take a bit longer than mine — especially if you're making a double or triple batch. You'll just want to watch it a little closer the first time… after that, you can simply dump everything in and come back a few hours later to a yummy, creamy, homemade macaroni and cheese!
This would be a great dish for potlucks or upcoming holiday parties too — something both the kids and adults will like!
There are literally hundreds of slow cooker mac and cheese recipes out there (believe me, I've looked through many of them). Most of them include all sorts of various ingredients (and I'm sure they are all delicious). However, I've found that we like it best with just milk, cheese, and a little salt.
When it comes to comfort foods like homemade macaroni and cheese, simple is often better!
YUM!
Visit my virtual recipe box for more simple, delicious, family friendly, recipes!