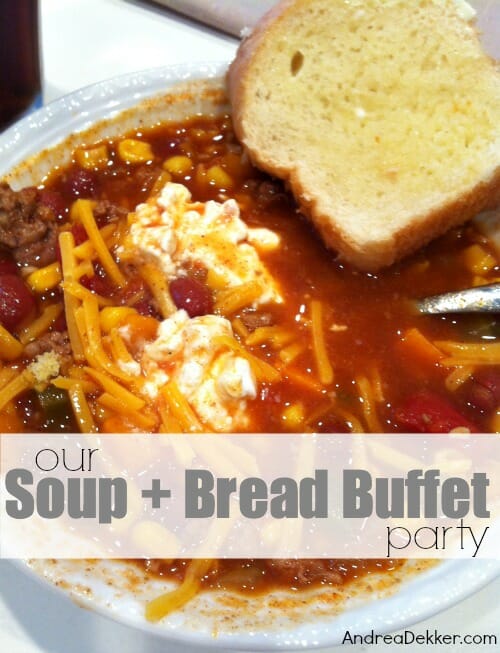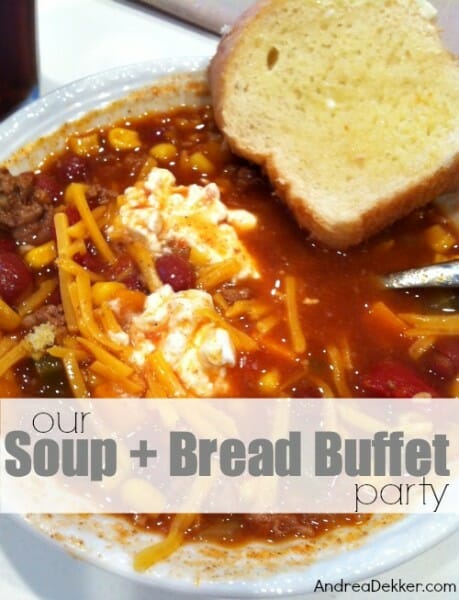 When we finally finished our summer-long landscaping project, Dave and I decided that we really shouldn't end a long summer of yard work without having a bunch of friends over for a backyard BBQ. Of course, our friends were all on board for a free dinner… however, once Labor Day came and went, we felt like a traditional BBQ with burgers, brats, and all the fixings just didn't seem right.
The weather was getting cooler, the leaves were starting to change color, and despite my intense double cheeseburger cravings, I was in the mood for more "fall foods".
So we opted for a homemade soup and bread buffet.
Yes, we know how to have a good time 🙂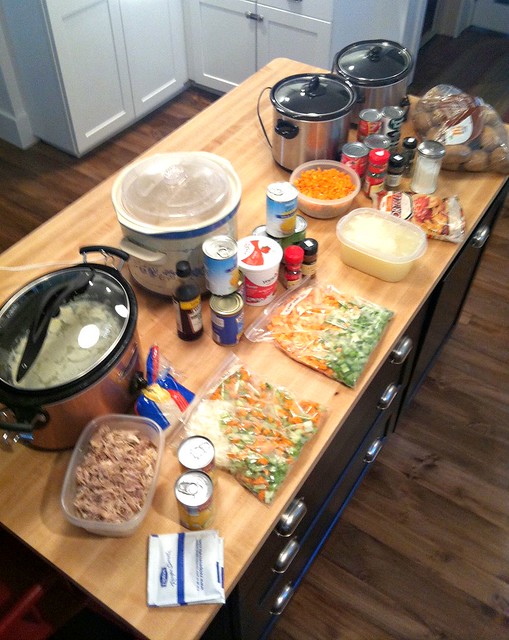 It was fabulous!
The weather was perfect, almost everyone was able to make it, all the kids (12 under the age of 4) played nicely together, the hot soup tasted so good on a cool fall evening, and we even had the Michigan State vs. Notre Dame football game going in our outbuilding — per the guys' request 🙂
I think everyone had a really good time.
Believe it or not, entertaining is actually kind of overwhelming for me — and although I WANT to do it, I don't really love doing it, if that makes any sense!
I guess I just don't always love the extra work involved — because it IS work, even if you make simple meals and don't stress about having a perfectly clean or decorated house (which I don't).
I still need to come up with a menu, choose foods that hopefully everyone will like and be able to eat, make sure I have all the ingredients, buy the things I don't have, prepare the food, have everything ready at the right time, have dishes and cutlery easily accessible, etc. etc.
As you'll see by the severe lack of "final product" food pictures in this post, I really do try to keep entertaining as simple as possible — no cute decorations, no themes, no fancy foods, no staged food table for pretty pictures, and no beautiful serving platters. My main goal is to make enough food, keep it hot, and hopefully make everyone feel comfortable (like they don't need to worry about their kids spilling or something).
Fortunately for me (but unfortunately for this blog post) I was having too much fun eating, mingling with friends, and chasing after Nora that I never got any pictures of the finished foods before everyone dug in… and I only have one picture of the mostly-empty food table.
However, I think it must have tasted good because we almost had nothing left over besides a big stack of dirty dishes 🙂
It might sound overwhelming to cook for a crowd — but as you'll see below, I did a TON of the work ahead of time. In fact, the day of the party, I just dumped stuff in the different slow cookers, baked the bread, and helped Dave finish up some yard work.
Our Simple Soup + Bread Menu:
SOUPS:
Sausage and Cheese Tortellini Soup
Sweet Potato Chili (with sour cream and cheese for toppings)
Cheesy Mashed Potato Soup (with extra cheese and bacon bits for toppings)
BREADS:
5 loaves of bread — I just used frozen bread dough
1 9″ x 13″ pan of cornbread (recipe coming soon — it was amazing!)
24 mini cornbread muffins using the Jiffy mixes (for the kids)
Assortment of crackers
DESSERTS:
My favorite Candy Corn Mix
BEVERAGES:
Pop, water, lemonade, juice boxes, and milk boxes for kids
We had it all set up in (and directly outside of) our outbuilding — which is basically a 2-stall garage on one side and a very casual "living room" on the other side.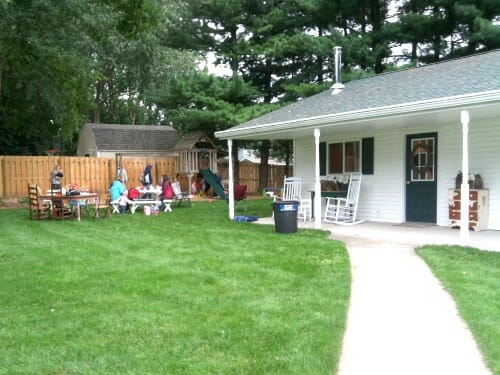 Please don't judge the presentation — things got kind of crazy with everyone coming back for 2nds and 3rds… and all the kiddos running around 🙂
So as I mentioned above, I did pretty much all the prep work ahead of time — and when it comes to soup, prep work is the majority of the work.
Here's a mini break-down of how I worked ahead:
1 week before:
Compiled all the recipes I wanted to make and listed off every single ingredient.
Crossed off the items I already had in my house.
Purchased the items I didn't have on hand and mentally noted NOT to use any of them before the party!
2 days before:
Made the Monster Cookie dough and put it in the refrigerator.
Cooked all the meat, sautéed onions and garlic, made the broth, and chopped the veggies for each different soup (Note: I didn't do this for the potato soup because I think it tastes best fresh)
Put all the pre-measured items for each of the other 3 soups in large food storage containers or zip-top bags.
Labeled the bags and containers as to which soup they were for and then put them in the fridge.
I also borrowed 2 extra slow cookers from my sister and neighbor.
The night before:
Defrosted the frozen bread dough in the fridge.
Made the brownies.
Got all paper products ready to go.
Made candy corn mix.
Put drinks in refrigerator and made extra ice.
The morning of:
Let the bread dough rise at room temperature.
Got out the slow cookers, the bags/containers of soup ingredients, the additional canned ingredients, and spices that were needed for each soup.
To be sure I wasn't forgetting anything, I laid out all the ingredients for each soup next to the slow cooker I was going to use for that soup. I'm a very visual person, so this was actually really helpful for me and I realized that I did in fact forget one key ingredient for the chicken and rice soup. Luckily, we have a grocery store just down the road.
Then all I had to do was dump the pre-cooked, pre-washed, pre-measured ingredients into the corresponding slow cookers and turn them on.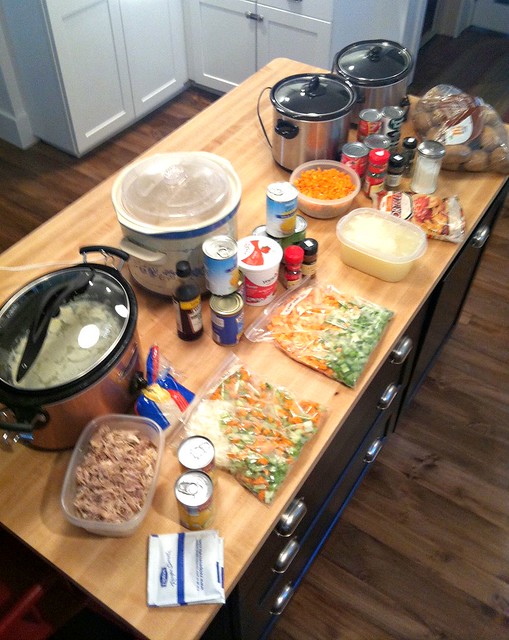 Chicken & Rice Soup
Sweet Potato Chili
Sausage and Cheese Tortellini
Cheesy Mashed Potato Soup
The afternoon of:
Baked cookies
Baked bread and corn bread
Set up food, drink, and dessert stations in the outbuilding
Briefed Nora that she would have to share her toys with lots of kids and waited for guests to arrive 🙂
Looking back, I don't think there was any way I could have done everything if I had waited until the last day.
Since we were eating early (shortly after 5:00) and the slow cookers needed to be on for 6-8 hours, I would have had to cook, sauté, chop, wash, and boil everything for 4 huge batches of soup by 10:00am or earlier — and on a Saturday morning, that just isn't going to happen.
Plus, by planning ahead, I was able to tackle most of the dirty dishes before Saturday, which meant my kitchen looked a bit more presentable when people arrived 🙂
All in all, we had a really fun time, we ate A LOT, and Nora survived sharing her beloved toys. She even came up to me with a big smile the next day and said, "friends come over, I share toys, they give back toys"!
.
Oh, and I should mention that for feeding 16 adults and 12 toddlers, the total cost was right around $90 (including the estimated cost for the food I already had in the house). I don't do a ton of entertaining and we didn't serve alcohol — but less than $3.25 per person sounds reasonable to me — especially since we ended up with 3 smaller containers of leftover soup and a bunch of brownies for the freezer!
Frugality is obviously not the main reason I chose to serve homemade soup and bread, but it was definitely a perk — and might be something to consider if you're hosting a party this fall or winter.
What are your favorite foods for entertaining?