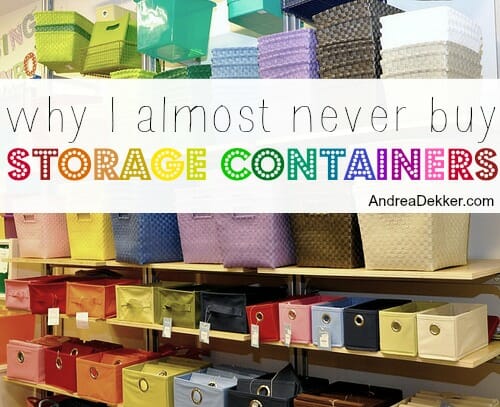 This post is updated and revised from a post I originally wrote 2 years ago as I feel it is very fitting for this time of year.
You might think that someone in my line of work would have a serious infatuation with all types of storage containers… but in my case, you would be wrong.
You see, I almost never buy storage containers.
I'd be lying if I said that the enormous stacks of brightly colored, perfectly matching storage containers at all the local stores don't make me drool just a little bit. I almost always walk a little slower past the storage container section, just to get a good look at all the amazing storage products available these days.
But I almost never purchase anything… honestly!
The last storage containers I purchased were for Simon's nursery (before he was born — or over 2 years ago).
So how can I get by without purchasing more and more storage containers?
Two Reasons I Almost Never Buy Storage Containers
1. I don't STORE a lot of stuff!
This might sound kind of obvious, but since we don't hang onto mass amounts of decorations, memorabilia, craft supplies, baby clothing, etc. we don't need storage containers to store them in.
By simply doing regular purges throughout the year, I'm able to maintain the stuff we have and do not need to purchase any more storage containers. In fact, I've actually been purging so much this past year that I have 3 or 4 completely empty storage containers sitting in our basement right now!
In my opinion, it's just a better use of time and money to take a few minutes to purge than to take an hour to drive to the store, buy a new container, only to realize that container won't work for your project anyway.
2. I make due with what I already have on hand.
This one is HUGE for me — because although I'd love to just hop on over to Target every single time I want to store something, I don't. With the various baskets, trays, diaper boxes, etc. that we already have lying around our house, it's extremely rare that I can NOT find a suitable storage solution already sitting around our house.
.
The Storage Containers I Actually Use:
Although I haven't actually purchased storage containers in years, I do definitely still use a variety of storage containers in and around our house.
Most of our storage containers are boxes, baskets, or bins that we've accumulated (for free) over the years — other containers were specifically purchased for various storage needs in and around our home.
Below are 4 of my favorite storage containers:
1. Clear Storage Tubs:
Back when we lived at our first house, we purchased these really heavy-duty metal shelving units from Menard's. At the time, I worried that we were spending too much — but based on how much we've used them over the years (and how sturdy they are) I would definitely say it was a quality purchase, and would highly recommend them to anyone looking for an extremely customizable, durable, and sturdy storage shelving unit.
After we decided on the best configuration of the shelves, I measured how much space we had between shelves and also how much stuff we needed to store. Then (and only then) did I head to the store to find the perfect storage tubs for our needs.
Since I was buying them at the beginning of a new year and EVERYTHING was on sale, I decided to get all matching tubs for a cleaner look — and I opted for clear just so I could see what was inside — but I don't necessarily think clear containers are best.
I purchased approximately 10 of these Sterilite 66 quart rectangle storage containers with latching lids and am SUPER happy with how they've held up and performed over the past 4+ years. (NOTE: I only paid a few bucks for each one from Target… so the Amazon price is definitely not the best one I've seen.)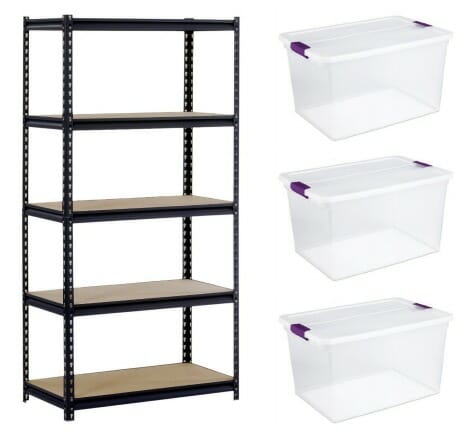 I love that the Sterlite containers are true rectangles (not curved around the edges). I also love that they actually have a latch to close them — so they don't accidentally pop open if they are bumped or nudged.
These containers are definitely my go-to organizing containers for our basement storage needs — mainly because they aren't too expensive, they are the perfect fit for our shelving unit, and they keep everything clean and dry.
(NOTE: The pictures below were actually taken 3 years ago — I have since purged at least 1/3 of the stuff on these shelves and now have several empty bins!)
2. Wicker Baskets:
I've gotten SO many wicker baskets as gifts over the years — often, they are the just the "wrapping" for the gift, not the actual gift.
I usually donate most of these baskets — but I do save some of the smaller to medium size baskets that are rectangular or square in shape. They are perfect for office supplies, craft supplies, toys, toiletries, etc. etc. and they look really nice sitting out.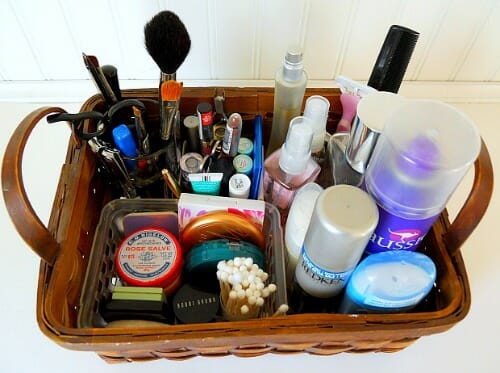 We use 4 large wicker baskets in our Master Bathroom — and they were purchased specifically to fit the little "open-concept linen closet cubbies" we designed. I LOVE how much storage these baskets give us (and also how they look in our bathroom!)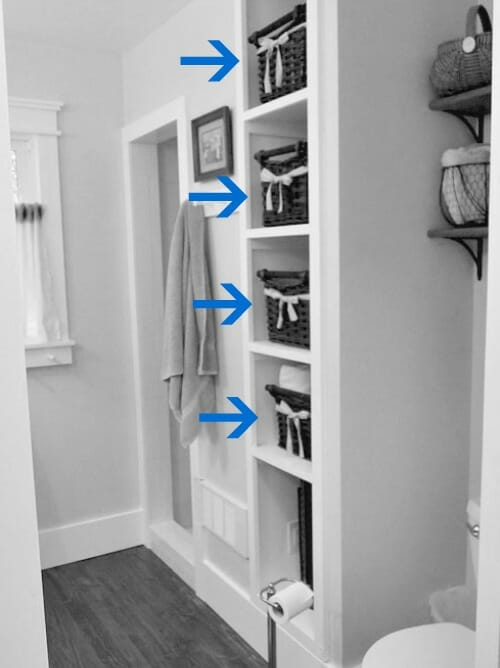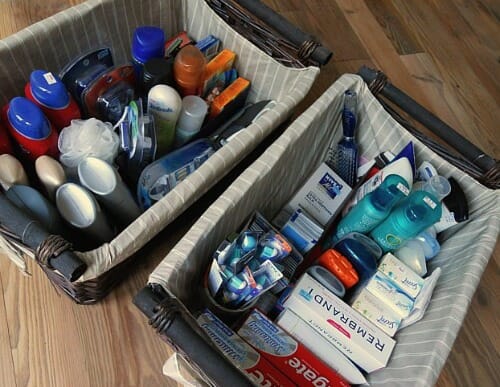 3. Collapsable Storage Containers:
One of the things I hate most about buying storage containers is that they take up SO much room when you're not using them.
Even in my house (as someone who tries really hard not to accumulate stuff) I have a handful of empty storage tubs, baskets, and boxes that I'm not using. It IS nice to have this on hand for future projects — but in the meantime, they are taking up a bunch of space in our small storage closet upstairs.
I've always liked the idea of collapsable storage containers… but I never found any I liked until a couple of years ago.
The Cresbi Crates are technically for carting groceries around, but we use them to store toys as they are the perfect fit for our little toy cabinet upstairs.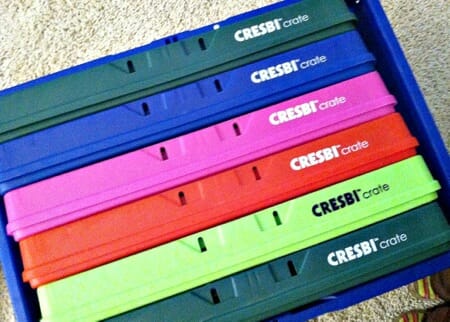 I also like the Pop 'n Store collapsible boxes for storing DVDs, cards, chords, memorabilia, craft supplies, batteries, etc. I also like that they have lids and stack really nicely.
4. Shoe Boxes and Diaper Boxes:
If you've been reading my blog for any amount of time, you've probably heard me profess my love for shoe boxes more than a few times. However, after having children in diapers for the past 4 years, I must now add large diaper boxes to my list of favorite freebie storage tools! 🙂
If you come to my house, you will find shoe boxes and/or diaper boxes used as organizational tools in almost every room of our house. We have shoe boxes in our sock drawers (for socks of course!), in our office to organize envelopes and small pads of paper, in our bathroom for extra toiletries, and even in our freezer to stack bags of cheese, baking supplies, frozen veggies, chocolate chips, etc.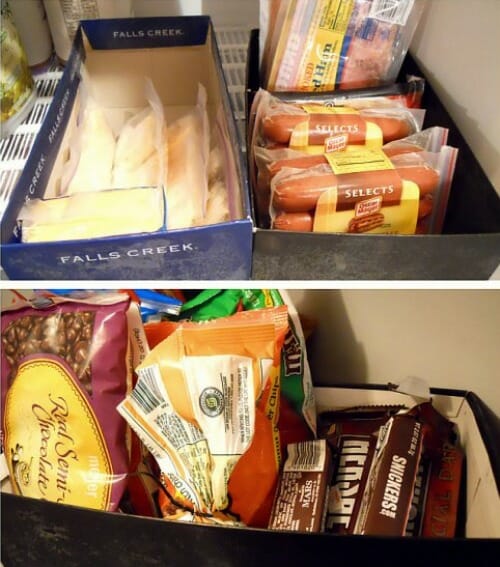 I use diaper boxes to corral toys, as donation boxes in the bottoms of our closets, to organize gift wrapping supplies, and so much more.
And if worse comes to worse, cover the diaper box with paper (or use any delivery box) for a fun child-friendly art project!
.
General rules if you ARE going to buy storage containers:
So if you've read my post, purged some of your things, searched your home for other containers, and are still convinced that you must purchase some new storage containers… here are a few things to think about before you do.
1. Don't buy anything until you're FINISHED purging, sorting, and organizing.
There is really no way you can know what type of storage container(s) you need until you are completely finished with your organizing project. So even if you are half-way through and know you don't have any suitable containers in your home… just wait! Resist that urge to run to the store and purchase those shiny new containers.
It's amazing how your storage needs change as you go through an organizing project. Who knows, you might end up purging more than you think — which means you might not need to buy any storage containers after all!
2. Go for square or rectangle containers
Unless I'm storing soup, I will almost ALWAYS opt for a square or rectangle container versus round or oval. They stack better, they store more, and they waste much less space overall.
Period!
3. Make sure you know the dimensions of the containers you need BEFORE you go to the store.
Seriously, you will save yourself SOOO much time, energy, and money by knowing exactly what you need before you head to the store. Don't just walk in aimlessly and pick the container you THINK will work — or the one you are most visually attracted too.
Your storage containers should work for you — not the other way around!
Basically, my best advice for buying storage containers is "don't do it"!
I'm not trying to be silly or cheap either!
I've witnessed time and time again that we can most likely get by with something we already have on hand… or we can do a little purging to make everything fit once again.
What are your thoughts on storage containers?