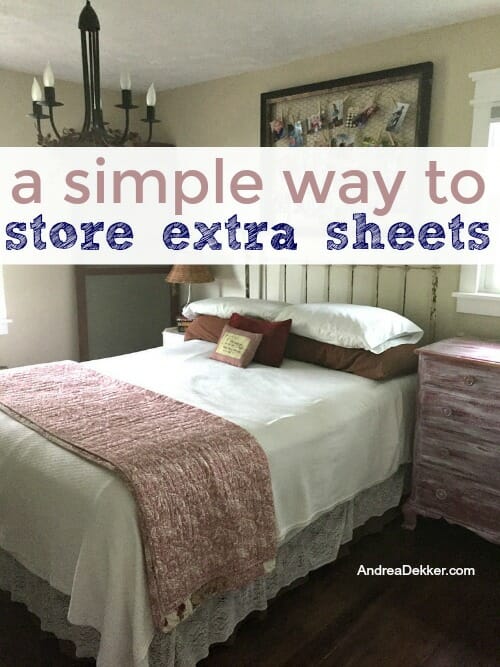 Four years ago (almost to the day), I shared a post about why we didn't need extra storage for linens — mainly because we didn't have any extra linens!
And honestly… we didn't!
We had one set of sheets per bed, a few extra towels stored in a basket in our bathroom, and some sleeping bags in storage.
It was a fabulously minimalistic system that worked well for us for several years. However, 4 years (and 3 more children) later, we have a little bit different system.
We still only have a minimal number of towels (1 bath towel per child, 2 bath towels per adult, and a few extra hand towels and washcloths) but Dave and I got flannel sheets 2 years ago and we instantly fell in love with them!
Since then, our kids have begged us for flannel sheets — so we now have 2 sets of sheets per bed (with no great place to store the set that's not in use). We could very easily make space in the kid's closets and in our closet, but I came up with a "better" idea for now 🙂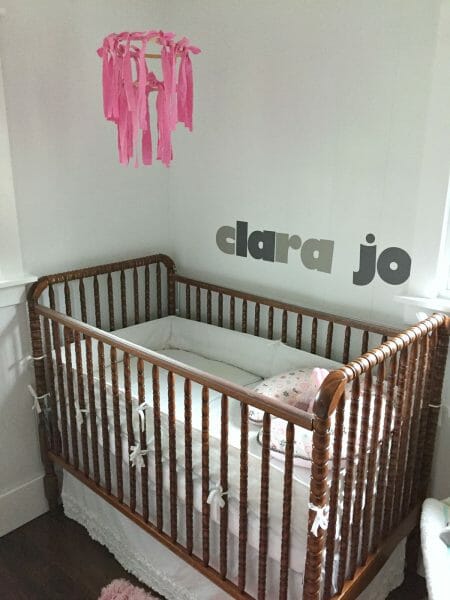 I simply store the 2nd set of sheets under the mattress pad!
I just switched our sheets over to flannel a few weeks ago — here's how I layered the sheets
mattress
fitted sheet from the set we're not using
flat sheet from the set we're not using (folded in half widthwise and laid lengthwise on top of the mattress)
fitted waterproof mattress pad
fitted flannel sheet
flat flannel sheet (tucked under the end of the mattress like "normal")
any other blankets or comforters we use on top
It sounds like a lot of layers, but it's a very quick process and a great way to save tons of space on linen storage.
As an added bonus, if a child has an accident or gets sick in the middle of the night, you can simply pull the top layer of sheets AND the waterproof mattress pad off the bed and you instantly have a second set ready to go.
I should point out that this system would NOT work well without a waterproof mattress pad to protect the 2nd set of sheets. Otherwise, you'd just end up getting both sets of sheets dirty and creating more work for yourself!
Also, I don't wash the mattress pad every time I wash the sheets, so everything under the mattress pad stays put even when I wash the top set of sheets and put them back on. If you like to wash the mattress pad every single time, this system might be slightly more of a pain for you!
And finally, if you put any sort of cushion or feather bed on top of your mattress, you'd most likely want to put that ON TOP of the unused set of sheets but still under the mattress pad.
I've used the layering system in our crib for years (layering multiple mattress pads and sheets on top of eachother) I'm not sure what took me so long to think of doing it for the rest of our beds too!
So now we can all enjoy lovely flannel sheets all winter long without adding extra clutter to our home!
Win Win!
How do you store extra sheets?
Oh, and if you're wondering what brand/type of sheets we use…

I LOVE the Threshold line of sheets from Target