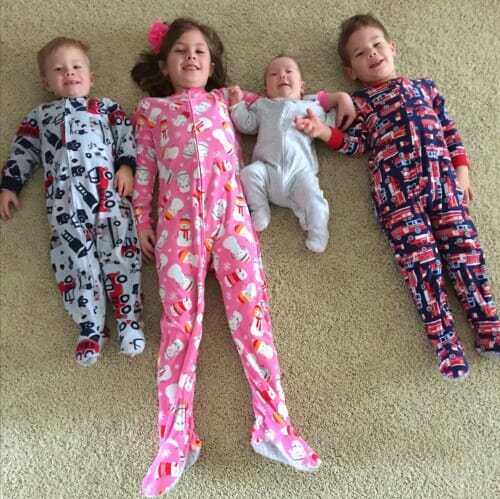 I've wanted to write another Peek Into Our Week post for about 3 weeks now — but our family had it's very first encounter with the stomach flu a couple of weeks ago, and I feel like life is just finally getting back to "normal" after ALLLLLLLLL that laundry!
Truthfully, I know how lucky we are to have such healthy children — it really caught us off guard when they started puking in the middle of the night! Nora got it first, then Simon 2 days later, followed by James 2 days after that… and Dave finally gave in and spent the day on the couch 2 days later.
Clara had a stuffy nose, but I think she steered clear of the rest of the negative side effects… and aside from feeling cold and achey for one afternoon, I didn't get hit very hard either.
After all, Moms can't get sick… right!
Our fridge also stopped working in the middle of the flu epidemic… which was a big pain, but actually turned out to be good timing since no one felt like eating anything anyway. It was also a good opportunity to thoroughly clean inside (and behind) the fridge!
Plus, it was so cold out that we could simply bring the food outside to keep it cold 🙂
Speaking of cold weather — we've been enjoying lots of pretty white snow around here!
Due to Clara's unpredictable napping schedule, the boys and I mainly enjoy the snow from inside, but Nora has been able to be outside a lot on the days she goes to school.
We went through the kids' winter gear several weeks ago and, after stocking up on almost everything we needed via our local thrift store, we still needed new warm mittens for everyone and some type of hat/face mask for the boys.
I splurged and purchased these mittens for all 3 kids and this 2-pack of face masks for the boys. We are very happy with everything so far and Nora says the gloves are "super easy to get on at school" and they seem to be quite water-resistant!
Aside from a 2 gift cards we still need to pick up, I'm totally finished with all my Christmas shopping! Yay!
Since I had everything purchased and wrapped ahead of time, Dave and I surprised the kids by having all their gifts under the tree when they woke up this past Saturday morning! And yes, we let them open everything too!
We figured this would give them a little extra time to enjoy their gifts from us before getting more gifts from my family on Christmas Day, and then even more gifts from Dave's family over New Year's weekend.
Plus, I was just too excited to give them their gifts and I didn't want to wait any longer! 🙂
I had to laugh when I noticed that one of the strands of lights on our tree went out the other day. There's no way I'm taking everything off to replace or fix it right now. So our already-crazy-looking tree just looks a little crazier!
.
Nora…
She got Barbie roller skates as her "big" present this Christmas ($2 from the thrift store). She also got earrings, art and craft supplies, a wallet, a flashlight, hair accessories, gloves, candy, and a Koosh Ball!
She still loves school and recently asked me to put notes in her lunch bag because some of the other kids' moms write notes 🙂
Her new favorite activity is reading to the boys before bed… it's very sweet.
.
Simon…
He wanted "sports stuff" and "bad guy stuff" for Christmas. So he got a Spiderman lunch box as his big gift (he thinks Spiderman is a bad guy and it was $0.25 from our thrift store).
He also got a flashlight, art and craft items, gloves, a wallet, candy, a calculator, and a Koosh Ball.
James…
He didn't really ask for any gifts — even when we suggested different options. So James got a magnetic tow truck as his big gift — along with the flashlight, gloves, arts and crafts, wallet, calculator, candy, and Koosh ball (are you sensing a theme here!?!)
Simon and James are such a fun duo… in fact, it's difficult for me to get individual pictures of them because they are almost always together. I love that they love each other!
I can tell they miss being able to run around and ride their bikes outside. Thankfully, we have lots of space and activities inside to occupy them (at least for now). I broke out the Kinetic Sand this past week and they were so excited and didn't even make too big of a mess 🙂
We also found them a few new items for church at a local thrift store — James is THRILLED to have a tie!
Don't they look handsome!
.
Clara…
I might be a "mean mom" but I don't really do gifts for kids under 15 months because they don't understand anyway!
So… the only gift Clara got was a little set of twin dolls I bought a couple years ago from a garage sale with the intent of giving them to Nora. However, Nora received other dolls as gifts, so I just kept these dolls stored away in a closet until this Christmas.
As you can tell, Clara is thrilled 🙂
In other Clara news… I cut almost 2 inches off the back of her hair because I just couldn't stand the straggly mullet look anymore!
She seems happy with it — and overall, she's a much happier baby that she was the first several weeks of her life!
She's still a little fussy in the evenings, but then she sleeps ALL NIGHT LONG — such a huge blessing for me!
.
ME…
Aside from doing LOTS of extra laundry, cleaning out our fridge, and wrapping a bunch of Christmas gifts, I haven't done a whole lot of "extra" stuff the past few weeks.
I did go through my winter coats, gloves, hats, boots, etc. and purged most of what I had. So much of it was second-hand items or things given to me from others many years ago. It was all OK, but I didn't really LOVE any of it — and I realized I hadn't gotten a new coat or boots since I was in college (at least 12 years ago)!
So, I did a little online shopping (a.k.a buying my own Christmas gift) and I THINK I found the perfect coat for my needs.
I was looking for something I could wear with almost anything — for church, running errands, or just hanging out with the kids outside. I wanted the coat to be rain-resistant (with a hood) but I wanted the hood to be removable so I could have a dressier look if needed. I wanted a mid-length coat with full-zipper pockets. I also wanted it to work for spring, winter, and fall in Michigan.
I finally decided on this coat from Eddie Bauer.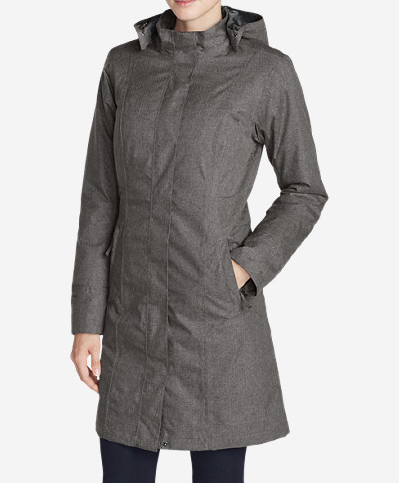 It's waterproof with a removable hood and full zipper pockets. It's a great length for me and seems like it will work with almost all my clothing and for almost all the activities I do (I also have a ski jacket for playing in the snow).
It's somewhat tailored, but also fits comfortably over a bulky sweater, and it has a removable quilted liner that should allow this coat to work for most Michigan weather!!
I used a coupon code and got 60% off plus free shipping — and, I shopped through ebates to get cash back. I figure, if I wear this coat daily for the next 12 years, it's definitley worth the money!
Now I'm on the lookout for quality (and cute) winter boots that will work for playing with the kids, running errands, and everything in between. I have my eye on these Sorel Boots, but I haven't made the purchase just yet. I'm not sure if I want tie boots — or if I should go for something more like Bogs. I'm open to suggestions if you have any great boots that will hold up to our long, cold West Michigan winters!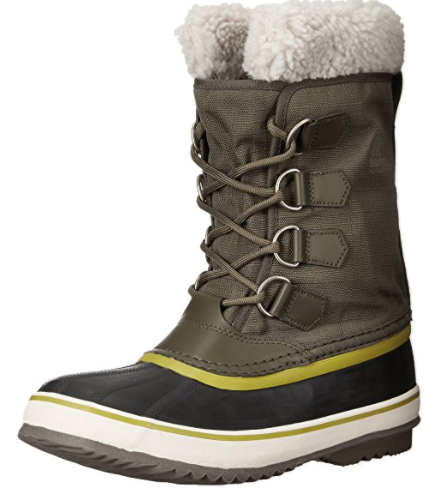 .
I'm anxiously waiting for my 2018 Personal Planner to arrive — I was a little late on ordering it this year (I must have been preoccupied with something or someone) but it's on its way now!
I'll share more pictures, a discount code, AND a giveaway right after the New Year!
.
I also FINALLY started reading the ebook I downloaded to my phone the day before Clara was born 🙂
I had grand hopes of doing lots of reading as I snuggled her every night — but since she was so fussy, I had to pace, bounce, and shush her from 7-11pm. So instead of reading, I plowed through my Netflix list in record speed!
I watched EVERY single episode of Gilmore Girls (a huge undertaking!) — including the new "Year In Review" episodes. The first few seasons were definitely better than the last few, but I still enjoyed re-watching one of my favorite high school shows.
I finished the first season of Anne With an E (so cute), the newest season of Fuller House, and the newest season of When Calls The Heart.
Dave and I are also excited to watch the new season of The Crown over Christmas break — and I'm sure I'll watch a few of the cheesy Hallmark Christmas movies!
Our Weekly Menu:
SUNDAY:
MONDAY:
Pizza stuffed shells (from the freezer)
Garlic Bread
Green Beans
Cupcakes (from the freezer – leftover from Nora's birthday)
TUESDAY:
WEDNESDAY:
Chips and Salsa
Lettuce salad
M&M cookies
THURSDAY:
Meatloaf (from the freezer)
Applesauce
Rolls
M&M cookies
FRIDAY:
SATURDAY:
Culvers (we were supposed to go a couple weeks ago for Dave's birthday, but then everyone got sick.)
I think I've finally depleted my pre-baby freezer stash — seriously, I can't even begin to explain how glorious it was to have SO many meals ready to go. We did end up eating a lot of the same things over the past 10 weeks, but thankfully, my family isn't picky!
I have a feeling I'll probably put a few meals in the freezer over Christmas break, but for the most part, I'll stick with my previous system of keeping our freezer stocked with pre-cooked, pre-portioned ingredients instead of full meals.
.
I think that's all for now!
I'll be blogging through the rest of this week and then taking a little break between Christmas and New Years — so this will officially be your last "peek into our week" for 2017!