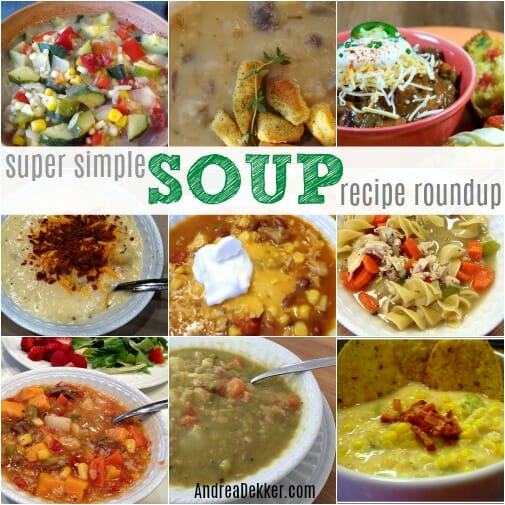 Winter has officially arrived here in West Michigan — yippee!
.
Although I make soup regularly throughout the entire year, I definitely make more soup during the long cold winter months. And surprisingly, our kids eat soup really well!
If a nice hot bowl of soup sounds like something you'd like for dinner, then the super simple soup recipes below should give you plenty of ideas!
Simply click on the soup title to open that recipe (they will open in a new window).
.
This is our kids most favorite soup — they request it all year long, and it's SO easy to make.
I always try to keep containers of chopped ham in the freezer, so I simply cook up some potatoes and carrots, add in the ham, thicken the broth, and we're ready to eat.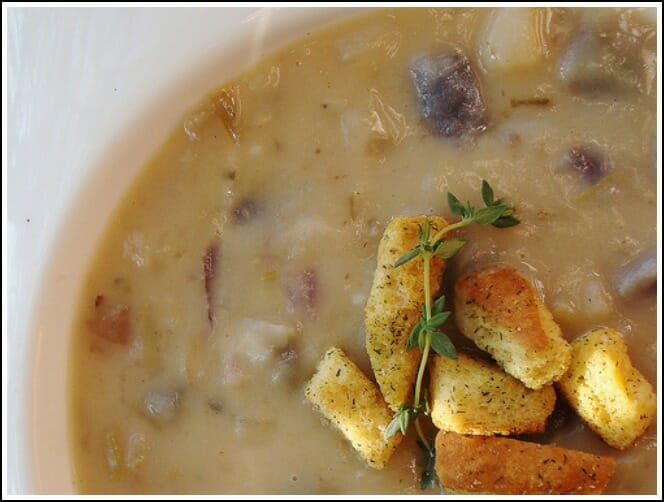 .
Another favorite for anyone who enjoys ham is pea soup. It doesn't sound or look all that appetizing, but it sure tastes good on a cold day!
.
Dave and I both love most varieties of chili, but this sweet potato version is really tasty (especially served with my yummy semi-homemade cornbread!)
It only takes minutes to put everything together (I always keep cooked ground beef in the freezer) and it freezes wonderfully.
I usually make the chili in the morning and let it simmer on the stove all afternoon. However, it can also be made in a slow cooker.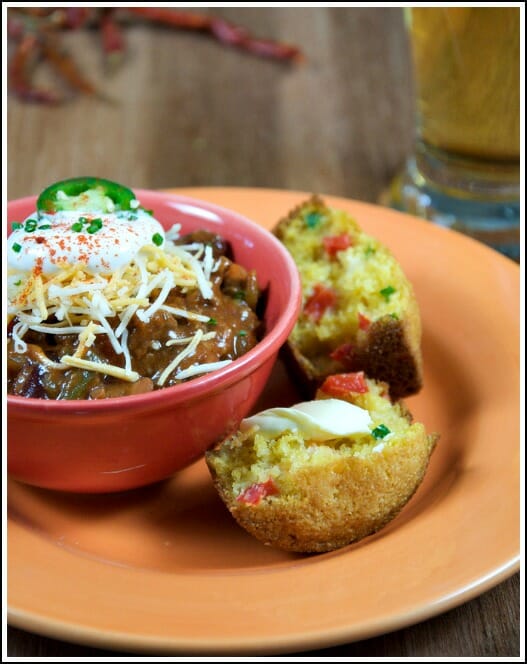 .
This is my personal favorite from today's list. It has SO much flavor, so many great textures, and it's really hearty.
The sausage pairs well with the cheese tortellini — it's almost like an Italian stew. Delicious!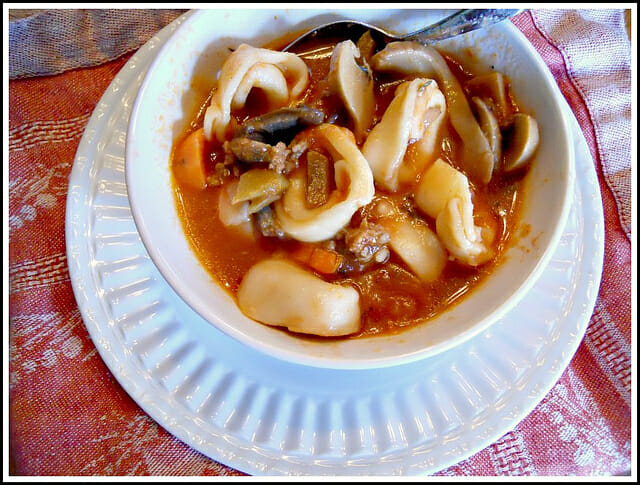 .
A couple years ago, Dave's parents gave us a quarter of a cow for Christmas. We got lots of yummy beef — including delicious stew meat that I used to make lots and lots of vegetable beef soup (you can also use ground beef if you prefer).
It's a great way to get our kids to willingly eat extra veggies!
.
This chowder is another great way to use up any leftover veggies you have in your fridge (or freezer). You can mix up the veggies based on whatever you have in the house or whatever is in season at the time — yes, we make this yummy soup all year long!
You can add ham or sausage if you'd like a meat component, but it really is great just with the veggies.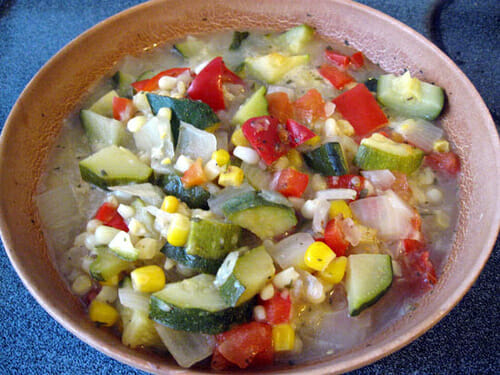 .
Dave's favorite soup is cheese broccoli soup — and although it has never been on the top of my favorite soup list, I do enjoy this recipe every now and then. The trick for me is to chop the broccoli pieces super tiny and make sure the cheese isn't too thick.
.
I grew up eating chicken and rice soup, so it has always been a favorite of mine — especially once I realized how super simple my mom's recipe was!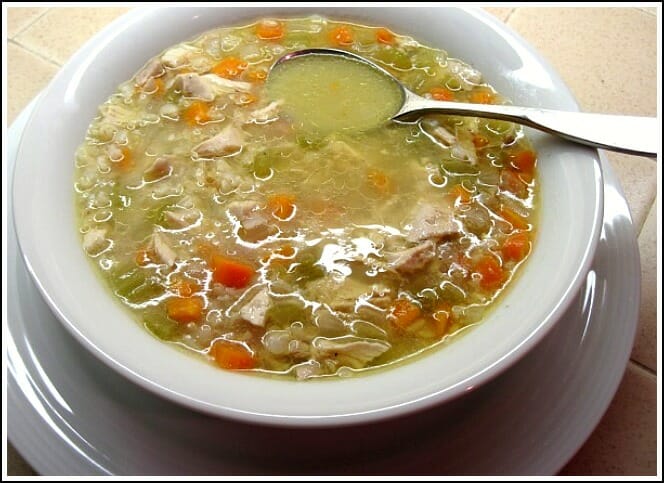 .
If you're looking for a more traditional chicken and noodle soup, you'll love this recipe.
It's totally "from scratch" and can be whipped up in 30 minutes or less!
.
Corn chowder is another one of our kids' favorite soups… and it's another super easy recipe using really basic ingredients we always seem to have on hand.
We like it with crumbled bacon or chopped ham, but it could easily be made vegetarian as well.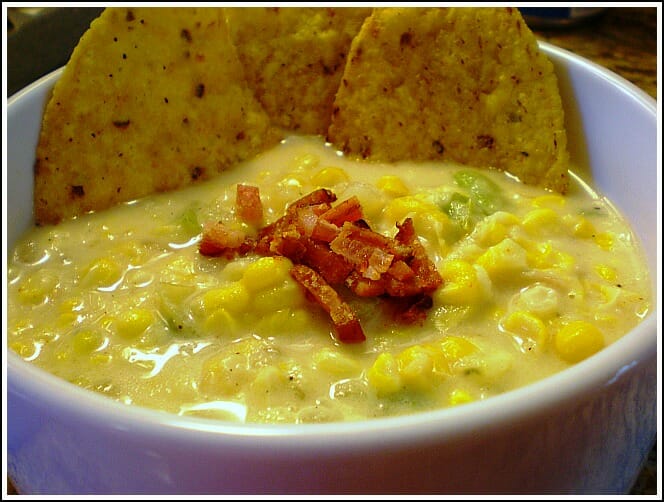 .
Another great vegetarian option is this ridiculously easy refried bean soup (it doesn't have to be spicy!)
Simply dump a bunch of canned beans, tomatoes, salsas, corn, and chilies and you're practically ready to eat!
.
One of my favorite uses for leftover mashed potatoes is to thicken various soup recipes. However, when I REALLY have a lot of leftover mashed potatoes, this recipe is how I use them up.
It's thick and hearty, and has tons of flavor. Our kids LOVE it with extra cheese and crumbled bacon on top!
.
This recipe is a mashup of my chili and the refried bean soup recipes above.
It basically involves dumping a bunch of simple ingredients into a pot and adding the meat and seasoning of your choice — then simmering until you're ready to eat. Nothing too fancy, but it sure tastes good.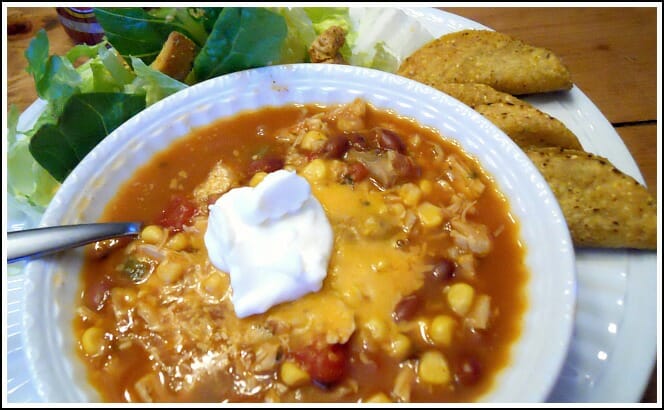 .
Soup is one of those meals that is so easy for me to throw together in the morning (either on the stove or in a slow cooker) and let it simmer all day or simply reheat it when we're ready to eat.
It's also great for eating in shifts (if you have to shuttle kids to and from practices and games), it tastes great as leftovers, and it usually freezes well too. Plus, it's often a very frugal meal and requires few side dishes!
We usually have some sort of salad, a slice of bread with butter, and maybe a few crackers… SO SIMPLE!
What are your favorite soups?