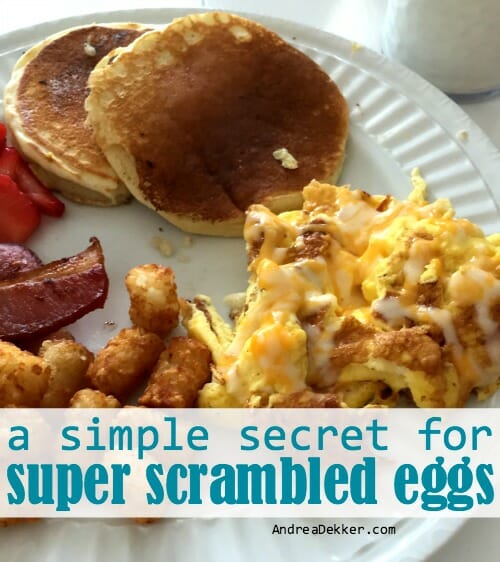 Back when I was in college, I had a handful of part-time jobs — one of which was cleaning and house-sitting for a local family.
The lady was 100% Italian and I swear some days all she did was cook! She was an excellent cook and insisted I try everything she made — plus, she almost always sent me home with some sort of leftovers (a big bonus for a college student)!
They had a very large house, so I spent the better part of my day there — usually eating both breakfast and lunch at their kitchen table. She almost always made me pancakes with blueberry syrup and scrambled eggs for breakfast… and she almost always put cottage cheese in the eggs.
Those eggs were some of the best scrambled eggs I've ever had; and since then, I have often added cottage cheese to my scrambled eggs.
It might seem crazy, but my kids don't even know it's in the eggs and they eagerly gobble up mom's "Cheese Eggs" — along with all the extra protein, calcium, and other vitamins!
From what I've read, cottage cheese is one of the top food sources of Casein — a very slow digesting protein that helps us feel fuller longer.
I personally don't like eating cottage cheese plain, but I love it mixed in with lasagna or scrambled eggs — and so do my kids!
I usually add about 1-2 Tablespoons of cottage cheese per egg; so for the 6 eggs I made the other day, I scooped out a little more than a 1/2 c. and it seemed like the perfect amount for me (note, I do NOT add milk when I add the cottage cheese, but I'm sure it would still taste fine if you added both milk and cottage cheese).
Not only does the cottage cheese add more nutrients to the eggs, it also helps them taste so delicious! In my opinion, no one would ever be able to taste cottage cheese in these eggs… however the last time I made them, Dave immediately asked if these were my "cottage cheese eggs" because they tasted so light and fluffy.
There is no recipe for these eggs because there is no right or wrong way to add the cottage cheese.
And even if you don't love cottage cheese, I have a feeling you will really like these eggs!
Do you have any other simple secrets for super scrambled eggs?