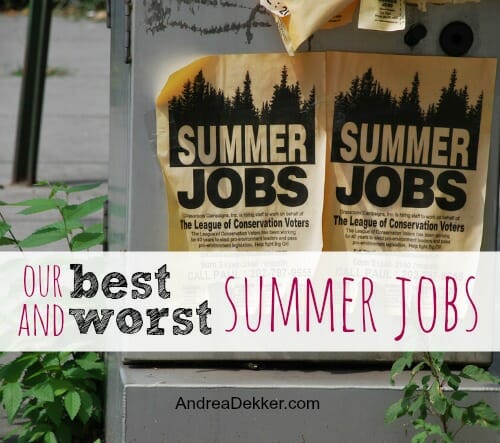 I am often asked if Dave has a summer job… and I think most people are shocked when I tell them no.
As you'll read below, he has had many summer jobs in the past, but we both decided that after we had kids, we wanted him to be home during the summers — and that has always been one of the many reasons we live somewhat frugally.
I'd SO MUCH RATHER give up vacations, fancy "toys", expensive clothes, cable TV, and other conveniences to have him home all day, every day for 10 weeks in the summer… especially since I know he wants to be home.
Some of our friends joke that he must get bored or go crazy at home with the kids all day — but Dave assures me he definitely does not want to get any type of summer job while our kids are little… and I'm not going to argue with him on that one! He is such a fun dad and plays so well with our kids — I'm positive our entire family benefits every day he's home with us.
That said, Dave and I were recently talking about the summer jobs we've had in the past — and since some of you have asked me about our summer jobs, I thought it might be fun to share them with you!
.
I'll start off with my jobs…
Catering
The neighbor across the street from my parents ran (and still runs) a catering business out of her basement. I started working for her on a VERY limited basis back in 5th and 6th grade already — mostly just on weekends and in the summer. I continued working for her off and on throughout middle school. It was the perfect job for me at the time because I could just walk across the street.
It was hard work because I was so small (lifting heavy stacks of plates, washing huge pots) but I really did love it. I can remember the first time I saw her effortlessly carve a watermelon into a beautiful basket (with a handle) that she then used to serve her fruit salad. And to this day, any time I put plastic wrap over something, I think back to her HUGE rolls of plastic wrap that we had to put over everything before we could bring the food out to her catering van.
Office cleaning
Another neighbor cleaned offices at nights, and in 8th and 9th grade, I would often help her do some of the larger cleaning jobs on the weekend. I don't remember enjoying it that much, but I did learn a lot about cleaning from her.
Bussing tables
This is potentially my worst job ever (besides babysitting, which I didn't include because I almost never babysat for anyone!)
The restaurant I worked at was dark and smoky (this was before you couldn't smoke in restaurants) and I got a headache every time I went to work. I was hardly 16 when I started working there and I told my mom she should be ashamed of herself for letting me work there 🙂
I soon found 2 other jobs (American Eagle and a grocery store) so I quit after about 6 weeks!
American Eagle
Working retail was absolutely AWFUL (at least for my personality) but I did it because all my clothing was from American Eagle and I wanted to get the 40% off employee discount.
I worked as few shifts as I possibly could (while working at the grocery store) just to keep my discount!
Grocery Store Cashier
For 3 summers, I worked as a cashier for 2 local grocery stores (not both at the same time). Although it wasn't my dream job, I really did enjoy this work.
I loved keeping my cash drawer neat and orderly (with all the bills facing the same way). I loved bagging the groceries in an organized fashion so everything fit just so in their carts (people thanked me for this ALLLLLLLLLLL the time), and I loved stocking the shelves so everything looked nice.
The grocery store was definitely my favorite high school summer job.
Greenhouses
For a short time in college, I did data entry for a local greenhouse. It wasn't fun but I could do it whenever it worked in my schedule, so I could fit it in around my other job(s). It also paid by how much I finished (not by the hour) so I worked quickly and made really great money!
House cleaning
About 3 months into my college career, the telephone in my dorm room rang. The person asked for my roommate (apparently they were in a chemistry class together) but I said she was gone for the weekend. I asked to take a message — the girl explained that her parents were looking for someone to come clean their home once a week and they really wanted someone to start the next day.
I said I could come… and the rest is history!
For the next 7 years (even after I was married) I spent a full day EVERY week cleaning a mansion of a house about 1 mile from my college campus. I house-sat when they want on vacation, I dog-sat when they were out of town, I helped her in the yard, I helped with laundry, I helped her prepare for upcoming holiday parties and other events… and I cleaned their massive 3 story, 6 bedroom, 6 bathroom house every week.
It was FABULOUS!
We don't stay in touch anymore (sort of weird, but that's her personality) but I have so many great memories working for this family… and it was the perfect job for me as I was always able to schedule my college courses so I would have heavier class loads 4 days a week with 1 day free for cleaning!
Custodian
Right around the time I got the house cleaning job mentioned above, I also snagged a sought-after position as a custodian in my college's athletic center. This was perfect for me because I played 2 college sports so I could do my jobs either before or after practices and games (we were only allowed to work 2-hour shifts).
I could also pick up a bunch of extra hours during summer break, so I was able to work this job around other summer jobs throughout my college career.
We had a fabulous group of students and friends to work with, and, as some of you might remember from previous posts, this job is where I met Dave for the first time — so it has extra happy memories for me.
In fact, our boss is actually the person who encouraged Dave to ask me out on our first date, AND she's the one who helped Dave pull off his amazing surprise proposal (read more on that here).
This is by-far my most favorite summer job (probably good since I did it for 3 summers in a row!) Dave and I still stay in contact with many of the friends we worked with — including our boss!
Volleyball Official
I used to be a certified volleyball official for both middle school and high school volleyball programs in our state — so I spent a fair amount of time working at volleyball camps during the summers after we were married. Sometimes it would be an all-day tournament on Saturdays; other times it would be a week-long camp in the evenings.
Either way, it was good money and I enjoyed watching all the volleyball.
.
OK, Dave's turn…
Dave grew up in an a very rural setting in Washington state, so many of his summer jobs involved working with crops, with animals, on farms, or other similar jobs.
Cherry Orchards
Dave worked in cherry orchards for 3 summers in middle and high school. He got to drive a tractor and trailer throughout orchard loading up boxes of cherries that the pickers had finished.
Grapes
Dave and his siblings worked in his Uncle and Aunt's vineyard on-and-off from middle school through college. They did a little bit of everything — but Dave says a lot of weeding, training new grape plants, and thinning older grape plants. His favorite jobs required driving tractors and using all sorts of weird equipment.
He worked in the HOT sun… but I know he has good memories of these years because he talked about "when he worked in the grapes" all the time!
Flower Fields
Dave thinks this happened in high school, and that he only filled in for part of a summer. Basically it involved walking up and down rows of gladiolas and cutting off their flowers. The flowers were just tossed on the ground, and he never really understood why. He thinks they were growing them for the bulbs.
Agriculture Fertilizer Company
For 3 summers in high school and college Dave set-up bug traps in orchards, then he drove around all summer counting how many bugs were caught (for real!)
This work helped the company determine when and what to spray on the trees.
Building a Dairy
For part of one summer, Dave worked on a construction crew building a dairy. He did lots of cement work and getting steel girders ready for the roof.
He absolutely HATED this job. He said it seemed like 12 hour days and it was hot — close to 100 degrees many days.
Maraschino Cherries
After he quit the construction job, Dave took a job "making" maraschino cherries.
Essentially, he put insane amounts of cherries into a brine that took all the healthy stuff out of them, and then added lots of sugar and food coloring which turned them into maraschino cherries.
I hear LOTS of stories about when he worked with the maraschino cherries… and to this day, Dave will NOT eat maraschino cherries!
Custodian
As I mentioned above, Dave and I met while working as custodians in our college athletic center. Dave loved this job as much as I did — but it was not because it was such a glamourous job, but rather because we had so many fun people to work with (and our boss was amazing).
We have so many stories from our days working together in the gym!
Snow Mountain Ranch (YMCA of the Rockies)
Dave worked at Snow Mountain Ranch in Colorado for one summer while attending a leadership program through our college. He worked 40+ hours a week in Conference Services — setting up for a variety of meetings and making random deliveries.
This was one of his favorite jobs as he had lots of free time to participate in the program, hike, and do other sightseeing (it's beautiful up there!)
Roofing
Dave worked for a roofing company the year before we got married. He helped put a new roof on a local school… and when he took the job, I wasn't aware that he was afraid of heights!
This was also the summer he proposed to me, so I have a feeling he was willing to do anything in order to save up money for a ring!
Painting
Dave worked on a painting crew with a group of fellow teachers after his first year of teaching. Essentially, this was a perfect summer job for him because it fit nicely around his school schedule and he would be able to work with many teacher friends as well.
However, he quickly discovered that he is not a great painter, he does not enjoy painting, and his fear of heights is actually worse when painting up on ladders than it was when he worked in roofing!
Pursuing Higher Education
For 3 summers (after he quit painting but before we had kids), Dave spent a huge amount of time getting his Master's Degree. He actually traveled out to Dordt College in Iowa, for 3 weeks each summer because it was the best, fastest, and cheapest way for him to get the Master's Degree he wanted to get.
It was SO much work for him and I'm extremely thankful he crammed it in before we had babies and toddlers running around!
Online Tutoring
After Nora was born, Dave did some online tutoring for 2 summers. He enjoyed it, but the organization he worked with was pretty disorganized and ultimately he quit because he was frustrated with how the program was run and felt like he didn't have the freedom to teach how he wanted to teach.
In the future, I think he would be open to pursuing this type of job again… but probably with a different organization.
Sports Camps
At one point, Dave was teaching full time and coaching 3 sports. His schedule was PACKED FULL!
Over the past 4 years, he has given up coaching to be home more, but he has continued to help out with various sports camps throughout the summer. This is a very minimal time commitment and he really enjoys doing it.
I have a feeling there are a few jobs we might have forgotten about — but I certainly hit on a lot! Dave and I were both surprised to see we've had more than 20 different summer jobs in the course of our lives!
.
Of course, for the past 5 summers, we've been working tirelessly on various house and yard renovations (and raising 3 kids!)
Seriously, just typing that out makes me wondering how on earth we did all of that over the summer months — especially while adding 3 little people to our family in the midst of it all!
What we're up to this summer…
Although we have 3 crazy kids running around all day, this summer is probably the most relaxing summer vacation Dave and I have ever had.
Dave isn't taking any classes or working at any camps, we aren't traveling at all, I've cut back quite a bit on my VA work and I'm not doing anything big on the blog, we aren't doing ANY house or yard projects, and our kids are all in bed by 7:30 every night!
We have played at parks, gone for bike rides, read books, gone bowling, watched movies, lounged around the kiddie pools, hung out with friends and family, and even taken a couple of naps — and you know what, I really like the slower pace!
There is part of me that feels like we're "wasting" the summer months and that I should be getting more accomplished because Dave is home to help with the kids — but there's another part of me that's worn out from a crazy school year with 3 very young children and loving our break.
I know future summers won't all be as "lazy" as 2016, but for now, I will enjoy reminiscing about all our past summer jobs while relaxing in the kiddie pool and munching on juice pops!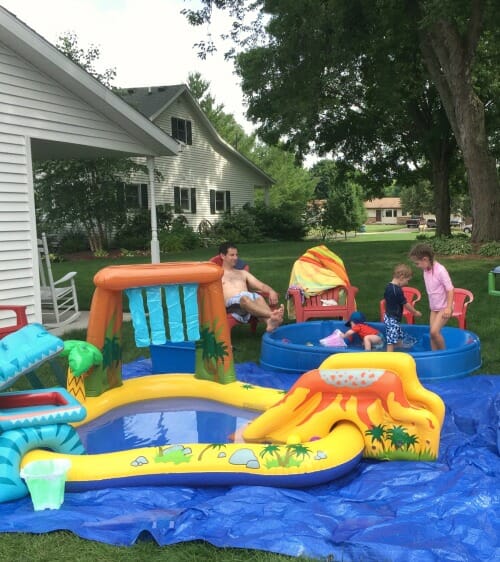 .
Now I'd love to know…
What were your best and worst summer jobs?