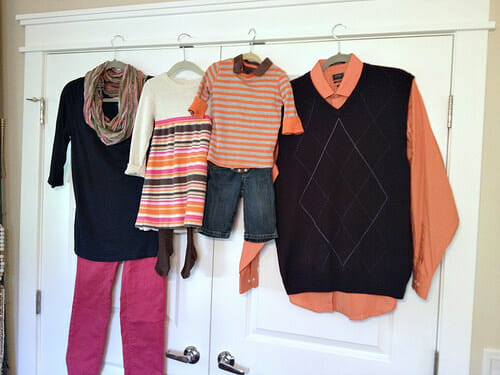 About 5 weeks ago, I shared a week-long series about clothes clutter here on my blog.
I was thrilled that the overwhelming majority of responses were extremely positive. Over the past month, I've gotten so many emails (usually from other moms) saying how I inspired them to weed through their clothes, purge, and create a bunch of "new" outfits based mainly on clothing they already had.
This makes me SOOO happy because I know all too well how overwhelming clothes clutter can be, as well as how "not fun" it can be to try and figure out what clothes look good on you, what you feel great wearing, etc. etc.
However, along with all the excitement came lots more questions. Not bad questions or rude questions — just questions.
I suppose that's normal considering I only wrote 5 blog posts on a topic that could easily serve as the subject for 500 blog posts! So over the past month, I listened and read and responded to all your questions… and today, I'm compiling them into one big blog post for anyone else who might have similar questions.
What exactly did you buy? and How much did you spend?
These two questions are probably the top 2 questions I got asked — and I guess I never did share a detailed list of every item I purchased… until now 🙂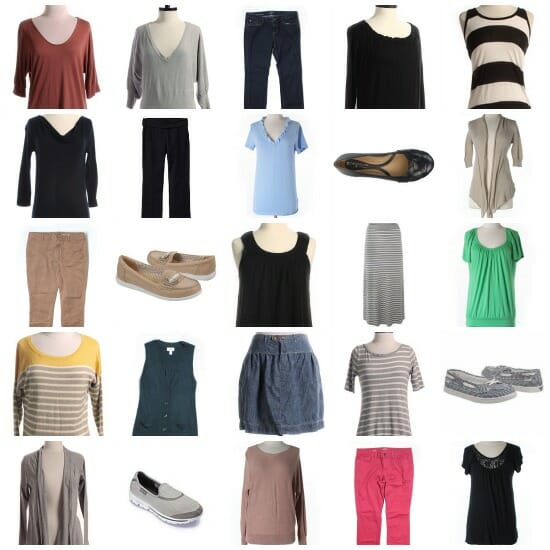 Keep in mind, almost all of these items were on clearance or purchased from Twice or ThredUp so I can't link to the direct items online.
1 pair of jean shorts :: clearance at JC Penny's ($11)
2 pairs of yoga pants (black and grey) :: from Meijer with sale, Mperks, and coupons ($15 total)
2 pairs of leggings (black and grey) :: from Kohl's with coupon and gift card ($7.50 after gift card)
2 infinity scarves (black stripe and green stripe) :: clearance at Charming Charlies ($5 each)
navy casual flats (Roxy brand) :: from a local shoe store ($32)
cream casual flats :: Naturalizer on clearance ($19)
suede boots (I just ordered them last week) :: Target.com via sale, promo code, and coupon ($22.90)
5 short sleeve shirts :: Twice and ThredUp (no cost after credit and promo codes)
4 long sleeve shirts :: Twice and ThredUp (no cost after credit and promo codes)
3 light-weight sweaters :: Twice and ThredUp (no cost after credit and promo codes)
3 pairs of skinny pants (khaki, pink, jean) :: Twice and ThredUp (no cost after credit and promo codes)
I think that's everything… but I know I did a couple returns and an exchange at one point — but this is close!
All together, I ended up spending less than $120 for 26 items (including 2 pairs of shoes and new boots) so not too bad. Obviously, my Twice and ThredUp credit helped a lot — I probably would not have purchased as much if I couldn't have used free credit to buy several of my shirts.
Also, I know in one of my previous posts I mentioned spending around $140 — but I did bring one item back after that — which is why it's around $120 now.
What are your must-have pieces for every wardrobe?
This was another question I got several times — however I'm not sure I feel qualified to answer it 🙂
I suppose YOUR "must-have" pieces would depend on your lifestyle, what type of job you have, where you live, the climate you live in, your body type, etc. However, for me and my lifestyle, these pieces are essential:
At least 2 pairs of jeans (one would be a nicer pair that I could "dress up" if I needed to)
At least 2 pairs of casual dress pants (khaki and one other color)
At least 1 pair of yoga pants or lounge pants to wear around the house
At least 1 pair of leggings (probably black) to wear under long sweaters or under pants when it's really cold
At least 2 skirts (1 long, 1 short)
Several solid-color short and long-sleeve shirts
4-5 light-weight cardigans for layering
2-3 heavier cardigans or sweaters
2 decorative scarves
a few "grubby" items for yard work, painting, etc.
pajamas and slippers
1 comfortable pair of tennis shoes
2 pairs of flip-flops (I get the $1 pairs from Old Navy)
1 pair of comfortable sandals
2-3 comfortable pairs of flat shoes
2 pairs of boots (one for being out in the snow, the other just for wearing out and about)
At least 2-3 different "weights" of coats
Gloves and hats
various under garments and jewelry
That might sound like a lot to some of you, and extremely minimalistic to others. As you can see at the end of this post, I actually have many more items than I listed out above — those are just what I would consider essential for me.
I think the important thing is just to sit down and be honest about what you actually wear, what you actually need, and what you feel great wearing — and then use those guidelines to decide what your must-have pieces are.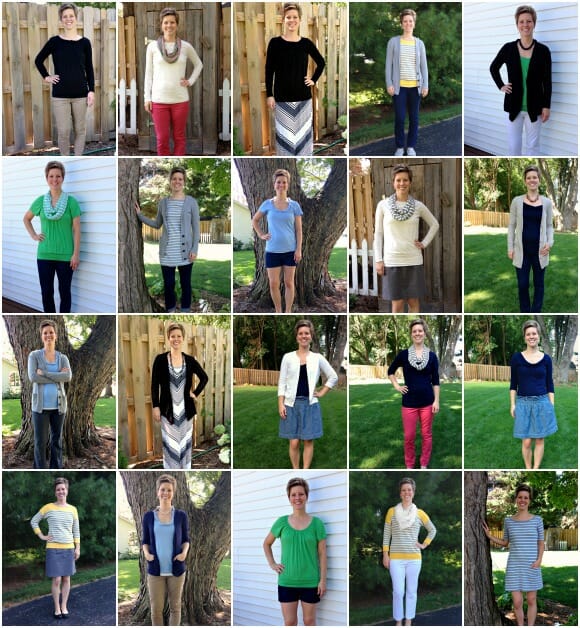 What will you do for winter?
I honestly don't have a different wardrobe for winter (even though it's often freezing cold here in Michigan from mid November through mid March.) I still wear the same pants, I still wear the same t-shirts, I just put a few more layers on!
I might wear a short sleeve shirt with a long sleeve shirt over top — and then a thick sweater or heavier cardigan and decorative scarf. I've always hated the idea of rotating my clothes for the season and I'm very visual so I like to be able to SEE everything I have. For this reason, Dave and I keep all our clothing in our single master closet.
If I'm going out, I'll just slip on socks and boots with a warm coat and scarf versus flats and a light-weight coat.
.
What will you do for maternity?
Although I've borrowed almost all my maternity clothing, I have managed to collect a few staple pieces that can easily be mixed and matched with longer shirts I already have as well as open-front cardigans I can wear even with a bulging belly.
I have one nice pair of maternity jeans, a great pair of black comfortable pants, and a cute skirt. I also have a few neutral colored maternity tanks and short sleeve shirts that I can wear on their own, with a cute scarf, or with a cardigan sweater.
Again, keep in mind I honestly don't get out much — so I wear many of the same things over and over and over again (especially when I'm pregnant!)
.
Where do you keep clothes you're not wearing?
Well… I just don't!
Honestly, if it's not something I'm going to wear anymore, I get rid of it. Period!
I do have one dresser drawer with my small amount of maternity clothes waiting for the next pregnancy, but you better believe that when we're finished having kids, that drawer will be empty 🙂
Even if we had a smaller closet or less storage space, I would still try REALLY hard to fit everything into that smaller space — to the point where I would be willing to get rid of clothing versus rotate my clothes in and out seasonally.
I don't think it's horrible if you rotate your clothing, it's just not something I like doing because I know that for my own life, I just don't need that much clothing and would rather be able to see everything I have all 4 seasons of the year.
Also, I'm pretty diligent about getting rid of clothing that doesn't fit (either too small or too large). Besides the maternity clothes, everything in my closet fits me right now.
.
What about sentimental clothes clutter?
What's that?
Just kidding! I know I'm not nearly as sentimental as most people, but I definitely do realize that sentimental clothes clutter is an issue for people.
My honest answer, once again, is that I keep almost NO sentimental items of clothing (even for my kids). I have a cute red winter coat that my mom wore as a toddler, then my sisters and I wore it, and Nora wore it last year. I will save that coat along with the baptism outfit I wore (and then Nora wore) but that's probably about it for sentimental items.
I made Simon's baptism outfit with the fabric from my wedding dress (oh yeah, I didn't even save my wedding dress!) and Simon has a couple outfits passed down from Dave so I'll save those too.
Other than that, we have no sentimental clothing to clutter up our closets or dressers, and I hope to keep it that way. I figure I have so many pictures of my kids in their cute outfits, there's just no reason to save the actual items of clothing.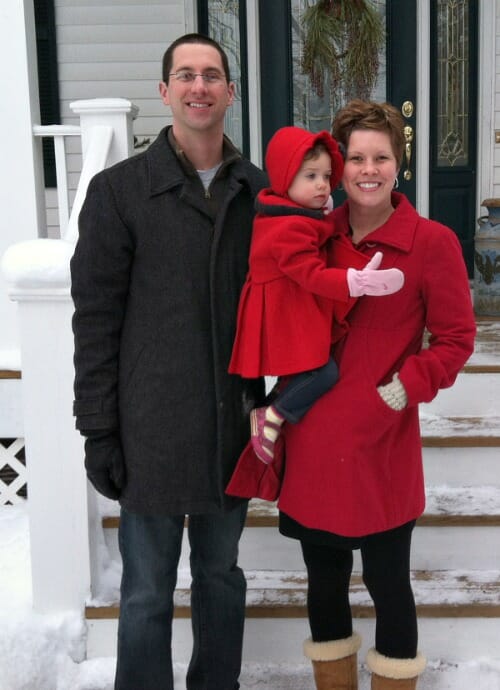 Why do you have so many clothes? That's not very minimalistic?
Yes, that's very true — I do still have a significant number of clothes, and I'm OK with that (read the full list of my clothes in this post).
My goal with simplifying my closet and creating a mix-and-match wardrobe was never to be minimalistic or only allow myself a set number of items.
I was simply hoping to feel excited every time I opened my closet, to remove anything I no long loved, and to figure out some simple, quick, kid-friendly outfits I could wear on an everyday basis without a lot of hassle.
I have succeeded at doing so and can still EASILY fit all my clothing and Dave's clothing in our one reach-in bedroom closet.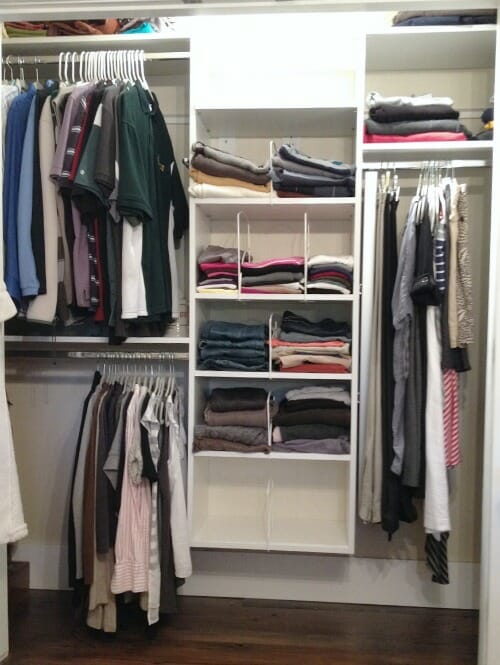 Have you ever sold items via ThredUp or Twice:
Yes I have — although I don't have as much experience selling items with them as I do buying items.
In my experience, if you're looking to get top-dollar for your unwanted clothing, these consignment options definitely are not for you. Selling items to ThredUp or Twice is basically the simplest, easiest way to potentially earn a small amount of money for your unwanted items with almost NO work on your part at all.
Literally, all you need to do is put the items you no longer want in the free, postage-paid bag/box and ship it back to the company. That's it! They will contact you when they are finished reviewing your items, tell you how much your payout will be, and then donate the rest of your items.
I actually got about $75 for the last bag I sent into Twice… but I had quite a few nicer brand names and higher-quality items in that bag so I received a pretty generous payout in my opinion.
If you are concerned about getting the clothing they don't accept returned to you, I would suggest working with Twice. Currently, they will ship everything they don't accept back to you for a $4.99 shipping fee. I have never done this before as I always just let them donate the extras, but I don't think that's a bad deal.
Also, Twice will give you 25% MORE for your clothing if you opt for store credit versus cash back — so if you're just going to buy clothes from Twice again, that's probably the way to go.
Do you have any other methods for selling used clothing?
I will often try to sell bags or purses on Craigslist as I've had good success with that — however all adult clothing either goes to Twice, ThredUp, or the donation place as it's not worth my time and energy to take individual pictures of each item to post online and we don't have any "cash on the spot" consignment stores in our area (at least not that I know of).
As for kids clothing, I used to just donate everything (either to a friend/family member with smaller children or to the thrift store) but I think I'm going to try bringing a load of stuff to Once Upon a Child and see how much cash they will give me. I'll probably also send a bag of kids clothing into ThredUp.
.
OK, I think that's it for the more common questions I was asked. However, feel free to ask any additional questions in the comments or by shooting me an email.
Any other clothes clutter tips or suggestions you'd like to share?