Posts Tagged 'guest post'
posted by Andrea | 11/28/2011 | 2 comments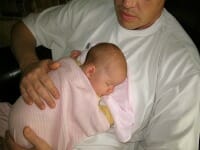 Due to the recent birth of our baby girl, I recruited a handful of amazing moms to share their motherly advice with all of us!
Today, Brenda from A Farmgirl's Dabbles — and mother of 2 — is sharing her heart-warming story of the relationship between her husband and her 2 adorable daughters.
I personally grew up in a family of ALL girls and I know my dad loved every minute of it. And now Dave will experience a daddy-daughter journey of his own!
posted by Andrea | 08/2/2011 | 9 comments
Last week, I talked about how we sold our house on Criaglist in just 3 days — and I got SO many emails asking more questions about selling a house and moving! Unfortunately, I don't know a ton about real estate and selling homes, but I DO know a little bit about moving {here are some of the posts from our move this past year}. I know, first hand, that moving can be stressful, so I'm really excited to share […]
posted by Andrea | 03/22/2011 | 5 comments
Have you ever tried peeling an orange but the skin didn't come off as well as you planned? That's because cutting fruit is one thing — peeling is another. Sometimes it takes a little extra effort to get to the "meat", but knowing a few tricks of the trade can make life a lot easier. First, before trying to peel anything it's a good idea to wash the fruit since small insects, pesticides, dirt, or other residue may be on the […]
posted by Andrea | 01/27/2011 | 7 comments
The following is a guest post from Leslie Bilyeu over at One Day Before Yesterday. Life is busy… In my opinion, there's nothing like a quick hearty dinner after a busy day of hockey, ballet, meetings, work, or whatever! And it's even better if that quick hearty dinner can be on the table in 30 minutes or less, right? Well, you're in luck, because the Corn Chowder recipe I want to share with you today is one of my personal favorites. I've made […]
posted by Andrea | 01/4/2011 | 13 comments
Today is Day #2 of my 11 in 2011 Challenge — and I'm in the kitchen! A few months ago I mentioned how I save time in the kitchen by making double batches of meals and by using my monthly menu planners…but there are still so many days when I'm scrambling to quickly "throw something together" for dinner. I hate that feeling, don't you? So, my "goal" for this year is to eat at least one meal a week from the freezer; […]
posted by Andrea | 12/31/2010 | 2 comments
The following is a guest post from Barb Reichow; organizing coach, home management expert, and owner of Life in Order. There is a ton of information to digest here, but if you have ever struggled with clutter in your home, family, work, or life — this article is a MUST READ {which means we should all read it!} So, as you enter into a brand new year, full of potential, remember that a life of order, simplicity, and organization IS possible. Happy New […]
posted by Andrea | 12/27/2010 | 6 comments
I hope you all had a wonderful Christmas and are ready for another busy week preparing for New Year's Festivities! Dave and I were SO excited to be in our new home for the holidays and are still busy unpacking the last of our boxes in the effort to create a little more organization around here! So…the following is a guest post from Kelly Morris of TheMorrisTribe.com. She is one of my favorite bloggers; partially because she blogs about "Creating Balance for Busy […]
posted by Andrea | 12/20/2010 | 8 comments
We're moving…TODAY!!! And since I'll be just a little busy, I have an amazing guest post from Leslie over at One Day Before Yesterday. Leslie is sharing her advice for stress-free, clutter-free, organized moving — how perfect!! She actually sent me this post a couple of weeks ago so I had a chance to look over her list before I started packing, which was very helpful. So far, I've taken all of her advice — and I DO feel like thinks are as […]
posted by Andrea | 12/16/2010 | 3 comments
Since we're moving…and I'm just a little bit busy, I have a handful of amazing guest bloggers lined up for the next two weeks. They have tons of great information to share with you so read carefully!! Today, Keri Middaugh of My Kitchen My Vice is sharing her advice to preserve her limited time, money, and sanity! Honesly, I LOVE this article and how she breaks everything down into bite-size pieces. Even if you can't do everything on her list, pick ONE idea […]
posted by Andrea | 12/13/2010 | 5 comments
Since we're moving…and I'm just a little bit busy, I have a handful of amazing guest bloggers lined up for the next two weeks. They have tons of great information to share with you so read carefully!! Today, Theresa Finnigin of Ready Aim Organize is sharing a few quick tips to simplify your last-minute holiday plans. {My personal favorite is #9!} Theresa is also a professional organizer so you better pay attention — she really knows her stuff. Christmas is just […]
posted by Andrea | 11/12/2010 | 23 comments
Today, I have the privilege of introducing you to one of my FAVORITE food bloggers; Brenda Score from a farmgirl's dabbles! Not only is Brenda one of the nicest, sweetest, and friendliest women around; she also happens to be an AMAZING cook and food photographer. Plus she just makes everything look so simple — and I love simple. Hello! I'm Brenda from a farmgirl's dabbles. It's so nice to be here, guest posting for Andrea. I'm pretty new to the "Land of […]
posted by Andrea | 11/3/2010 | 4 comments
Guest post from Melanie of Unique Holiday Gift Ideas. Its hard enough for my children to keep their things neat all year long but when Christmas comes along, the pile of new things to find a place for can be overwhelming to say the least! For this reason, I greatly appreciate friends and relatives who choose gifts that don't take up space…or only take up space for a short time and then are used up! If you are buying or making […]
posted by Andrea | 09/7/2010 | 22 comments
Guest post from Erica Daniels: I feel like my home has gotten out of MY control. I'm always playing catch-up and I just can't win; can you relate? Apparently, my friend Cassie felt the same way; so she told me about a 10-step program she's been using; and it seemed like something I could handle. This 10-step program is a simple way to keep up with all your house work and still live life {and I know Andrea is all […]