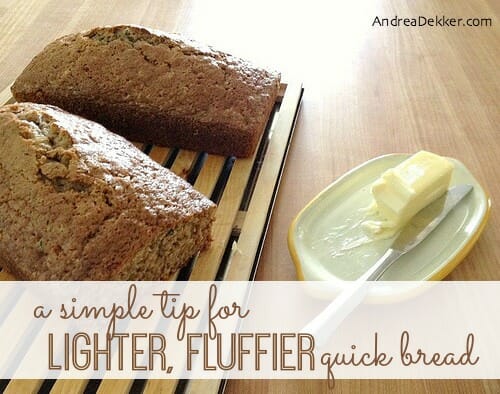 Quick breads and muffins are a family favorite almost any time of the day.
We eat them with eggs, sausage, and fruit as part of our breakfast, we eat them as a more filling afternoon snack, we even eat them as a dessert (a.k.a. double chocolate zucchini bread!)
Our kids love mini muffins instead of regular ones, and I often make 4 or 5 mini loaves instead of 2 larger loaves and give a few of them away (or just put them in the freezer for later).
It's not unusual for us to have 2 or 3 different types of muffins or quick breads in our pantry at any given time… banana chocolate chip, cinnamon, and blueberry are our favorites!
Obviously, if we're eating muffins and bread so regularly, that means I'm baking them regularly as well. I usually try to make 1 or 2 batches of quick bread every week — along with various other cookies, brownies, cakes, pies, etc. (what can I say, we love our sweets!)
Over the last 10 years of regularly baking quick breads, my personal favorite (and my kid's favorite) has ALWAYS been Banana Chocolate Chip. I don't know what it is about that recipe, but it's SOOOOOOOOO good! In fact, I'm almost always asked for my recipe whenever I bring these muffins to a potluck or other party.
I never really thought about why everyone seemed to like my Banana Chocolate Chip bread and muffins so much — except for the fact that they had chocolate in them (which is always a plus in my book). However, about a year ago, I had a "light bulb moment".
I realized that my recipe for Banana Chocolate Chip bread says to separate the egg yolks and egg whites — the yolks are added to the batter right away, but the whites are beaten until fluffy and added right at the end. I figured maybe the extra air beat into the whites helped the banana bread to be lighter, fluffier, and tastier.
I started trying it with other quick bread recipes, and to my surprise, it seemed to work extremely well. My quick bread recipes have all improved based on this super simple tip.
I simply beat the egg whites in a separate bowl until it's very foamy and starting to get to the soft peak stage (use how ever many eggs your recipe calls for). I do this BEFORE I make the rest of the muffin batter so my mixing beaters are still clean.
Then I make the batter as directed in the recipe. The only difference is that I fold the soft and foamy egg whites into the batter right before I dump the batter into the pan (or into the muffin tins).
The extra air that the egg whites have incorporated expands as the bread or muffins bake, making them lighter, fluffier, and "taller"!
Yup… SO SIMPLE!
It honestly takes almost no extra effort on my part — and the results are quite fabulous!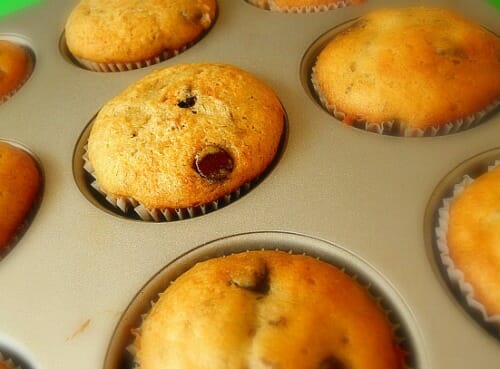 Oh, and don't let the egg whites intimidate you… this isn't anything like making a meringue pie, and it's almost impossible to mess up. Just beat the egg whites until they are starting to firm up, then use a rubber spatula to gently fold them into the quick bread dough right at the end.
That's its!
Need a recipe to test my theory with?
Here are our MOST favorite quick bread and muffin recipes:
NOTE: I have only personally tested this with quick breads — not yeast breads, pound cakes, rolls, or any other baked goods. Also, I have no scientific proof or amazing research to prove my theory is true.
However, I do have taste buds and a brain — both of which tell me that my quick bread tastes lighter, fluffier, and better when I add the beaten egg whites into the batter right at the end 🙂
What are your favorite quick bread recipes or tips?