The 5-Minute Home Makeover
posted by Andrea | 04/20/2017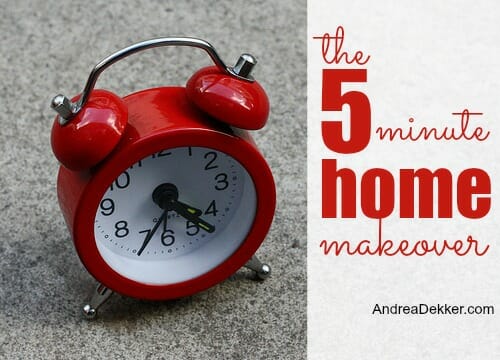 I realize many of you might be thinking the title of this post is a joke… but I'm serious.
Yes, I know you can't literally "make-over" your entire home in 5-minutes — but you CAN make-over one drawer, one shelf, one cubbie, or one small section of your house in 5 minutes.
It might not be perfectly organized or magazine-worthy… but it WILL be better than when you started.
Progress, not perfection… right?
A while back, I shared how to declutter any closet in 5 simple steps. And after publishing that post, I started thinking more and more about how I apply step #1 to almost every single space in my home on a very regular basis (often daily).
If you didn't read that post, Step #1 is to "Do a Super-Fast Once-Over of the Space" — basically, just glancing through the closet (or the cabinet, drawer, purse, cubbie, etc.) and making a few instant decisions to purge items you are 100% positive you no longer need, use, wear, want, or love.
These are no-brainer things like the trash in the bottom of your purse, the ripped up rags in your cleaning cabinet, the shirt that is WAY too small and you keep forgetting to put it in the donation pile, the kitchen spatula that completely melted the last time you accidentally left it in the pan a little too long, etc. etc.
Set your timer for 5 minutes (for real, set a timer) and work in one small area for the entire 5 minutes — ONLY pulling out the items that require quick, no-brainer decisions. If you hesitate on an item for even a few seconds, just decide to keep it for now, and move on.
The point of this 5-minute exercise is to get better at making those quick decisions, to learn to be constantly on the lookout for items to purge, and to feel the satisfaction and motivation that accompany doing something tangible to create a more organized space.
In my own personal experience, I'm always surprised how much I can do in 5 minutes of super-focused time. I also find it amazing how much more motivated I feel to move onto something else after I do one thing to physically simplify and organize my home — maybe another 5 minute purge, washing the dishes, sitting down to do blog work, folding laundry, etc.
It might sound crazy, but it works!
I guarantee that if you consistently (at least once per day) take 5 minutes of time to better a space in your home, you will notice a difference sooner than you think. Plus, you'll be developing a VERY good habit of "doing it now" versus waiting until later.
What could you do in 5 minutes?