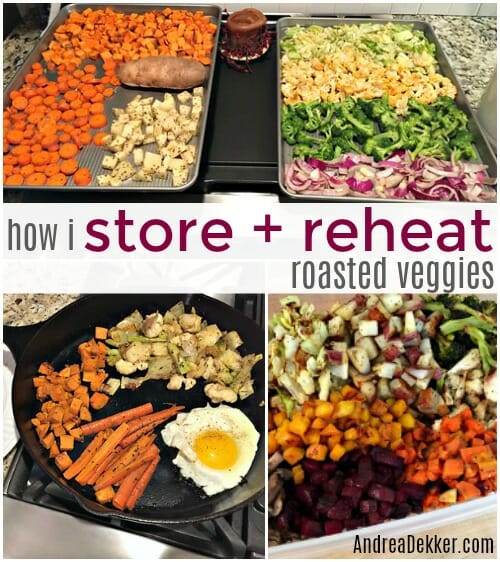 Just over a year ago, I shared a post about all the veggies we love to roast (and how easy it can be to roast large quantities of roasted veggies at one time).
Since then, I have gotten a massive number of emails and comments asking more and more and MORE questions about roasted vegetables! It's so interesting to me how "popular" this method of cooking veggies has become — although I'm really not surprised because (in my opinion) roasted vegetables are the tastiest way to eat almost any vegetable!
In my original post (and in subsequent posts throughout the past year) I've regularly mentioned how I save lots of time and energy by roasting several large sheet pans of veggies 2 to 3 times per week, and then simply reheat them right before we're ready to eat a meal.
NOTE: The USA Pan XL Sheet Pans are my favorite for roasting lots of veggies!
The concept of roasting in bulk and reheating veggies brought so many more questions regarding how exactly how I store our roasted veggies and how I "reheat" them so they actually taste good.
And yes, reheated roasted vegetables really DO taste amazingly delicious!
If you love the idea of serving roasted vegetables with your meals throughout the week but don't have the time to roast them every weeknight, I would highly suggest roasting large quantities at a time (over the weekend) and reheating them throughout the week.
This system has worked well for our family over the past 2 years… I have a feeling it will work well for many of you too!
In my opinion, this isn't really a step-by-step process. However, as I thought about what exactly I do to successfully serve reheated veggies that actually taste good, there were 3 main thoughts that came to mind…
1. I UNDER-season and UNDER-cook the veggies the first time around.
When I roast my vegetables, I do so with a small amount of olive oil, a sprinkle of sea salt, and a little bit of seasonings. I usually put some sort of Italian seasoning blend on carrots, potatoes, broccoli, cauliflower, and cabbage; paprika on sweet potatoes, and just a little garlic salt on the beets.
I also roast the veggies until they are ALMOST fully cooked — still just a bit firmer than I'd prefer.
This way, they finish cooking when I reheat them later, and I can add extra seasonings at that time as well (without ending up with overly seasoned veggies).
This seems to helps the reheated veggies taste like they just came straight out of the oven.
.
2. I store all veggies in one large container.
I use 2 identical 9″ x 13″ food storage containers for our veggies — one for raw, one for roasted.
These containers are light-weight and stack nicely in our fridge.
It certainly isn't necessary to store your veggies the exact same way I do, but I wanted to highlight our method as it helps to cut back on the number of containers in the fridge as well as the amount of time it takes for each family member to pick and choose what veggies they want for each meal.
Keeping the veggies all in one container makes serving them even more convenient (if you're drawn to convenience, it might be worth trying this storage method!)
We usually have roasted veggies for breakfast and dinner, with raw veggies and salads served at lunch time or for snacks — which means I can simply pull out ONE container at each meal and plate up the food.
NOTE: I've never had roasted veggies go bad in the 3-4 days we store them in the fridge. If you are storing them for more than a week, you might run into problems.
.
3. I reheat the veggies in my cast iron skillet.
Over the years, I have reheated roasted veggies in the microwave, in the oven, in non-stick frying pans, on my griddle, and in my cast iron pans — my preferred method is definitely the cast iron pans!
That said, do NOT go out and buy a cast iron pan JUST so you can reheat veggies! Try a few different methods first (a regular frying pan would probably work well).
I heat olive oil or butter to the pan first, then I usually add a bit more salt and maybe a little extra seasonings while the veggies are sautéing in the pan (I just go by taste).
After 3-5 minutes, they are perfectly cooked and seasoned to my taste, and ready to serve as a side dish (instead of over an hour if I had to peel, chop, and roast them for each meal.)
NOTE: Over the past several months, I've actually started reheating ALL our veggies this way — grilled veggies, steamed veggies, roasted veggies, etc. etc. They all taste super fresh when reheated in my cast iron pan with a little butter or oil!
Every family member can choose their favorite veggies, or whatever veggies sound best to them for that meal, and I simply reheat them in my cast iron skillets right before the rest of the meal is finished.
It's not an exact science, and there's no right or wrong way to do this.
Give it a try with whatever veggies you have in the house and see if you like it.
I'm certain that "foodies" or high-brow culinary masters would roll their eyes at my reheating method… but this technique allows me to get a variety of veggies on my children's plates at EVERY SINGLE meal (veggies they will actually eat because they taste GOOD) with minimal extra time in the kitchen.
I consider that a definite WIN-WIN in my book!
Do you have any other tips for reheating vegetables?