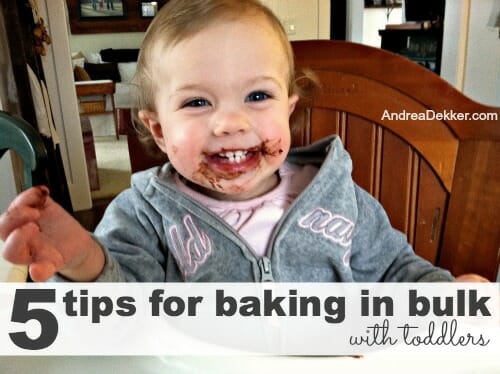 Over the past couple of years, I've shared many pictures, recipes, and tips for cooking/baking in bulk in attempts to keep our freezer stocked.
I guess freezer cooking is kind of my "thing". I'm obsessed with trying to make all my recipes freezer-friendly because I know how much time and money I save by cooking/baking in bulk, and then freezing smaller portions for later.
I think anyone who's ever pulled a frozen casserole or container of cookies out of the freezer as a last-minute "oh shoot, I forgot to make dinner/dessert/a snack" will agree that a well-stocked freezer can be a life-saver!
I rely on my freezer almost every day for full meals, baked goods, pre-portioned ingredients, or even to bring a meal to a friend. And while it does help that I have a good size deep freezer in our basement, you can still fit a decent amount of food in a smaller freezer — and I promise, it will still be worth your time!
However, whenever I mention my freezer cooking/baking sessions, I always get a handful of questions asking how I do it with a toddler (or any number of small children).
The truth is, it took me a really long time to figure this out myself! After Nora was born — and after I realized she refused to take naps and wanted to be held for most of the day — I started to panic thinking I would never, ever have enough time to continue my beloved freezer cooking and baking.
In the beginning, I did most of my cooking and baking in the evenings when Dave was home. Then we hired a college girl to come one day a week so I could focus on blogging and housework — so I did some baking and cooking while she was here.
However, over time, I slowly got better and more efficient with my freezer cooking and taught myself how to do it without help and with Nora in tow.
Obviously, my tips won't work for everyone and every situation, but these are the simple steps I use when I'm cooking and baking in bulk… while entertaining Nora.
1. I make a list.
You knew this was coming didn't you 🙂 I can't help it… I love my lists!
Whenever I'm gearing up for a couple hours of cooking or baking, I carefully list out all the recipes I want to make, and then glance over the necessary ingredients. If I need to buy anything, I'll add it to my grocery list. If I just went grocery shopping and don't have the item in the house, then I'll most likely scratch that recipe and find another one instead.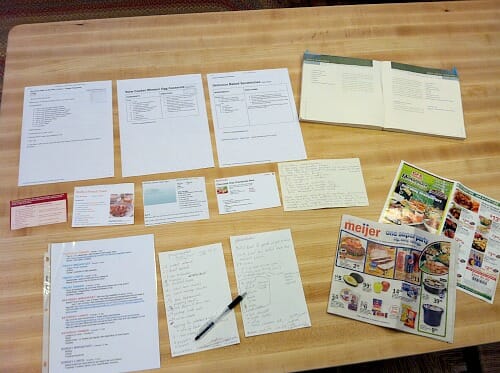 2. I plan ahead.
Another no-brainer if I'm going to have a productive time in the kitchen…
Each night before I go to bed, I quickly glance at my list for the next day and if it includes any freezer cooking or baking, I make sure I have everything I need to get started. This might require me to defrost a few items from the freezer, washing a particular baking pan, or doing a little prep work while Nora is in bed so I don't have to do it the following day.
Also, I usually try to make recipes with similar ingredients on the same day — so I might make 3 chicken dishes, 3 pasta dishes, or 3 varieties of chocolate desserts at a time. This allows me to combine pre-work and it also saves on dishes (I make all 3 chocolate desserts in the same bowl).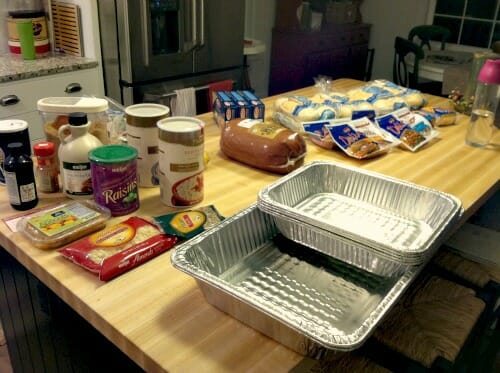 3. I do a little at a time.
For those of you picturing me spending all day in the kitchen resulting in hundreds of dirty dishes and 30 fully prepared meals — let me reassure you, that is NOT accurate at all!
As I've mentioned before, I usually only cook 2 or 3 meals per week — and no, that doesn't mean we go out to eat 4 or 5 times a week. It simply means that 2 or 3 times a week, I make a double or triple batch of soup, pasta, casserole, cookies, cake, etc. and freeze anything we won't eat in the next few days.
This allows me to do a little freezer cooking/baking at a time and only requires about 1 hour in the kitchen. Since I usually only make one or two different recipes at a time, a double or triple batch doesn't take much longer than a single batch — but I get so much more "return on my investment".
4. I make it fun for Nora.
For the most part, Nora really likes watching me in the kitchen. She's learning the names of many fruits and vegetables — and she likes to play with food.
So she sits in her highchair, watching me and playing with some cut up fruits and veggies (or chocolate chips). She shouts out the names of ingredients as I add them and sometimes I even let her help — she's a pro at snapping beans now!
If she's acting uninterested, I let her down and she can look at books, watch a movie, color, or play with any of her toys in the living room — I usually work from the kitchen island so I can see her (almost) anywhere she goes!
As Nora gets older, the process of entertaining her while I work in the kitchen gets easier. For those of you with infants, it probably seems impossible right now — I know, because I thought the same thing last year at this time. It might be impossible right now (and for a while yet), but either they will become more independent or you will simply get better at multi-tasking and working with their schedule.
It might not be the ideal or most productive freezer-cooking situation, but eventually, you'll find something that works… I promise 🙂
5. I prepare the recipes in advance and bake them all at one time.
I think out of all my tips, this is the one that saved my sanity the most… let me explain.
I had cookies in the oven for 8 minutes and decided to go change Nora's diaper. But it was a nasty diaper and required more time than I was originally planning — including a complete outfit change and a mini temper tantrum. Then I got side tracked cleaning up her room — until I heard a faint buzzing noise. I ran to the kitchen to discover my slightly over-crunchy cookies. Annoying!
I had a lasagna in the oven for 1 hour and I could tell that Nora was tired but she just wouldn't take a nap, so I decided to lay down with her to see if that would help. I ended up falling asleep with her — and although I never turn down extra sleep, my lasagna suffered. Annoying!
If you can relate to those types of situations, then you might want to try this concept.
Basically, I prepare all my recipes throughout the day (while caring for and entertaining Nora). But I don't bake anything until Dave is home or until another adult is around.
So by mid afternoon, I might have a casserole for dinner, a bunch of cookie dough, a double batch of pancake batter, and 3 dozen muffins ready and waiting in the refrigerator. Then once Dave arrives home and takes over Nora duty, I flip pancakes, scoop cookie dough, and shuffle things in and out of the oven without too many distractions.
If your child regularly takes a long nap, you could do the baking during that time as well.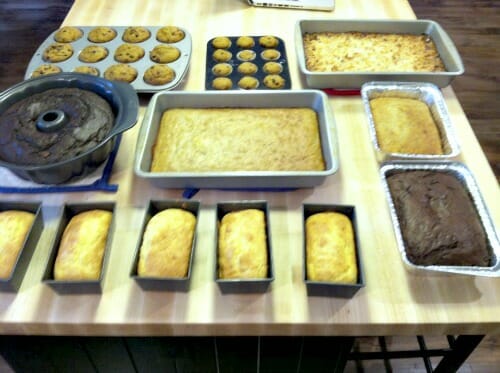 So that's it — these are the tips that have helped me continue baking and cooking in bulk, keeping our freezer stocked, and saving a whole bunch of time in the kitchen — all with Nora tagging along for the fun!
And like I mentioned above, these exact tips probably won't work perfectly for you. But use them, try them, tweak them, and see if some of them might help you find your new freezer-cooking, baking-in-bulk-with-toddlers groove.
It took me a few months to get back in the groove after Nora was born, and I'm sure things will eventually change again — but then I'll change my ways and come up with a new plan to keep our freezer stocked.
And then soon enough, I'll put Nora to work and she can be a real kitchen helper — instead of just getting into mischief!
Do you have any other tips to add to my list?