Over the last 5+ years, I have really embraced the cleaning power of vinegar — plain white vinegar. Not only is it extremely inexpensive, it's also SO versatile — it can practically clean anything!
I've shared numerous posts about cleaning with vinegar on my blog (most recently, how I use it to clean our dishwasher) and have even compiled a list of more than 100 things you can clean with vinegar!
It's no secret that I LOVE cleaning with vinegar!
However, over the last 5+ years sharing my vinegar cleaning tips and recipes with you, the #1 "complaint" I hear is how stinky the vinegar smells.
I've been asked over and over and OVER again how to get rid of the smell, how to mask the smell, how to change the smell, etc. etc. but I've never had any great answers… until just recently!
I came across the brand new Four Monks Cleaning Vinegar a few months ago and was very intrigued by the idea of an "aroma controlled" vinegar.
Of course, I had to try them out!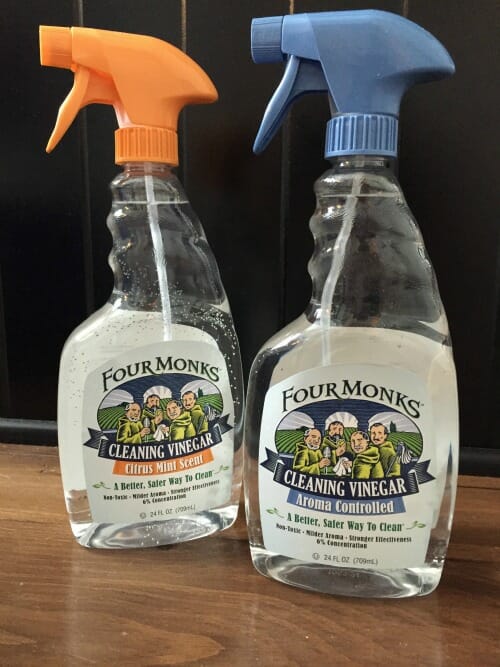 From what I can tell, the Four Monks Cleaning Vinegar offers all the same benefits of cleaning with vinegar (non-toxic, environmentally friendly, deep-cleaning, safe for children and pets, etc.) with the additional benefit of being low-odor!
Win-Win!
I guess I personally have never disliked the smell of vinegar as it does seem to dissipate quite quickly; however, Nora enjoys helping me clean and she is really liking the "less stinky" cleaning experience 🙂
As I mentioned above, I clean almost everything (except my granite counters) with vinegar. I use vinegar in the laundry, in the bathroom, in the kitchen, on kid's toys, outside, on windows and glass, etc. etc. so I use it daily!
Since using Four Monks Cleaning Vinegar, I have noticed no difference in the cleanliness of my home, and there is no residue or stickiness.
I've been using the Citrus Mint Cleaning Vinegar primarily in the kitchen, and the Aroma Controlled Cleaning Vinegar in the bathrooms (and everywhere else).
The Four Monks Cleaning Vinegar 24 oz. spray bottles are currently available in Walmart Supercenters (in the vinegar aisle) and HEB stores (in the cleaning aisle) for right around $2.50. They are also available at Walmart.com for those of you who (like me) don't shop at Walmart.
There are larger jugs available as refills for the spray bottles and you can even print a money-saving coupon right on their website!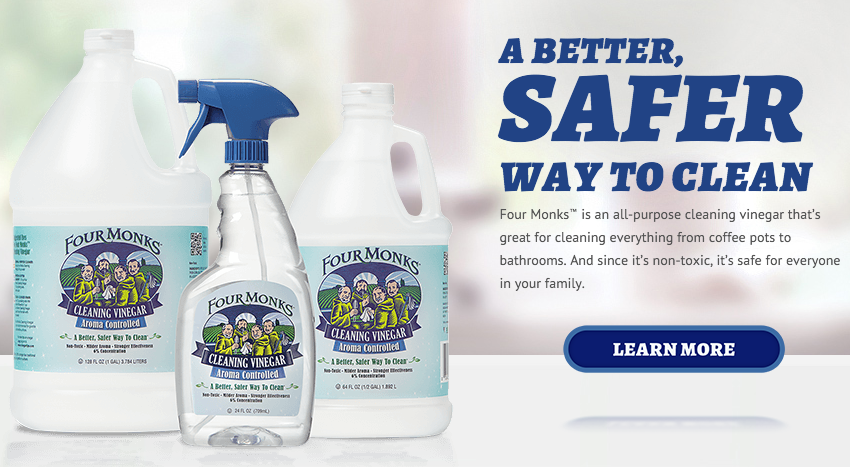 If you love the natural, safe, eco-friendly cleaning power of vinegar but can't stand the smell, I would highly recommend looking for a bottle of Four Monks Cleaning Vinegar the next time you're grocery shopping.
Also, if you aren't aware of the amazing cleaning power of vinegar, check out some of the vinegar-cleaning tips on the Four Monk's website.
How do you use vinegar around your home?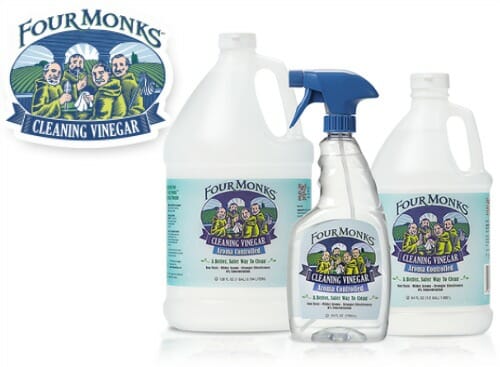 A big thanks to Four Monks Cleaning Vinegar for sponsoring this post and making it possible for me to provide all of the content on my blog free of charge! My opinions are 100% my own! Please see my full disclosure policy and contact me with any questions you have.