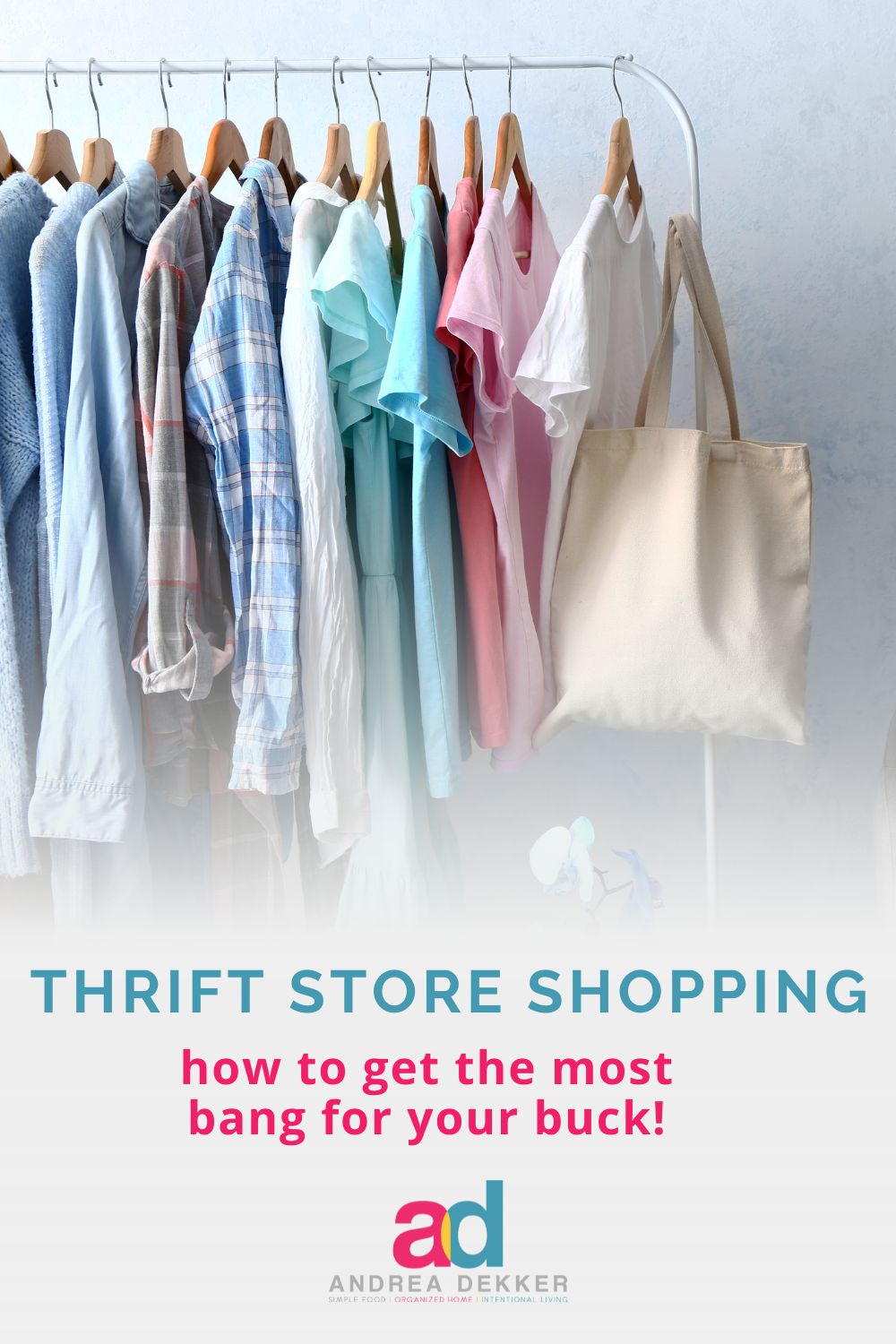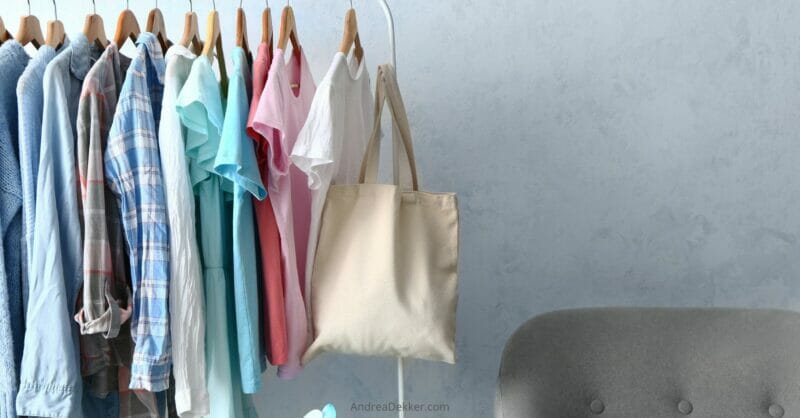 For as long as I can remember I've enjoyed thrift store shopping — even as a child.
We didn't go to thrift stores much when I was a child, but many schools and churches in our area had secondhand sales and I loved going to those with my mom.
My passion for secondhand treasures really ramped up in college, when I was semi-supporting myself with a part-time job. I realized I could stretch my dollars a lot further when I shopped exclusively at thrift stores!
Now, almost 20 years later, my love of secondhand shopping continues to grow — especially with 4 kids who want to try a variety of sports, instruments, fashions, hobbies, and activities.
Thrift stores and Facebook Marketplace are my go-to sources for almost everything these days (and wow! we save a lot!)
I get so many questions about thrift store shopping that I want to share a few tips that help us find the best bargains! If you'd like to "up" your thrift store game, these tips should help you too!
1. Sign up for store emails.
Most thrift stores have email lists (just like regular stores) and send out special deals and even coupons — so before you head to your local thrift stores, get on their email lists!
I'm on the email list for our 2 favorite thrift stores and just I learned that one of the stores was having their semi-annual "fill-a-bag" sale this week — meaning, we can fill up an entire paper grocery bag as full as possible for just $10!
I made a plan to go with the kids right away on Monday morning (before things were picked over) and we found several great bargains.
We came home with 17 items of clothing (most of them pictured below) for just $10! That's only $0.59 per item — 3 items still had store tags attached!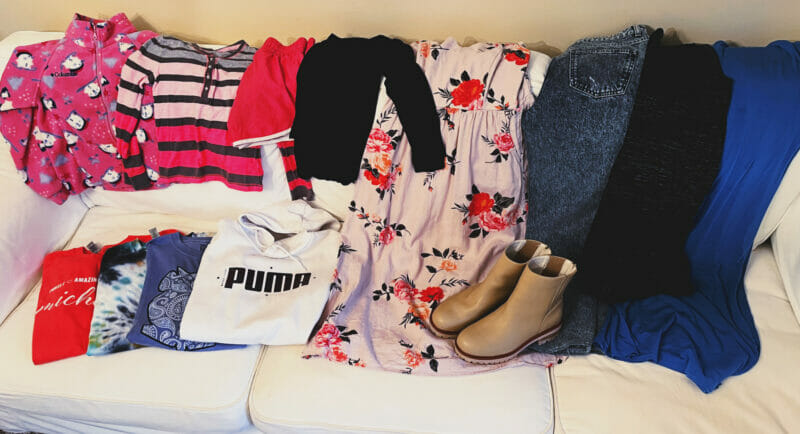 2. Do your hair and makeup.
This might sound silly, but you will likely feel a lot differently about the clothing you try on if you look like yourself with "normal" hair and makeup.
You'll get a better idea of what the clothing will look like on you and be a more successful shopper.
3. Dress for easy try-ons.
Whenever we head to a thrift store, I have everyone wear or bring socks in case we need to try on shoes or boots.
We also dress in layers (tank top with cardigan or sweatshirt) to make the try-on process easier and faster — often, we can try tops and dresses on without a dressing room.
And wear shoes and pants that are easy to quickly slip on and off again.
Also, if you're shopping for something specific (like shoes to wear with a dress or a top to wear with a specific skirt) wear or bring that item with you so you can try the items on together.
4. Take current sizes along.
If I'm shopping for something specific for a child (like a new pair of shoes/boots/pants) but they aren't with me, I simply take one of their current shoes/boots/pants along with me.
This allows me to match it up to whatever I might buy and gives a better estimate as to if it will fit or not.
It might be worth noting that when I take our own items along, I usually show the checkout people my items when I walk in so it doesn't look like I'm stealing. And I only take one shoe/boot.
If you don't want to take actual clothing items to the store, you could also write down detailed measurements for each family member, and then make sure to take a measuring tape to the store with you.
5. Shop with an open mind (and a list).
I wouldn't head to the grocery store without a detailed list of exactly what I need to buy… but thrift store shopping is a little different because I'm never sure what I'll find.
So while I usually have a list (mental or physical) of the items I'm looking for, I also try to shop with an open mind, knowing there's a good chance I won't find EXACTLY what I'm looking for.
For example, Nora recently needed a new dress for church — specifically one that would work for the fall. So "a fall dress" was on our mental list of things to search for, but neither of us had a super specific idea of what exactly the dress would look like.
We kept an open mind, tried on a handful of options, and came home with a super cute floral dress that's probably more "summery" than "fall", but when paired with her jean jacket and cute boots, it totally works for fall.
6. Shop at the end of the season.
Thrift stores often have end-of-season sales (just like regular stores) to clear out seasonal merchandise and make room for the next season's items. This is a great time to shop!
Our local thrift stores offer many discounts when they switch from summer to fall and from winter to spring. Sales like fill a bag for $10, 5 items for $5, 75% off all clothing, and $0.94 cent clothing make it possible to stock up for cheap.
Here's another end-of-season haul I got last fall (19 items for $10 total!)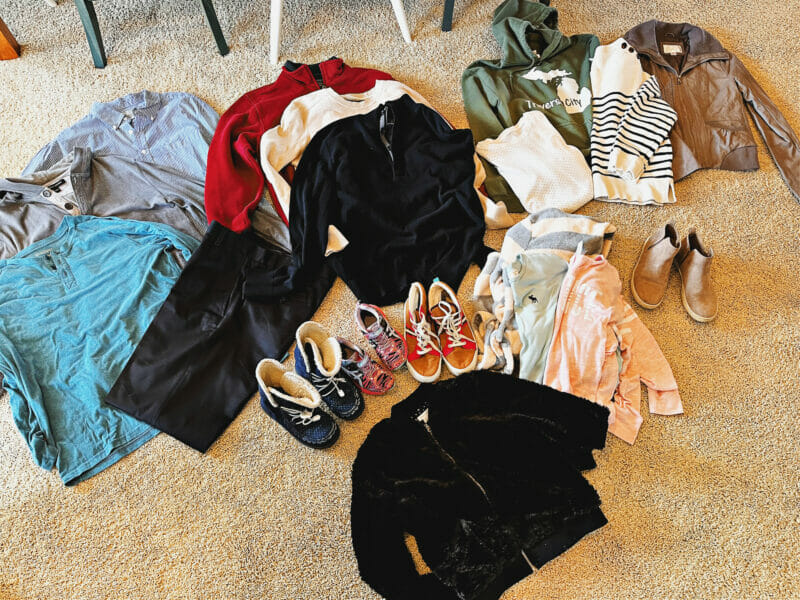 7. Give yourself plenty of time.
If I'm looking for something super specific (like a pair of black Nike football cleats for Simon) I might quickly pop into a thrift store even if I only have 5 minutes because that's all I'm looking for.
But most of the time, I make sure I have at least 30-40 minutes to browse through the racks and try a few things on. If you're rushed, you won't have the necessary time to look through the racks… and it's usually when I take the time to really "dig" that I find the best deals on exactly what I'm looking for!
8. Avoid impulse purchases.
One of the biggest pitfalls with thrift store shopping is how easy it is to make an impulse purchase because everything is so cheap.
However, even spending $3 on something you don't really need or love is more than if you didn't buy the item at all. Plus, buying things you don't need adds more stuff to your home.
Before you fill your cart, make sure you actually want, need, and love the items you plan to buy.
9. Explain the "rules" to your kids.
My kids love coming to the thrift store with me because they almost always get something — whether it's new sports equipment, a new item of clothing, a new book, a fun game/toy, or just something from the "free bin".
That said, they also know they shouldn't beg for 87 different things, that they can't pull all the toys and games off the shelves, that they will likely have to wait while siblings try clothing on, and that they might need to spend their own money if I consider something "unnecessary".
If they do want to spend their own money, I try to put it in perspective for them, saying something like, "This toy will cost $3, which is almost half your allowance… are you sure you want to spend that much on one toy?"
Oftentimes, they want to spend, but there are plenty of times when they put the item back once they think it through a bit more.
10. Know the store's return policy.
One of the biggest differences between thrift stores and regular stores is that most thrift stores do not offer returns on anything.
A couple of the stores in our area offer a 24-hour refund on electronics or technology that doesn't work. Other stores, like Goodwill, for example, offer a full refund for 7 days after the purchase — but the money comes back as in-store credit.
I personally don't know of any thrift stores that will give cash back for returns… so make sure you really want your items before checking out.
After decades of successful thrift store shopping, these are the tried-and-true tips that have helped me get the most bang for my buck… and when you're shopping for 4 kids with lots of interests and hobbies, every little bit of savings can really add up over time!
I realize that not every city/state/country has access to fantastic thrift stores, but you might be surprised by what's available. Just Google "thrift stores in my area", see what comes up, and give a few a try!
Related Reading:
BONUS: If you've never shopped with ThredUp before (an online secondhand store) you can use this link to get 45% off your first purchase + free shipping!