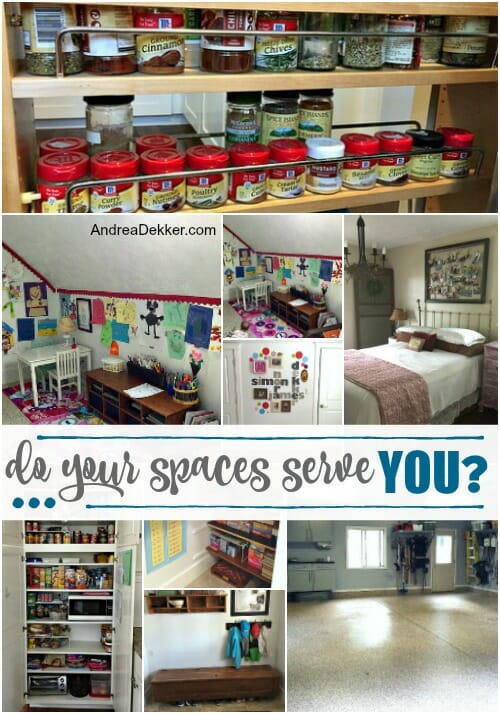 Over the years, I've frequently stressed the importance of "regular maintenance" in order to keep a space organized for the long-term (OK, I've basically beat that point down your throats — but it IS a really important part of the process that so many people overlook!)
I'll be the first to admit, regular maintenance is not overly fun or glamorous, there are rarely any amazing before/after results, and no matter how many times you do it… you'll most likely have to do it again the next week, the next day, or even 35 more times that same day!
Things like:
cleaning up the kitchen after making a meal or a snack or after getting groceries
picking up toys, books, games, dishes, newspapers, water cups, etc.
making the beds, hanging up towels, fluffing pillows, refolding throw blankets
sweeping the floors, shaking out the rugs, vacuuming
cleaning bathrooms and swapping out the hand towel that always seems to be soaking wet
making a meal plan, buying the food, preparing the food, and the cleaning up (yet again) after the food!
I don't know about you, but the list above isn't super exciting or enjoyable for me. However, it's all necessary if you want to STAY organized.
.
Another super important part of the organizational "puzzle" is to consistently re-evaluate and re-work your spaces so they SERVE YOU WELL.
Are your children getting older and you need to re-evaluate how you store and organize the games, puzzles, toys, books, etc.?
Do you have different storage needs during different seasons of the year?
Have you recently become empty-nesters who can now utilize your space differently?
Do hobbies dictate how and where you store certain things?
Have your medial needs changed how you can use your space and what items you should store in various places around your home?
As life changes, as your family grows (or shrinks), as your interests and hobbies change, as you age, as your needs shift, there are countless opportunities to tweak (or totally overhaul) different areas of your home so your spaces SERVE YOU BETTER.
This might sound like a silly concept to some of you, but it's amazing how much of a difference it can make in the overall function of your home, as well as the overall simplicity of your life.
Let me give you a few examples from my own home and life.
Pantry and Kitchen Organization:
I recently cleared out the cabinet that had bottles, formula, and pumping gear — I also cleaned out the area of our pantry that I stored baby food and other baby snacks as Clara prefers eating more solid food, and she definitely seems to like graham crackers, veggie straws, and Cheerios over any special baby snack.
At the same time, I now need more space to store lunch packing supplies (baggies, reusable lunch containers, water bottles, etc.) It's nice to have a designated area for lunch packing items now that school is just around the corner, and I feel like my kitchen better meets my current needs after making these small changes — all of which took about 20 minutes of my time!
Toy and Game Storage:
The other day, I was thinking back 6 years ago to when Nora was Clara's age (almost 1 year old). We had so few toys in our house — just one little basket in Nora's nursery and 1 basket in the living room.
We didn't have any outside toys, no games or puzzles, no big kid toys, NO toys upstairs at all, no craft supplies or art projects, and only 1 little shelf of books.
Fast-forward 6 years and 3 more children later — our house often feels like it's bursting with toys, games, puzzles, movies, crafts, books, and other kid gear.
The one thing that keeps me sane is the fact that we've always been able to find a suitable home for all the kids things — partially so they can access what they want, when they want it, but also so that Dave and I don't have to live with our kids' stuff cluttering up our home all day, every day.
As the kids continue to age, we've had to continually re-evaluate our toy storage so it meets our current needs.
We've added craft storage in the dining room and in the upstairs bedroom. We've turned an under-utilized closet under our stairs into a fantastic storage space for all our games and puzzles, and we've purged books so they only take up 2 shelves (we visit the library every single week for "new" books).
Bedroom Arrangements:
We have played "musical bedrooms" countless times over the past 8 years in our house — truly, I can't even keep track of all the switches anymore.
Dave and I have slept in 4 different spaces, Nora has slept in 3, Simon has slept in 4, James has slept in 3, and Clara is still holding down the fort in the nursery.
There were times when we had all the kids in separate rooms, a time when Nora and Simon shared, then Simon and James shared, and now all 3 older kids sleep in the same room (because they wanted to).
Every time we make a switch, I notice so many positive results come from it — the kids sleep better, the house functions better, the spaces fit our needs better, we are able to maximize our space, etc. etc.
Mudroom:
We added the mudroom onto our house when Simon was only 4-5 months old… and we thought it was fantastic back then.
Now, 2 more children later, and we truly don't know what we'd do if we didn't have that space off the back of our house!
The amount of STUFF we store in our mudroom is simply unreal (I need to do an updated post on this soon!) not to mention the crazy amount of dirt, sand, leaves, rocks, and general filth that gets left in the mudroom before anyone enters the rest of our home. I'm sure I save myself hours of cleaning and piles of dirt by simply looking away and vowing to only sweep and clean the mudroom once a week (no matter how bad it gets!)
Thanks to our lovely 4-season weather, we switch our entire mudroom storage around every 6 months or so — swapping out swimming suits for snow gear (and snow gear for swimming suits) every spring and fall.
We rotate snow hats and sun hats, we swap snow boots with rain boots and hiking boots, depending on the season. We keep bug spray, sun screen, sunglasses, wet wipes, tissues, and other necessities available all year long.
.
I could keep going with so many examples from my own home and life… but I think you get the idea.
If I think through the various rooms and spaces of our home (and even our yard) I'm fairly confident that every single space has been changed to some degree over the last 7 years (and not just because we've been renovating).
As we've added more and more and more children to our family, our needs have continued to change, and I've changed our spaces to fit our lifestyle accordingly.
Now, as our children get older, start school, and move out of the baby stage (hallelujah!), our home functions much differently than it did before children, or even when we just had 1 or 2 babies in the house.
I will continue to tweak any area of our home I feel isn't "working well" or fitting our needs as it not only simplifies our home life, but also order maximizes our home's potential and capitalizes on the space we have (all good things in my book!)
As you go through your home this week, stop and think through the different areas, spaces, and rooms. Do they work well for you and your season of life, or could you make a few small changes to help them function better?
You might be amazed by how much of a difference one or 2 small changes could make!