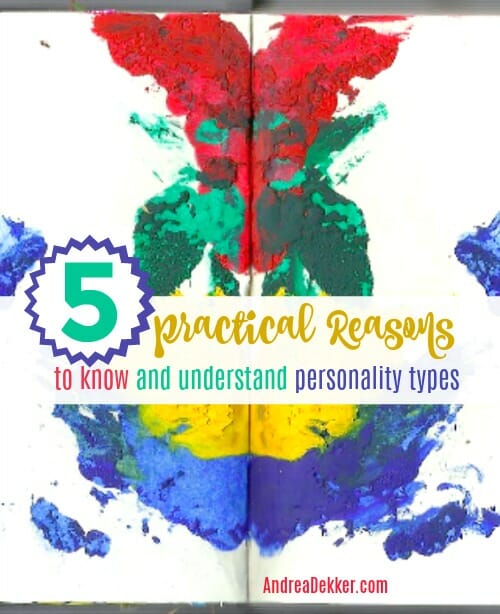 Reading and learning more about my personality type has been a favorite hobby of mine since I was in high school.
I've been fascinated by the many different personality types ever since I took my first Myers Briggs Type Indicator (MBTI) personality test in high school. It's just amazing to me how accurately the results of this test explain my personality, my strengths, and my weaknesses!
My Personality Type = ISTJ – The Inspector
As I've mentioned before, I am an ISTJ on the Myers Briggs test, which means:
I = Introvert — I put my attention and find energy focusing on my "inner world" versus my "outer world".
S = Sensing — I prefer information I can "sense" with my 5 senses (actually see, feel, taste, hear, etc.) versus information I acquire through intuition or "reading between the lines". Just give me the facts!
T = Thinking — I make decisions quickly and easily after analyzing the facts. I am fair, but I don't let my emotions cloud my decision-making process.
J = Judging — I am planned and orderly — preferring all decisions to be made well in advance.
A few other tidbits about the ISTJ personality type:
Serious, practical, matter-of-fact, realistic, and responsible.
Decide logically what should be done and work toward it steadily, regardless of distractions.
Take pleasure in making everything orderly and organized — our work, our home, our life.
Value traditions and loyalty.
Self-motivated and very diligent (a.k.a. we're stubborn to a fault!)
Extremely independent, super organized, and very detailed oriented.
Considered to be "jacks-of-all-trades" (my mom used to say I was a "jill-of-all-trades" all the time when I was younger!)
Unemotional, often impatient, easily annoyed by other's lack of abilities, and frustrated by perceived laziness.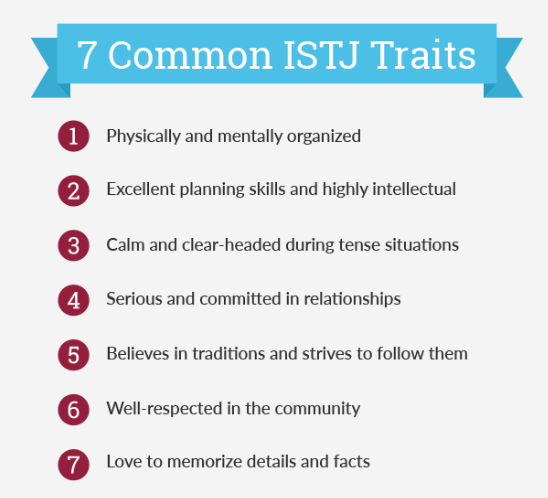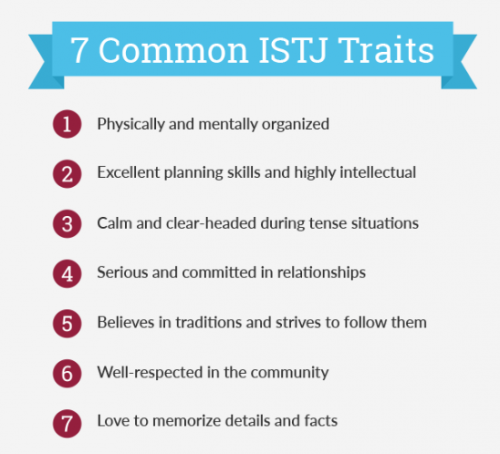 So yeah… that's my personality all right!
In case you're wondering, Dave's personality type is ISFJ — which explains why we generally feel and react the same in so many situations in life!
.
There are many different personality tests out there today — the Enneagram (I'm a Type 1), the StrengthsFinder, the Kolbe, the DISC Personality Test, and more… but for the purpose of today's post, I will focus on the Myers Briggs Type Indicator test as that's the one I'm most familiar with and the one that is most readily available on the internet these days!
I've linked to a free personality type test below, and I honestly feel that no matter what your life, family, work, or personal situations are, YOU WILL BENEFIT from taking this test to better understand your own personality!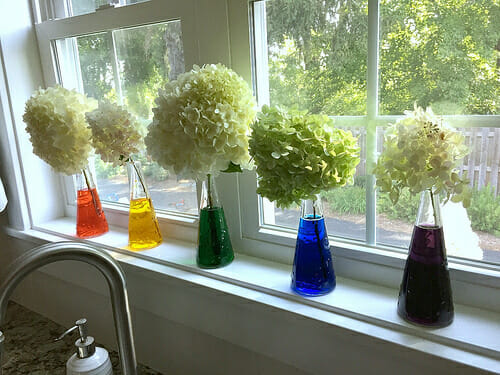 Here are just a few of the reasons I feel it's extremely beneficial to know and understand your personality type.
1. To Better Understand Yourself:
Before I took my first personality test, I would have said I was an "extrovert" because I am very social and enjoy being with people. However, I always found it odd that I preferred shopping and studying alone versus with friends… and my parents still joke that they never had a curfew for me because they knew I'd come home on time (whenever I tired of being with a big crowd).
I absolutely HATED sleepovers when I was younger; and in college, I came home every Sunday morning and stayed home the entire day — usually just hanging out in my room in the peace and quiet.
Now I realize that being an "I" (introvert) doesn't mean being socially awkward or painfully shy — but rather that I feel more energized by being alone than with huge groups of people. So yes, I do enjoy spending time with others, but I MUST have some downtime to myself in order to regroup and recharge.
Knowing this simple fact has been hugely beneficial to me as an adult (and as a mom with 4 young children). I no longer think I'm weird or strange (or a bad mom) for enjoying and craving time alone.
Also, if I feel like I'm snapping at my kids or getting really grouchy, I know it's most likely because I just need a few minutes to recharge and regroup (alone!) I send them outside or upstairs to play, or I turn on a quick Netflix show, and the entire rest of the day is happier and more fun for everyone.
Similarly, knowing that I prefer logical facts, order, systems, tradition, planning in advance, practical advice, etc. etc. helps me to better understand myself, what makes me happy, what makes me frustrated or upset, and what to do (or not to do) in order to alleviate stress, anxiety, and unhappiness in so many life situations.
.
2. To Enjoy Healthier Relationships:
Although I realize we cannot all be perfectly categorized by 4 little letters, I do think that when we know and understand the different personality preferences, we can more easily appreciate differences between others in our lives — spouses, children, friends, family, coworkers, etc.
We can see their differences as just that — different ways of "being."
If something another person does is very annoying or disturbing for us, we can hopefully learn to view it as a reflection of their personality type as opposed to something they are doing to purposely offend us.
One prime example of this in my own life is when people are late for anything — this bothers me SOOOOO much.
When someone is consistently late, I feel like it's disrespectful, inconsiderate, and just plain rude. However, if I think about a few people in my life who are ALWAYS late for EVERYTHING, I know for a fact they have a "P" personality (not "J" like me). They don't think the same way I do, nor do they value the same things I value (arriving when you say you'll arrive).
They most likely are NOT purposefully trying to offend me, and I shouldn't let myself get so annoyed.
Of course, I don't think someone with the "P" personality can use it as an excuse to always arrive late, but I do think it's beneficial if we more-thoroughly understand the different personality types of people in our lives.
It's no surprise then, that most counselors will utilize personality type information to aid in their sessions!
.
3. To Acknowledge and Appreciate Different Learning Styles
We all learn and process information in different ways — some people (like myself) just want the facts so we can make quick decision and move on with our day, while others need to have time to weigh the pros and cons and process all the information before slowly coming to a solution they feel will be in the best interest of everyone involved.
Some people learn best by hands-on trial and error, others learn by being told or shown how to do something, and still others learn by simply reading it in a book.
Some people prefer to learn on their own while others learn best in a group setting.
None of these ways are "right" or "wrong", but by knowing and understanding the different personality types, we can more easily acknowledge and appreciate the many different learning styles.
This is especially helpful for teachers, managers, parents, or anyone "in charge" of others.
.
4. To Pursue Our Passions:
If you've ever worked at a job you absolutely hated simply because it was a paycheck, you know how frustrating it can be to spend time doing something you dislike all day long.
Life is much more enjoyable if/when we can pursue our passions… and knowing our personality type is the first step towards this goal.
I remember one of my first jobs working in retail — it was BRUTAL! I was 16 years old and should have loved working at the mall…. instead, I absolutely hated it because they constantly put me "on the floor" to greet people walking in.
Eventually, I asked if I could sort clothing in the backroom… and from then on, I enjoyed my job so much more. The managers continually praised me for my attention to detail, I actually enjoyed the semi-monotonous work of folding, stacking, sorting, and organizing the clothing, and I loved the fact that I often worked all on my own in the back room.
Now, as a work-from-home mother to 4 young children, I can absolutely say with utmost certainty that there is no better "job" for me at this point in my life — I can work from home, on my computer, when my kids are sleeping. It is the perfect use of my skills and one of the most fitting jobs for my personality type (at least at this point in my life!)
I certainly have the skills to do many other jobs, but I doubt I'd love any of them the way I enjoy writing and sharing my life with you!
.
5. To Have Really Fun Conversation Starters!
Ok… this last one isn't completely necessary, but ANY time I mention anything about personality profiles, there are always scores of others willing, ready, and excited to share their personality profile… and the conversation just morphs from there!
As an "I" (Introvert) who doesn't particularly care for small talk, I LOVE discussing personality types when I'm in groups of people. Not only does it provide a light-hearted topic that often results in lots of laughter as we joke about our various quirks, but it's also quite interesting and informative.
Try it at your next party or gathering… you'll be amazed how quickly the conversation picks up!.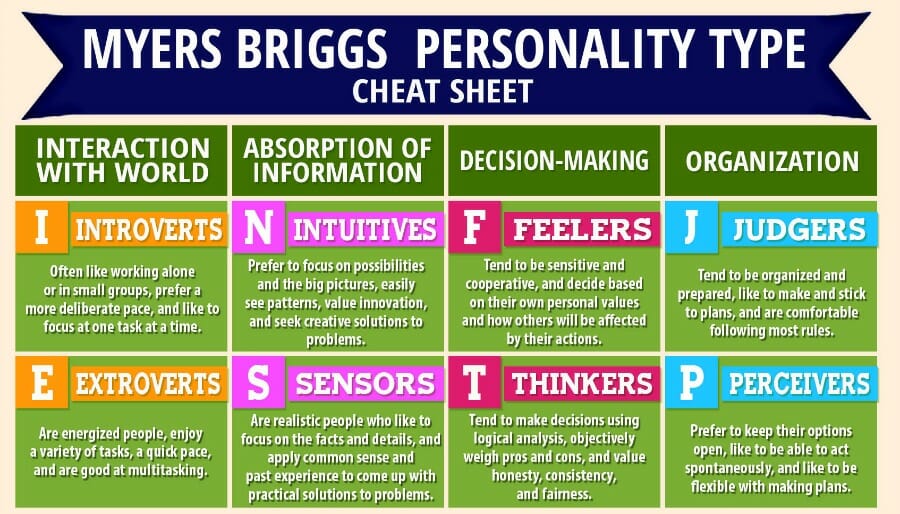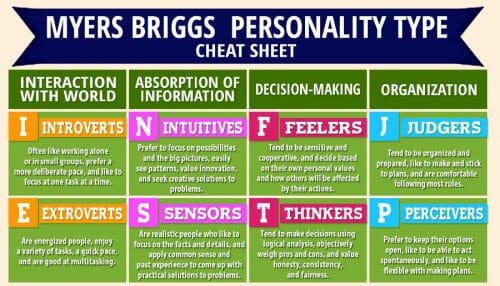 Click on the image above to enlarge it.
Do you know YOUR personality type?
There are 16 different Myers Briggs Personality Types that help to explain various aspects of your personality — how you interact with others, how you learn best, what types of jobs you would be good at, and so much more.
If you're not sure what your personality is, take this free online test (or you can take the certified Myers Briggs test for $50.)

Once you know your type, head on over to Amazon or your local library and look up a few books that explain more about your specific personality type. It's also beneficial to read about your spouse or other family members' personality types.
You might be surprised how useful and helpful this information is in your everyday life — especially if you can convince others in your life to take the test as well.
If your experience is anything like mine, you'll be in awe of how accurately your thoughts, actions, and life are laid out in front of you when you read the results of your personality type test!