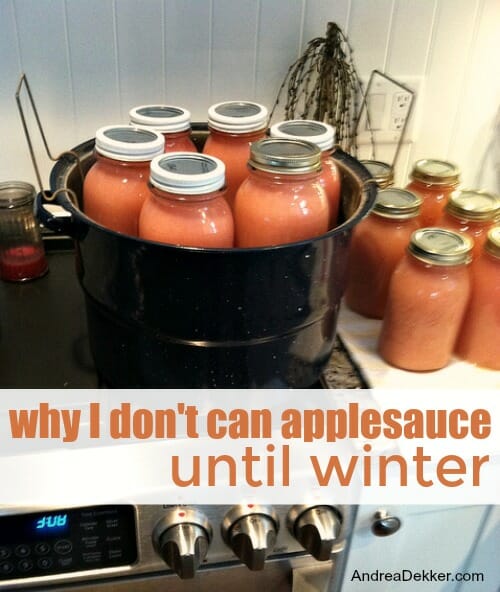 Anyone who has ever eaten a home-cooked meal in the Dekker house probably had the opportunity to try my home-canned applesauce. We honestly eat it with almost every single meal outside of pizza, Mexican, and breakfast 🙂
The kids love it, I love it, Dave loves it… and both Dave and I grew up with homemade applesauce as a regular addition to many of our meals.
It is a decent amount of work to can as much as we eat every year, but I honestly can't imagine NOT doing it. We would all be so sad to miss out on one of our favorite (extremely simple) side dishes!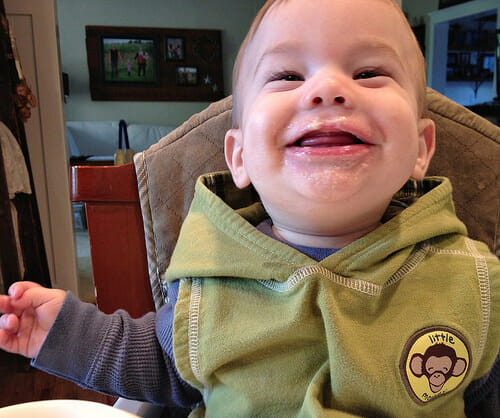 (Simon eating applesauce around 8 months old)
That said, I have plenty of other things on my to-do list during the busy fall months — yard work (especially the vegetable garden), school and church activities, community programs, birthday party planning (for a certain soon-to-be 5 year old), and holiday preparations to name a few.
I don't want to spend a full weekend inside canning applesauce during the beautiful Fall months when I could do it in the dreary and cold winter months instead.
So for the past several years, I've canned my applesauce in the winter!
Our local orchard usually sells apples all the way into February — so I almost always can our applesauce over Christmas break when we have a lot more down time and Dave is home to help with the kids.
If you buy apples from the grocery store, you can get them year round (they are usually quite "fresh" all the way through the holiday season.)
Of course, there is nothing wrong with canning applesauce in the Fall. But for those of you who have a lot on your plate right now, who would rather be outside than stuck in your kitchen all day, or who just don't feel like canning applesauce right now for whatever reason… you still have PLENTY of time left!
Wait until your schedule dies down a bit. Wait until it's too cold to be outside. Wait until the holidays are over. Then, break out your Mason jars, your food mill, and your hot water bath canner, and get to work!
I normally don't encourage procrastination… but in this situation, I'll let it slide 🙂
Oh, and in case you're wondering, here are my 2 favorite applesauce recipes:
Home-Canned Applesauce (in the canner)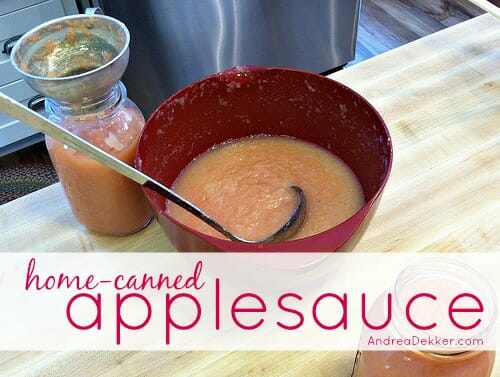 8-Minute Applesauce (in the microwave)
If you've never tried home-canned applesauce before, you truly don't know what you're missing out on!
Give it a try sometime… maybe over Christmas vacation with "help" from your kids or grandkids.
A Few More Apple Recipes:
What are your favorite apple recipes?