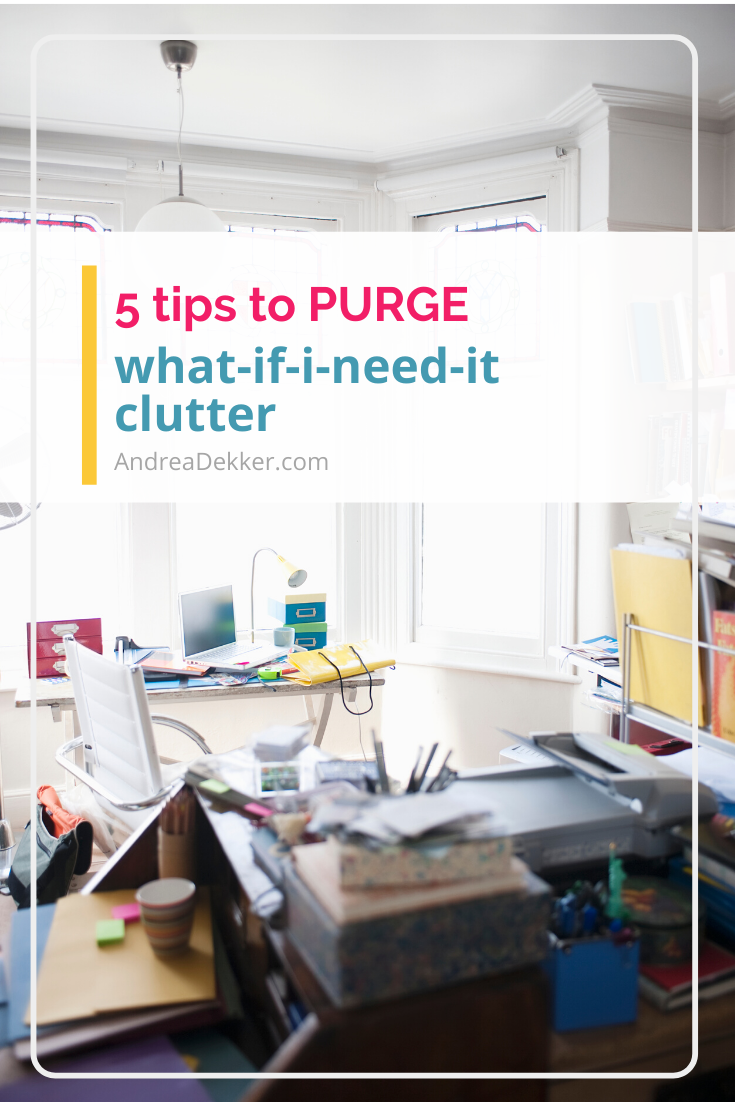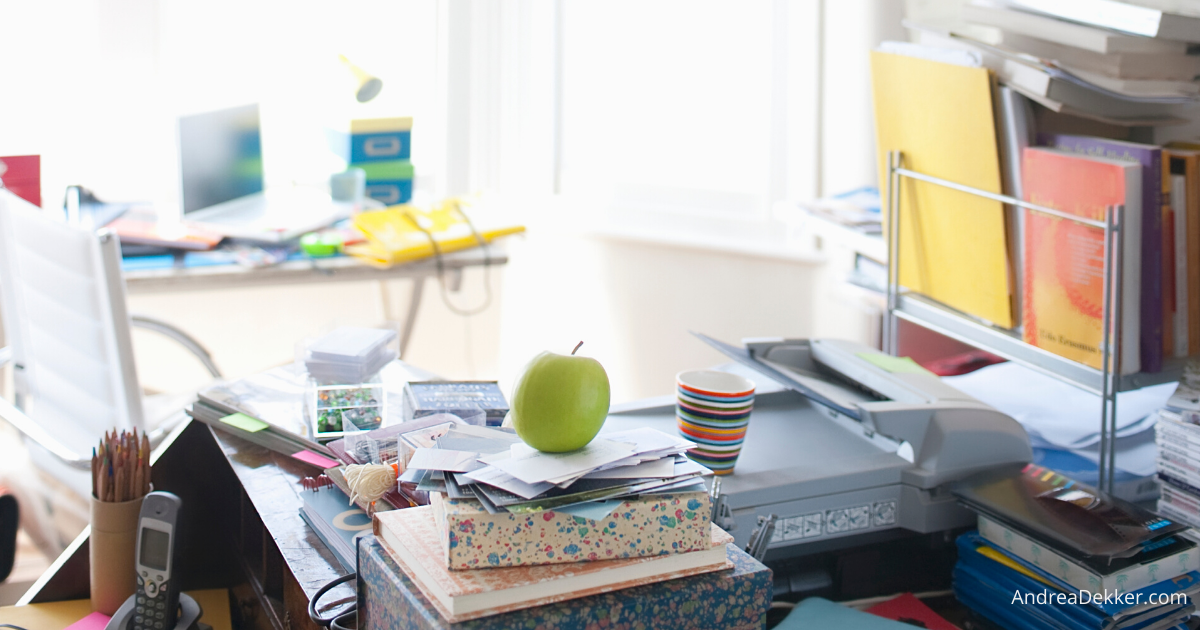 One of the biggest roadblocks to decluttering our homes and spaces is our thought process.
Specifically, those pesky thoughts that cause us to hesitate before discarding an item we haven't used in years… simply because we MIGHT need that item again someday.
Yeah… don't act like you don't know what I'm talking about!
I call this "what-if-I-need-it-clutter".
What-if-I-need-it-clutter accumulates quickly and can be very difficult to purge — especially if you are frugal, sentimental, or prone to worry about the future.
Examples of what-if-I-need-it-clutter:
back-up small appliances… in case your current appliances die
an extra set of dishes… in case you buy a rental house or cottage someday
large quantities of extra linens… in case you have an army of guests all at the same time
craft supplies you don't use… but might eventually if creativity strikes
your youngest child's outgrown clothing… you never know, you might have another baby someday!
fancy stemware you never use… but what if you throw a fancy dinner party someday
extra holiday decorations… in case you really decide to go all-out next year
specific ingredients you bought for a recipe you didn't like and have no other use for
clothing that's too small… but that you might fit into again someday
old technology… you never know when you might need another charging cord or remote!
As someone who isn't overly sentimental or anxious, I must tell you that my frugal nature sometimes makes it difficult to donate when I feel there's a chance we might have a use for the item again someday.
The struggle is real… I get it!
If you need a little inspiration and motivation to help you let go of your what-if-I-need-it-clutter once and for all, let me share 5 practical tips that always seem to work for me!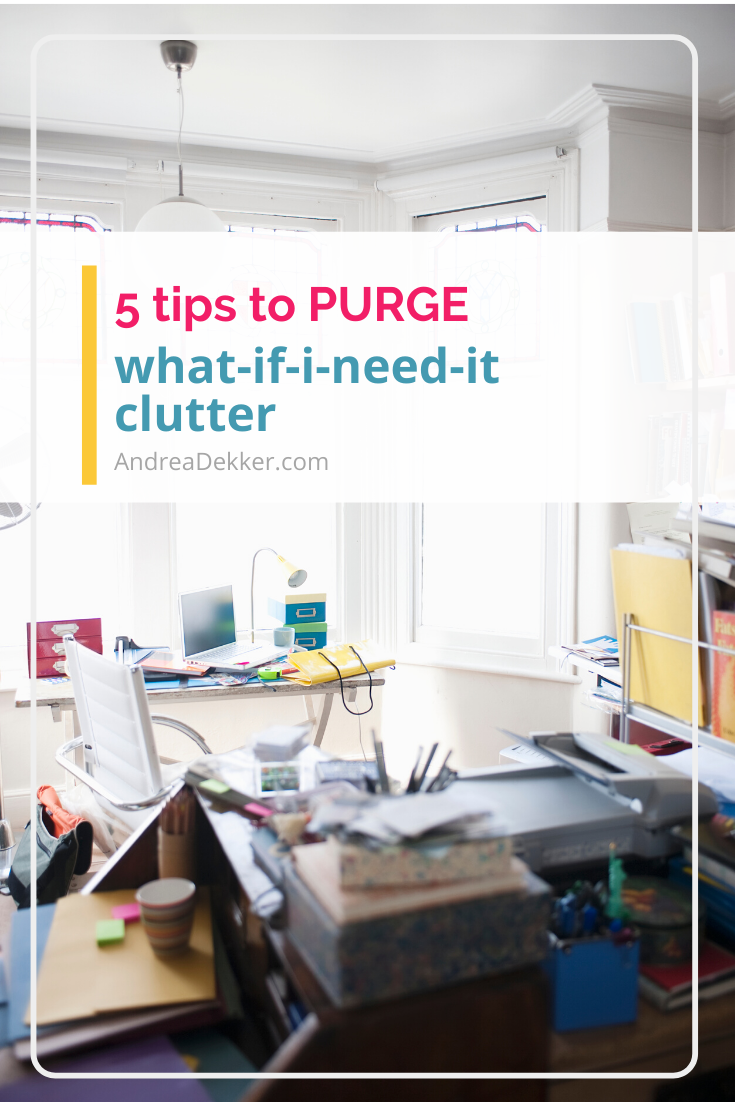 1. Evaluate if you can make do with something else.
If you're already thinking of putting an item in your donation pile, chances are you probably aren't using it all that much… right!?
On the off chance you might need this item at some point in the future, could you simply make do with something else?
It's always interesting to see just how resourceful I become when I don't have the exact item I want. In fact, there have been several times when I found I actually like using something I already have in the house more than the item I previously purged.
If you feel you could probably make do with another item, that's a pretty good sign you can purge now without regretting it later.
2. Consider selling your items.
I'm a huge fan of selling unneeded items (my go-to is Facebook Marketplace) as it's often easier for frugal minds to part with something if we get a little cash in return!
I usually reserve my online sales for larger items (furniture, large baby accessories, small appliances, outdoor toys, etc.) and then donate smaller items like clothing, books, games, small toys, etc.
If you plan to sell some of your cast-offs, please be sure to set reasonable prices and be willing to negotiate with potential buyers for a lower price. Remember, anything you get will be better than nothing, and you want to get the items OUT of your house.
Also, give yourself a time frame (maybe 2 weeks) and commit to donating the items in question if they don't sell within those 2 weeks. This will prevent you from ending up with a room full of "stuff to sell someday".
NOTE: Are you unsure when it makes more sense to sell or donate? Read this!
3. Visualize the extra space you'll have.
One of the top "excuses" I hear for hanging onto unused stuff is: "but I have space for it".
This is a horrible excuse because it encourages hoarding-like behavior by filling every nook and cranny of our closets and cabinets, just because we can.
Technically you might be able to cram a little more into your closet or the shelves in your garage or your attic crawl space… but why?
If you don't use something, if you don't need it, want it, or love it, there is no reason to hold onto it even if you do have plenty of empty storage space for it.
Just think of how it will feel to open your closet and actually be able to see each item inside because things aren't all crammed together.
Or what about opening your kitchen cabinets and finding exactly what you were looking for in 10 seconds (without a cascade of other ingredients or containers spilling out).
When you let go of what-if-I-need-it-clutter, you give yourself and your home more room to breathe (and more room for the excess that will continue coming in).
If extra space in your home sounds good to you, then it's time to purge!
4. Realize that others could enjoy your things right now.
Have you ever saved bins of clothing "just in case" only to find that they got musty, stained, or visited by bugs or rodents?
Or what about all the what-if-I-need-it-clutter stored in basements that flood and attics that leak… then into the dumpster it all goes.
I can't tell you how many times I've come across these scenarios. It's so sad and wasteful.
Just think about all the families who could be using and enjoying your what-if-I-need-it-clutter right now… while it's still in good condition and in style.
Maybe that will inspire you to finally let go of the items in question.
5. Admit that you most likely won't need it.
Whenever someone says, "but what if I might need it again someday", my response is always, "but what if you don't?"
How's that for a good way to rationalize! 😂
Over the last 15 years, we've given literal truckloads of stuff away and I have few (if any) regrets… I expect you'll feel the same after the items are out of your home.
Practically speaking, if you haven't used or needed or wanted the item in quite a while, the odds are pretty likely that you will NOT need it (whatever "it" is) any time in the near future.
Regular decluttering has become a way of life for me… constantly evaluating our family's needs, balancing those needs with the amount of storage space available in our home, and then purging the rest.
It's not always easy or straightforward, but I'm always glad when it's done!
I hope these tips to let go of your what-if-I-need-it-clutter offer the extra boost of motivation you need to get started decluttering your spaces.
I know from my own personal experience how freeing it feels to finally let go of items I don't need, use, want, or love — even if there is a chance I might need them again someday.
After all… I might NOT need them!
Being intentional about purging the things you don't need or use will bring you one step closer to a simpler, more organized home and life!