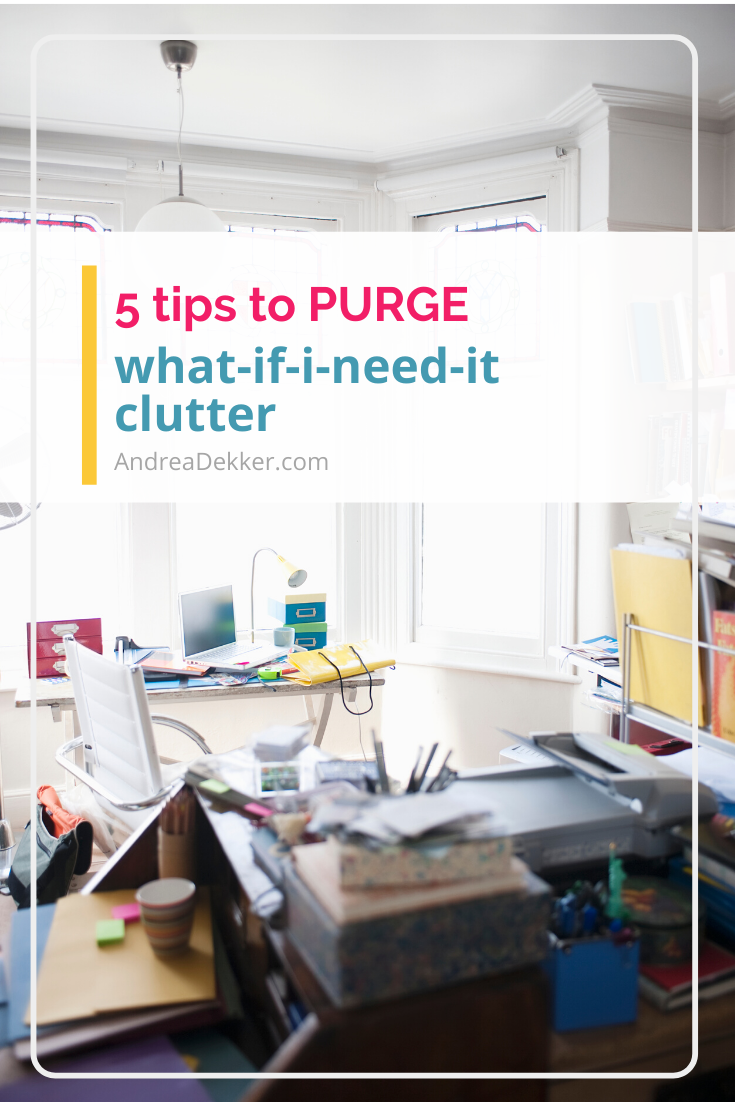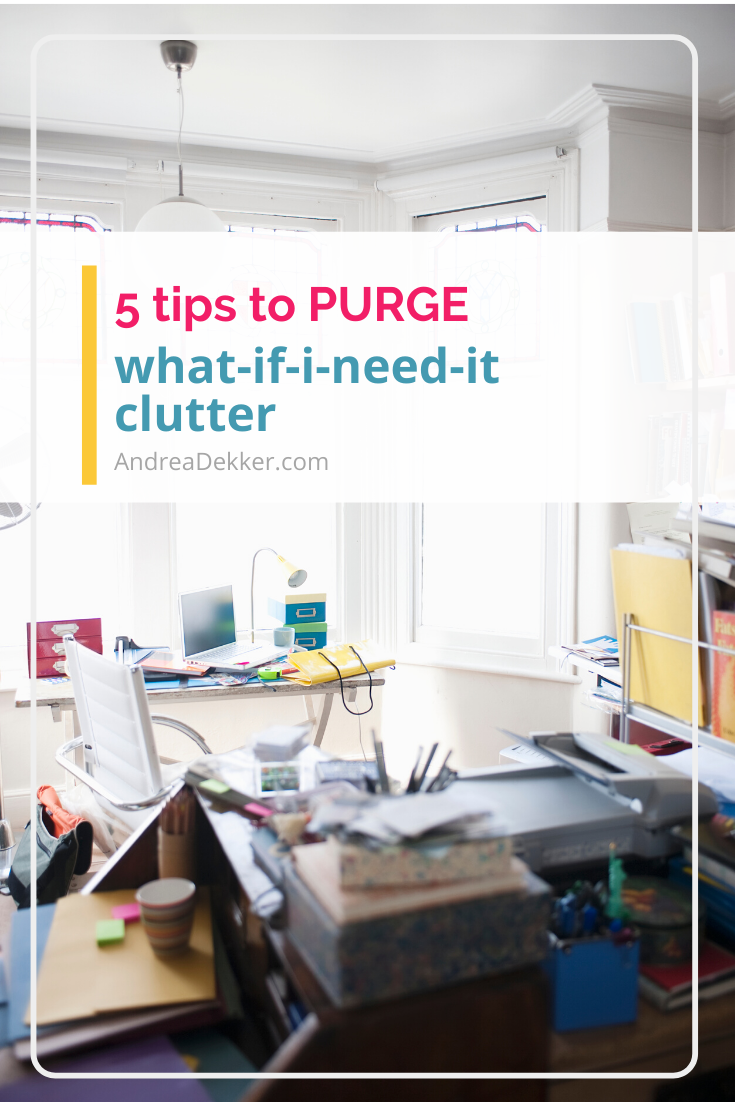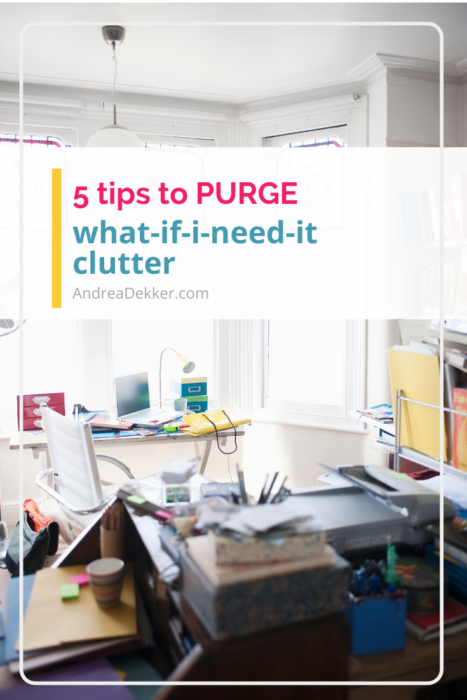 Over the last 15 years of my life, I have purged and decluttered so much unneeded excess… so much clutter!
I sold much of it via Craigslist or Facebook Marketplace (my new favorite online tool!)
I gave some of it away to friends and family.
A few items ended up in the trash.
And we donated the vast majority to our local thrift stores.
Most importantly, ALL OF IT LEFT MY HOUSE!
If I saw an itemized list of everything I've purged over the years, I could probably pull a few items out to use again… but truly, there are very few (if any) items I honestly "regret" purging.
That said, I know one of the biggest issues when it comes to purging is the fear that we MIGHT need that item again someday.
Yup… I'm looking at you! 🙂
I call this "What If I Need It Clutter".
What-if-I-need-it-clutter accumulates quickly and can be very difficult to purge — especially if you are frugal, emotional, or someone who tends to worry.
Some examples of What-If-I-Need-It-Clutter:
baby clothes and maternity clothes… in case you have another baby
back-up small appliances… in case your current appliances die
extra sets of winter gear for all the kids… in case theirs get wet while they're playing outside
large numbers of extra linens… in case you have an army of guests
craft items you purchased for a project you already finished
clothing that's too small… but that you might fit into again someday
I am not emotional or prone to worry about much besides my children… but as a frugal person, I sometimes have a strong urge to hold onto various items "just in case I might need them again someday"!
The struggle is real!
If you need a little inspiration and a few tips to purge your what-if-I-need-it-clutter, this post will give you the extra nudge you need to purge these items once and for all!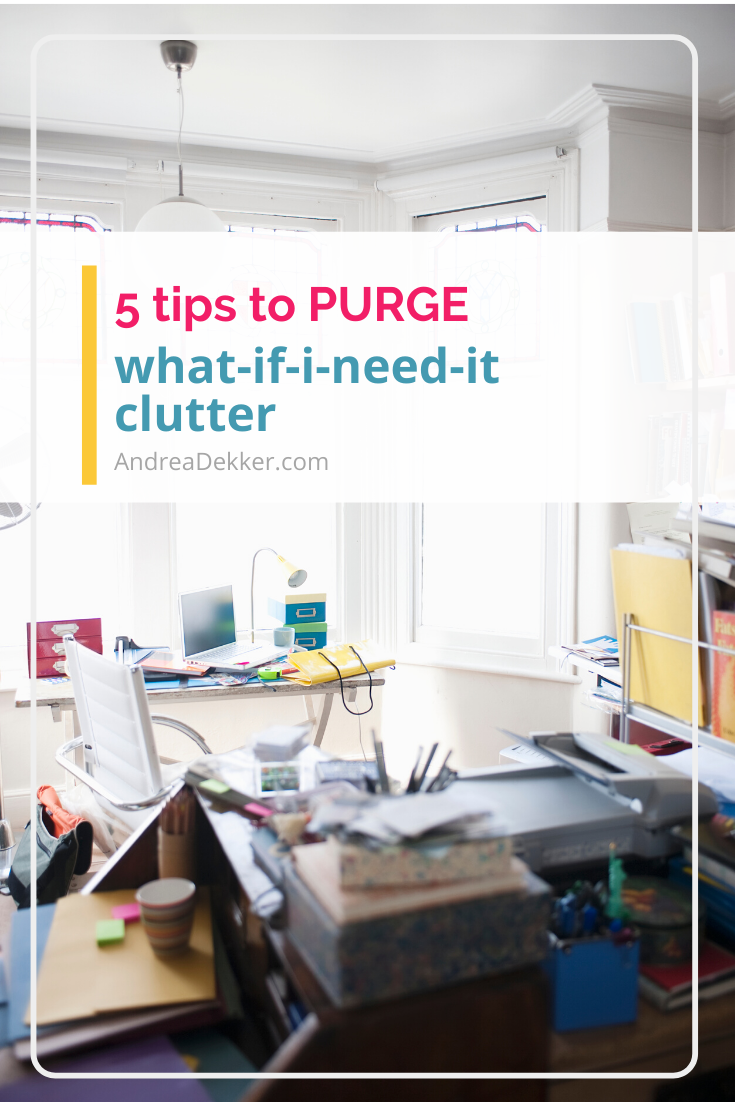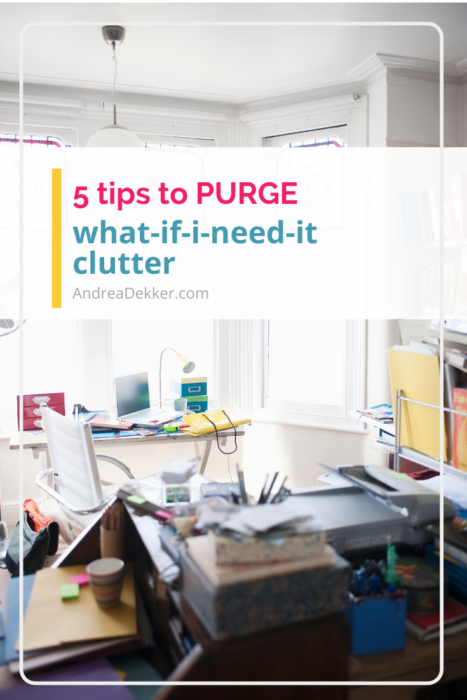 1. Evaluate if you can make do with something else for a while.
You're already thinking about purging the item, so my guess is you aren't actually using it all that much right now anyway.
Right!?!?
If for some reason you decide you DO need or want it again, could you make do with something else for a while first?
It's always interesting to see just how resourceful I become when I don't have the exact item I want. In fact, there have been several times when I found I liked using something I already had in the house more than the item I purged!
If you feel you could probably make do with another item, that's a pretty good sign you can purge now!
2. Consider selling the items.
I'm a huge fan of selling my unneeded items on Craigslist or Facebook Marketplace… and often times I think we're more willing to part with something if we get a little cash in return.
I usually try to keep my online sales for larger items (furniture, baby accessories) and then donate the smaller items (clothing and shoes). However, if you think purging would be easier if you got some cash for your goods, give it a try.
Set your prices at a reasonable amount and be willing to negotiate with potential buyers for a lower price.
Also, give yourself a time-frame (maybe 2 weeks) and commit to donating the items in question if they don't sell within those 2 weeks.
NOTE: if you are unsure when it makes more sense to sell or donate, this post might help!
3. Visualize the extra space you'll have.
I would much rather go without a few items I might (or might not) need someday in exchange for an empty shelf in my closet, an empty cabinet in the kitchen, and less-full toy bins.
When you purge your what-if-I-need-it-clutter, you give yourself more room to breathe, room to expand, and room to put more things when they inevitably come into our house.
So often, I hear the excuse "but I have space for it". Well yes, technically you can cram a little bit more into your closet or the shelves in your garage or your attic crawl space… but why?
If you don't use something, if you don't need it, want it, or love it, there is no reason to hold onto it even if I do have plenty of empty storage space for it.
In fact, we truly do have empty storage space in our house — empty shelves in the kitchen, empty dresser drawers in our bedrooms, a basement that has almost nothing in it, and a garage that can easily transform into an entertaining space in about 15 minutes because we don't stuff it full of things we "might need someday".
The extra breathing room in our home does my soul good… and I think you might find the same to be true for you.
If extra space in your home sounds good to you, then it's time to purge!
4. Realize that others will enjoy your donations.
Have you ever saved bins of clothing for years and years, only to go back years later and realize they are yellowed, musty, or visited by rodents?
I can't tell you how many scenarios I've heard like that… and it's just so sad.
Instead of "hoarding" all your what-if-i-need-it clutter, realize that by purging it now, others will be able to enjoy it while it's still in good condition (and even still in style!)
5. Accept that you most likely WON'T need it!
How's that for a good way to rationalize. 🙂
As I mentioned above, I have purged thousands and thousands of items over the years and can't think of more than a couple of items I ever had a need for again.
Realize and accept that the odds are pretty likely that you will NOT need it (whatever "it" is) again.
Whenever someone says, "but what if I might need it again someday", my response is always, "but what if you don't?"
Kind of annoying — and I do say it with a smirk! However, I'm totally serious, because I know the likelihood of NOT needing it again someday is pretty high!
.
Purging is a very personal process — one you have to tackle on your own timeline WHEN YOU ARE READY.
However, I hope these tips to purge your what-if-I-need-it-clutter are helpful and eye-opening for you.
By being intentional about purging those things you currently don't need, you will create more space and breathing room in your home — making you one step closer to a simpler, more organized life!
If that's not motivation enough to PURGE your what-if-I-need-it-clutter, I don't know what is!
I know from my own personal experience how freeing it feels to purge items I don't need, use, want, or love — even if there is a slight chance I might need them again someday.
After all… I might NOT need them! 🙂
Do you struggle with what-if-I-need-it-clutter? If so, what are the main reasons you feel it's more advantageous to keep the items versus selling or donating?
What are your best tips to declutter what-if-I-need-it-clutter?
Join my 20-day Challenge for daily inspiration and tips to declutter your home and simplify your life. You'll be amazed at how much what-if-I-need-it-clutter you can move OUT of your house in that short period of time!
As a little extra motivation for those of you feeling STUCK and PARALYZED by the clutter in your home and life, I created a mini workbook with 15-Minute Projects to Simplify Your Home.
If you're a procrastinator or a perfectionist, or if you have a hard time motivating yourself to get started, THIS workbook is just what you need!