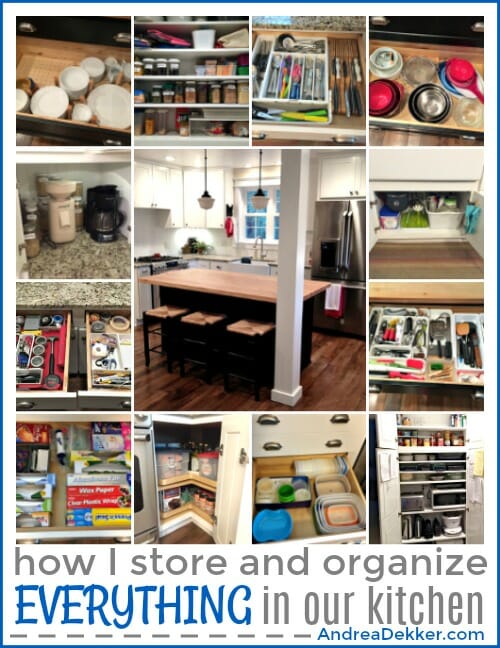 As many of you remember, we completely gutted our kitchen in the summer of 2012… and then SLOWLY put it back together again!
It was a HUGE mess, it took WAY longer than we anticipated, and I'm SO happy we won't have to live through another kitchen renovation any time in the near future!
We weren't originally intending to tackle such a big project so soon after moving into our home, but our former kitchen was VERY dysfunctional, with tons of wasted space, lack of storage, and just really ugly.
When several of the appliances started "dying" that spring, we decided to move the kitchen renovation up a few years on our to-do list — and I'm SO GLAD we did!
We have enjoyed cooking, eating, entertaining, and spending time in our new kitchen and dining area SO much over the past several years… and I honestly can't imagine living for 6 months without a kitchen with 4 kids to feed!
Soon after we finished our kitchen renovation, I shared detailed pictures of the insides of all our cabinets and drawers.
Read Those Posts Here:

A look inside our kitchen drawers (circa 2012)

A look inside our kitchen cabinets (circa 2012)
Since then, we've added several more children to our family, I've changed so much of how I cook and bake, and we have different storage needs for older kids, school lunches, different snacks, etc. etc.
So… I decided it was time for an updated post!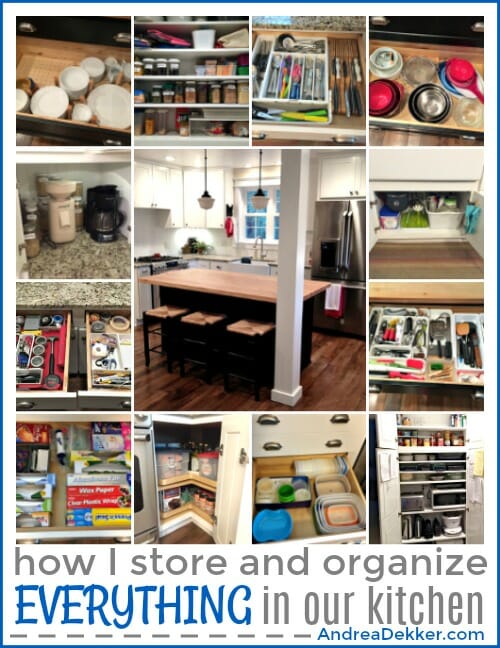 For simplicity's sake, I've named each cabinet/drawer and included a bulleted list of the contents below each picture.
I also linked back to many of my previous posts for those of you who'd like more in-depth information about specific areas of our kitchen.
And when it makes sense, I've linked to specific products on Amazon, in case you're interested in purchasing the same items I use. (Some of the links are affiliate links, read my disclosure policy here.)
First, here are a few computerized images of our kitchen from the cabinet designers… just to give you a better feel for how all the cabinets fit together.
And here is a bird's-eye view of our kitchen (not 100% to-scale, but close enough!)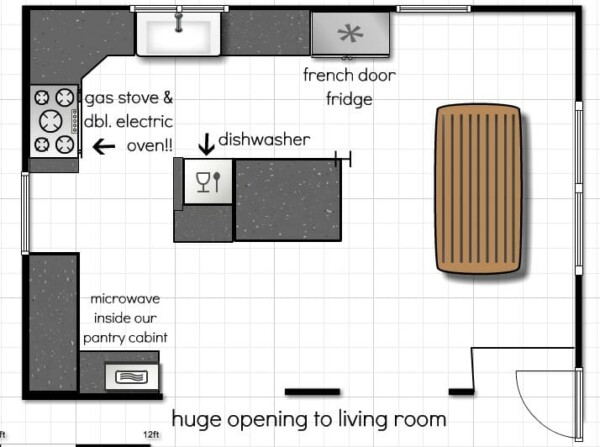 My kitchen "photo tour" below begins with the cabinet above the refrigerator and moves around the kitchen counter-clockwise — ending with the pantry cabinet.

Then I circle back and show you what we store in our island drawers.
.
Here's a look at how we store AND organize everything in our kitchen (the 2019 edition)!
We'll start with the upper cabinets…
CABINET ABOVE THE REFRIGERATOR:
UPPER CABINET TO THE RIGHT OF THE SINK:
UPPER CABINET TO THE LEFT OF THE SINK:
UPPER LAZY SUSAN:
Small baking supplies (flavorings, extracts, baking powder/soda, non-stick spray, chocolate chips, coconut, etc.)
Measuring cups (dry and liquid)
UPPER CABINET TO THE RIGHT OF THE STOVE:
paper products
vitamins
salt, pepper, butter, sugar
CABINET ABOVE STOVE:
UPPER CABINET TO THE LEFT OF THE STOVE:
extra adult water bottles and travel mugs
toothpicks
candy and gum (candy is in the cardboard box)
.
Moving on to the lower cabinets and drawers…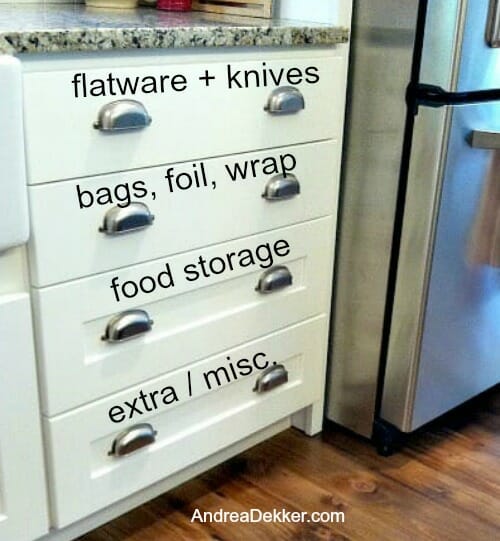 DRAWERS NEXT TO THE FRIDGE:
CABINETS UNDER THE SINK:
DRAWER TO THE LEFT OF THE SINK:
CABINET TO THE LEFT OF THE SINK:
kitchen trash can
trash bags
dustpan and hand broom
LOWER LAZY SUSAN:
Larger baking supplies (flour, sugar, brown sugar, boxed mixes)
All oils and vinegars
Potatoes, sweet potatoes, onions, squash (it's dark and cold in this cabinet, so it's a great place for some of this produce!) I keep more "bulk" storage in the basement, but this is where I keep the items I'll use in the next week or so.
PULL-OUT SPICE CABINET:
More about how I store my spices and seasonings in this post (before I was gifted the fantastic spice jars!)
.
The next batch of photos is of our pantry area.
This area of our home is VERY awkward as there are several heating ducts and a chimney that run from the basement to the 2nd floor — which are all hidden behind the pantry area. This is why parts of the pantry are very shallow and other parts are very deep.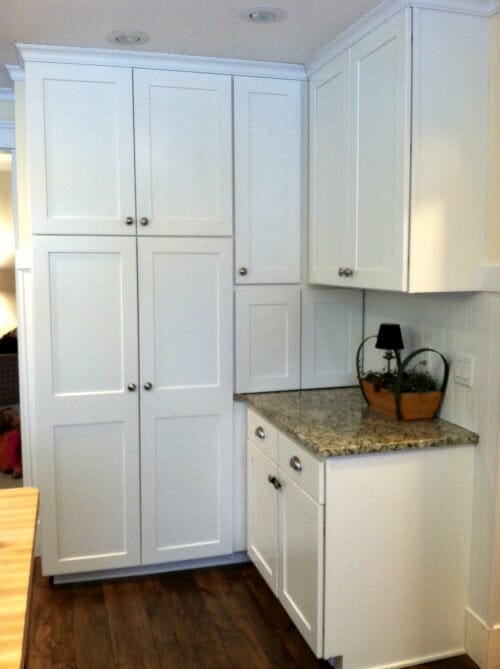 Over the last several years, this area of our kitchen has gone through the most changes — especially recently with the addition of my grain mill and my large amount of bulk foods that need to be accessible to me on a daily basis.
UPPER PANTRY CABINET:
larger baking dishes (I use them for entertaining, but not regularly so they are up high)
lunch bags and lunch-packing items
bulk fruits, nuts, beans, legumes, seeds (the larger packages are in the deep freezer or in food-grade storage buckets in the basement)
snacks, peanut butter, bread, baked goods
PANTRY DRAWERS:
tools (left)
office supplies (right)
LOWER PANTRY CABINET:
pots and pans (left)
serving trays (left)
slow cookers and rice cooker (right)
UPPER CORNER CABINET:
cake decorating supplies
extra jars
**This cabinet is awkward to get into so I usually don't store much in here. It also gets nice and warm in this cabinet because of the heat vents behind it, so I often use it as a great out-of-the-way place for my bread to rise!
COUNTERTOP CORNER STORAGE:
coffee maker, coffee, and filters
grain mill and spice grinder
bulk grain storage (larger quantities in the freezer or food grade storage bins in the basement).
This is an EXCELLENT place for my grain mill because I can simply slide it out, grind my grain, and slide it back (I put it on a piece of felt).
NOTE: I am currently borrowing a MockMill from a friend. I haven't actually purchased one yet, but so far, I do really like the MockMill.
FULL PANTRY CABINET:
serving items
canned goods, chips, crackers, and pasta (we've majorly scaled back on these items over the past 2 years)
various smaller baking dishes — I use these ALL on a very regular basis
microwave and toaster (yes, we use them IN the cabinet)
George Foreman grill, waffle makers, hand mixer, Nutrimill stand mixer (attachments and accessories stored inside the bowl)
toaster oven, bread machine (borrowed from my parents)
.
And finally, the island storage!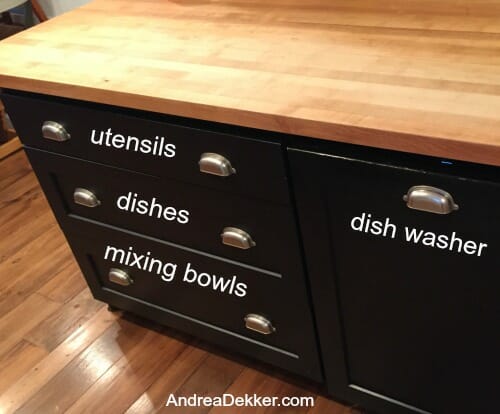 ISLAND DRAWERS:
all kitchen utensils besides knives
all dishes
.
Whew… I think that's everything!
I know this is a LONG post with so many images, but hopefully it all makes sense and gives you a better sense for how I organize everything in my kitchen.
Please know that I did NOT painstakingly organize my kitchen to make it look "perfect" for these pictures. In fact, I wasn't even intending to take the pictures on the day I did. But when I realized I had an extra 20 minutes of time before baths, I quickly took pictures of each space before it got too dark outside!
Also, keep in mind that I continually change and tweak all the storage spaces in our home in an effort to meet our current storage needs (whatever those needs might be). So there's a decent chance I'll move something in my kitchen within the next month! This is not because I like extra busywork, but simply because our needs in the kitchen are always changing and morphing, and I'm always looking for ways to better utilize our space so it meets more of our needs.
Got questions? Leave them in the comments!
I'll try to answer as best I can!