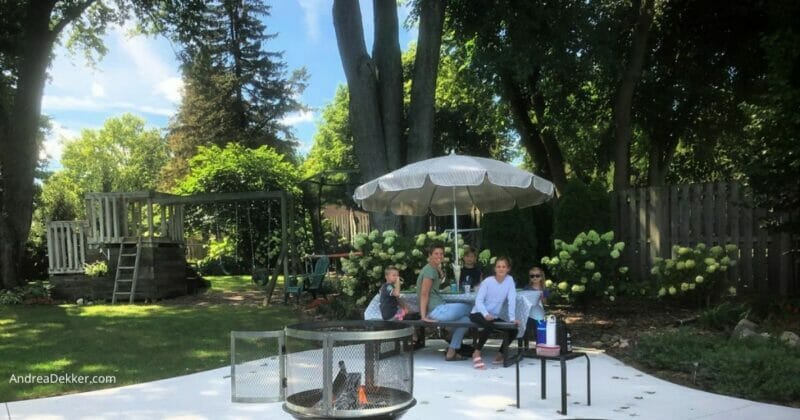 It's interesting how quickly we adapt to the wordly mindset of believing "more" is always better — and how easy this mindset makes it to ignore many of the hidden costs that come with having or doing or being "more".
In fact, when was the last time you even stopped to consider any possible hidden costs of the various things in your home or activities on your calendar?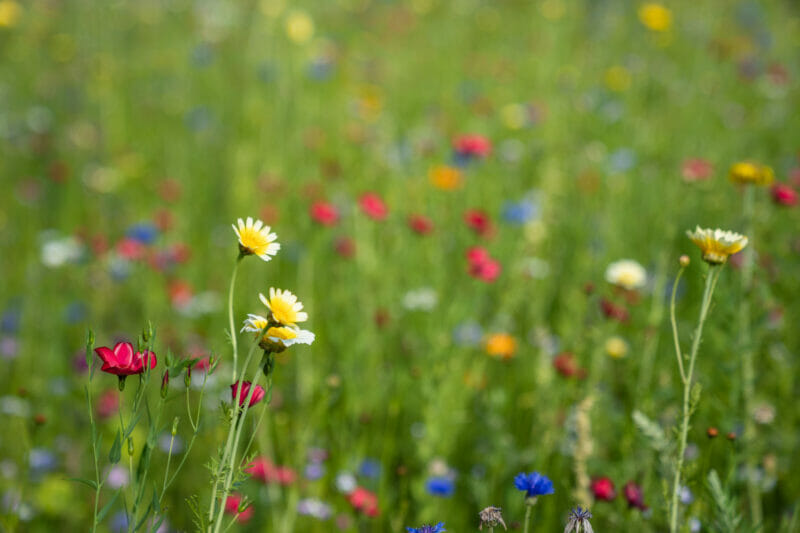 Ok, let's dive in…
More (bigger) House:
For the first 4 years of our married life, Dave and I had regular conversations about our "dream house".
When we eventually purchased our farmhouse in 2010, we thought we had found our "dream house". It felt so HUGE for just the 2 of us — plenty of space and endless possibilities for growing our family.
Now, 4 kids later, it doesn't feel all that huge anymore and I often find myself daydreaming about larger homes with "more". Maybe one additional bedroom, a useable basement space, and more room for indoor entertaining.
In reality, we love our quirky old home and I truly enjoy the challenge of rearranging and re-working spaces to accommodate our family's current needs. I also realize how many hidden costs would come with a bigger home…
A larger mortgage (if you can't pay cash).
More expensive insurance.
More expensive utilities.
More time and energy spent cleaning, doing yard work, etc.
More upkeep (inside and outside).
More expense paying others to do the upkeep for you.
More places to store extra stuff that will eventually need to be purged.
More furniture and decorations needed to fill the large spaces.
More regret if you want to change something later.
More frustration if something breaks or gets ruined.
More (nicer, newer, bigger) Vehicle:
Yes, older vehicles often require a bit more maintenance, which is definitely something to consider when buying a used car… but newer vehicles might just kill you with high insurance premiums.
I was recently shocked to realize that friends of ours with 2 new vehicles pay more auto insurance per MONTH than Dave and I pay per YEAR for our 12-year-old vehicles!
There are other hidden costs in nicer, newer vehicles too…
More expensive maintenance if you need special parts.
More expensive oil changes if you need to go through the dealer versus any mechanic.
More expensive gas if you need premium.
More propensity to over-spend on other car-related purchases like fancy car mats, regular car washes, additional accessories, etc.
More stress and anxiety around keeping the car looking new.
More time and energy spent vaccuming and keeping the inside clean.
More anger if a child (or anyone else) dings or scratches the vehicle.
I should note that Dave and I drive considerably less than the "average" driver in terms of time spent in the car and mileage. I'm lucky if I put 50 miles on our van in a week, and Dave usually just drives the few miles to school and back. This is one reason we've been able to hang onto our older vehicles without too many issues.
More Clothing, Shoes, and Accessories:
I have intentionally taken a very relaxed approach to the clothing our family wears.
We buy almost all our clothing from thrift stores for rock-bottom prices — which means the kids get to choose whatever they want to buy (which they love).
They also get to pick out their own clothing for school each day.
Not only do we save a considerable amount on clothing each year, but my kids and I don't stress about accidentally ruining clothing. And laundry is a breeze because I don't worry about special washing instructions — just throw everything in and wash!
I know my theory on clothing isn't for everyone… but here are a few "extra costs" of more clothing to consider the next time you're tempted to buy more.
More money spent — obviously!
More time shopping for additional items (either in store or online).
More to store and organize (more hangers, bins, dressers, etc.)
More to wash, dry, fold, hang, and put away.
More to keep track of (especially true for kids).
More choices and options, which is usually a negative — think "decision fatigue".
More guilt for hanging onto items you don't wear.
More anger/frustration if your children lose or ruin expensive clothing.
More stress doing laundry (following special washing instructions).
More to sell or donate eventually.
Of course, there's nothing wrong with enjoying a special outfit or a big shopping spree, but thinking through many of these hidden costs has been helpful for me, even when I'm at the thrift store.
Just because it's a good deal, doesn't mean I need it… and a year down the road, I might realize that the $2 shirt I never wore actually "cost" me a lot in terms of space and guilt.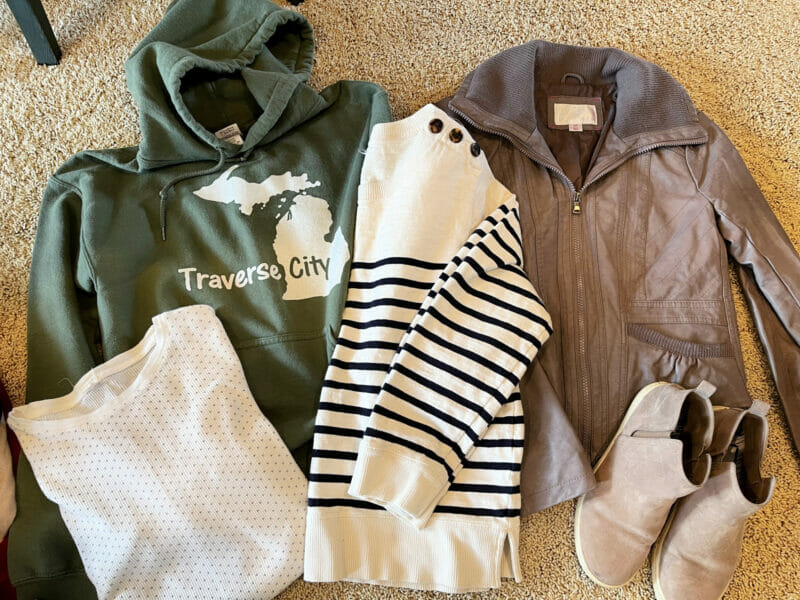 More Toys, Books, Games, Movies:
With 4 young children, I'll be the first to admit that I'm not a minimalist when it comes to toys, books, games, craft supplies, etc. as we have lots of it all!
However, we truly do use what we have on a very regular basis. We also have designated storage spaces for our things, and (most importantly) we actually put our things away each day.
My goal is not to guilt you into trashing all your kids' favorite things, but instead to encourage you (and your kids) to think through the hidden costs that come with having more.
More storage space needed.
More energy to clean up and put away when you're finished playing.
More time spent nagging your kids to put the above items away.
More batteries, power cords, and accessories required.
More time wasted looking through so many bins and boxes to find the one thing you want.
More indecision when presented with too many choices and options.
More guilt when you realize you don't use half of what you have.
I've seen first-hand how overwhelmed my kids get when there are too many toys, books, games, crafts, etc. They function much better, play much longer, and are happier with fewer options.
More Gifts:
For starters, I do not think "more" gifts is equivalent to "bad" or wrong". (Let's not read into things too much here!)
I know there are lots of excited gift-givers out there… and if that's your love language, please don't let me steal your thunder.
However, I challenge you to consider the hidden costs of "more gifts" (especially for the recipient).
More for you to store until it's time to give the gift (and potentially more for you to forget about).
More for you to wrap and haul to the party.
More for the recipient to store, clean, and organize.
More upkeep and maintenance (especially if it requires batteries or charging cords).
More expectations for additional gifts in the future (this one is a biggie for kids).
If those hidden costs don't bother you, then you're probably doing OK. However, if you'd rather not make time, space, and energy to care for, store, and maintain more stuff, it might be time to scale your gift-giving back a bit.
More Activities:
On one hand, there is usually value in many of the extra activities and events available to us on a daily and weekly basis.
On the other hand, there certainly comes a point when enough is enough and the hidden costs of "more activities" outweigh the positive value these activities bring to our lives.
Some hidden costs of more activities might be:
Less sleep
Less time with family and friends
Less time doing other things you enjoy
Less time for yourself to process your thoughts
Less freedom throughout your days and weeks
More frantic evenings and weekends with little time to unwind and relax
More stress and anxiety as you worry about fitting everything into your day
More expenses to pay for the various activities
More expenses if you opt to pay others to take on certain tasks you no longer have time for (house cleaning, lawn care, meal prep, child care, etc.)
More money and calories eating out (or eating frozen food) if you don't have time to cook
Dave and I tend to be more introverted, so our preference is always "fewer activities" and staying home as much as possible.
I know not everyone values being home as much as we do — however, even for you extreme extroverts, it's important to think through all the hidden costs of adding more and more activities into your life.
More Fame or Popularity:
When I first started my blog, I had aspirations of creating a huge enterprise, hiring employees to work for me, bringing Dave home from his job, writing books, and speaking for huge conventions.
Obviously, my aspirations have changed a bit over the last decade!
Yes, it has been rewarding and fulfilling to run my small home business over the years, but I've learned first-hand that more fame and popularity definitely come with hidden costs as well.
When my blog was bigger and more "in the public eye", I struggled with the following:
More people telling me what they think I should / shouldn't do.
More desire to please everyone (side note: you'll never please everyone!)
More negativity aimed at me.
More stress about living up to expectations.
More pressure to continue growing and doing newer and bigger things.
More energy spent promoting those newer and bigger things
More requests for my time (product reviews, travel & conventions, interviews & podcasts, etc.)
Of course, there are many ways to use fame and popularity for good, but for this season in my life, I'm happy to trade more popularity for more sanity!
RELATED POST: Being Average is Awesome Too!
.
Keep in mind that while "more" does not mean "better", it also doesn't necessarily mean "bad" or "wrong".
There are so many situations I can think of where it makes perfect sense to buy a larger home or a newer car… or to get your children/family more involved in outside activities.
There is no one-size-fits-all approach to simplifying YOUR life.
Truly… it's OK to have "more"!
The point I want to make is that more is not always as amazing as it might seem — so just stop and consider the costs before blindly assuming more of anything will solve all your problems.
There are lots of hidden costs to "more".
There are also hidden costs to "less" but that's a post for a different day!