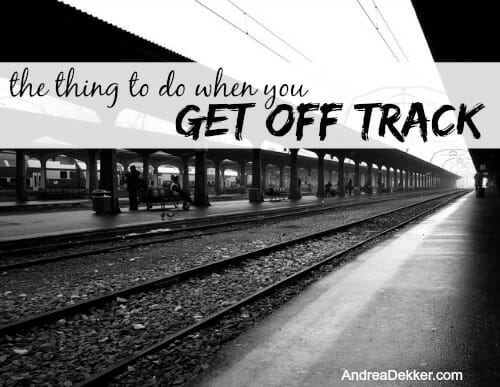 I recently heard a friend lament the fact that they had already gotten way off track with one of their New Year's goals. They had a crazy month and just didn't make the time to follow through the way they had wanted.
I didn't really think it was that big of a deal and was just about ready to voice that opinion when they said, "Oh well, there's always next year."
Next year?
Like… you're really not going to push towards your goal again until NEXT YEAR?
I didn't say anything at the time, but I just couldn't help thinking about the fact that they gave up so quickly… one mishap and they were done. That's like a sports team disbanding after they lose their first game or a student dropping out after one bad grade. It just doesn't make sense.
It might sound ridiculous when you think about the two examples I gave above — after all, no one would expect a sports team to win every single game, or a student to get an A on every single paper, test, and assignment.
So why do we expect that we will never ever slip up or get off track as we work towards our various goals?
Even those of us with the best of intentions sometimes get off track, lose steam, and fall back into our old ways.
Maybe you pulled through the drive-through on the way home even though you've been trying to cut costs and calories by eating meals at home.
Maybe you skipped out on the gym for the past few weeks even though you were trying to go 3 days a week.
Maybe you went to bed WAY too late all last week even though you've been trying to get to bed by 10:00 every night.
Maybe you snapped at your kids or spouse even though you've been trying to be more patient.
Maybe you got sucked into social media or playing games on your phone last night even though you said you were going to shut it down after dinner.
Maybe you splurged on something you didn't really need even though all extra savings were supposed to be going into a vacation fund.
Maybe you drank soda and coffee all day even though you've been trying to drink more water.
Maybe you had all your closets organized but now they are almost worse than they were before.
Maybe you got so behind on a project that you don't know where to pick up again.
I could go on and on… but I think you get the idea.
There are a million ways we can slip up and get off track on any number of goals, projects, or tasks. In fact, I think it would be somewhat miraculous if we didn't get off track every now and then!
The point is that when we get a bit (or a lot) off track, there's really only one thing we can do to fix things…
Get back on track!
Yes, I know… so profound 🙂
I realize this is such a simple concept, but it's often so difficult to grasp and apply to our own lives. It's much easier to say "get back on track" than to actually do it!
No matter what goal or project you're working towards, no matter how far you got off track, and no matter how long it will take you to to undo any "slip ups" you might have made, you won't get any closer to accomplishing your goals unless you GET BACK ON TRACK!
And for the record… I know this from lots of experience getting off track!
I can also tell you (from experience) that once you get back on track, you'll probably get off track again at some point in the future — so just bookmark this post for later!
Do you have any goals that have gotten derailed?
How will you get back on track?