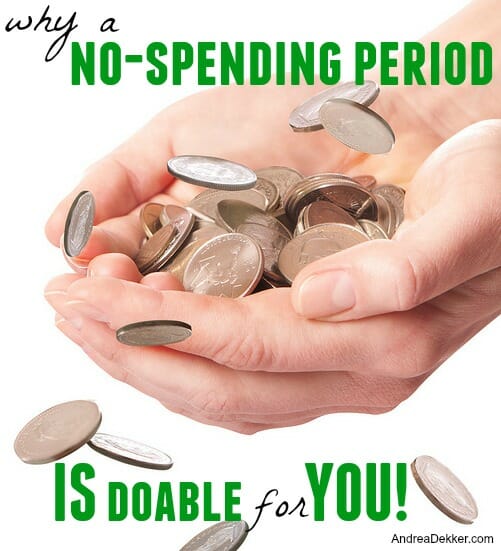 Two years ago, I shared 3 different posts about a "no-spending challenge" Dave and I were doing for the month of May. (You can read the posts here –> post 1, post 2, and post 3)
We've done things like this periodically throughout our married life as I think they are a great way to take a closer look at our spending and saving habits — and to "pull in the reigns" a bit if we notice we're getting a little careless with our spending!
I got lots of positive feedback from those posts, and I know for a fact that MANY of you tried out a similar no-spending month after reading my posts!
However, what I didn't necessarily expect to come from those posts were the massive amount of emails, blog comments, and Facebook messages from people telling me (in extravagant detail) why a no-spending challenge would NEVER work for them.
These are just a handful of the many excuses I've heard:
We do too much garage sale shopping in the spring
We travel a lot in the summer
I shop for the holiday seasons all year long
I get my hair cut at least once a month — otherwise it gets too long
We have some relative's birthday in every month of the year and we always buy gifts for everyone
We ALWAYS go out to eat on Fridays for "date night" and it's the only time we have just us
My coworkers and I always go out for lunch as we can't eat lunch at our job
We're in the middle of a house or yard project
Our kids always need lunch money
We could never stock up on groceries for the whole month
We drive a lot for our jobs so we need to buy gas every week
We do monthly investing
We give every week at church
We have a vacation that month
We still need to pay our utility bills and our mortgage
My spouse would never go for this
You know what I have to say to ALL of those excuses — and pretty much any other excuse you have for me?
That's fine – work around it!
As far as I'm concerned, there is no right or wrong way to do a no-spending challenge. There are no "rules".
There's nothing that says it has to be for a month — or even a full week.
There's nothing that says you can't pay your bills, or give to charity, or invest, or even go out on a date.
There's nothing that says you must go without groceries or gas.
There's nothing that says you can't go on vacation or renovate your home or fix up your car or plant flowers in your yard.
There's nothing that says you can't do anything fun or that you need to sit home and never go out for fear of spending.
For me, a no-spending period means whatever I want it to mean!
YOU get to create your OWN rules — and of course, for the purpose of the exercise, you will want to create rules… but they can literally be whatever rules you want and whatever rules fit relatively well with your phase of life.
For example…
When I blogged about our no-spending challenge, we set up a bunch of spending areas that did NOT count towards our no-spending. Things like investments, paying our utility bills, gas and groceries, and the current landscaping project we were working on at the time. We also agreed that if we already had a gift card for something, we could use that gift card to buy something during the month (although we didn't end up doing this much at all).
We also decided that we would NOT spend anything on clothing, restaurants, fast food, gifts, home decor, Craigslist, Ebay, etc. for that month.
Yes, it was difficult (especially at the beginning), but after all, the point of a no-spending CHALLENGE is that it IS somewhat challenging. It's supposed to stretch you and make you a little uncomfortable. It's supposed to make you feel like you're doing without for a bit so that you can hopefully step back and better evaluate your current spending habits.
That said, YOUR no-spending challenge doesn't have to look anything like ours.
You could have a no-spending month that only included clothing or going out to eat (if that's where you want to cut back).
You could have a no-spending week that consisted of only spending money on groceries and gas.
You could have a no-spending day in which you literally didn't spend one single penny… just to see if you could do it (for the record, I do these daily challenges all the time and it's actually pretty amusing how easy it is to spend $1 or $5 here and there!)
You could do a no-spending challenge and only include the time away from work (or the time you're at work).
You could do a no-spending challenge on the weekend for a few weeks — or no spending during the week, but take the weekends off.
You could do a no-spending challenge for JUST YOU and not worry about your spouse or children or anyone else.
When you're planning your no-spending challenge, you can literally pick ANY time period and set any rules you want. Keep in mind that YOU and your family are the only ones who will benefit from this challenge so the stricter you are, the more benefits you'll most likely see after the challenge is over.
However, I'm convinced that even the shortest, least strict no-spending challenge is beneficial to some degree — because it's getting you to consciously think about and talk about your finances.
Have you ever done any type of no-spending challenge?
If not, I'd encourage you to try it some time!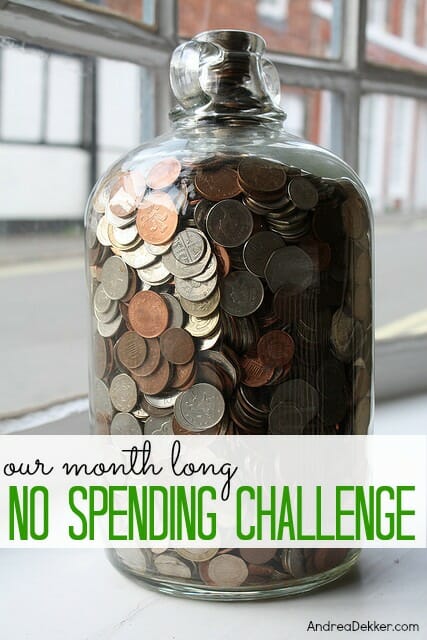 top photo credit