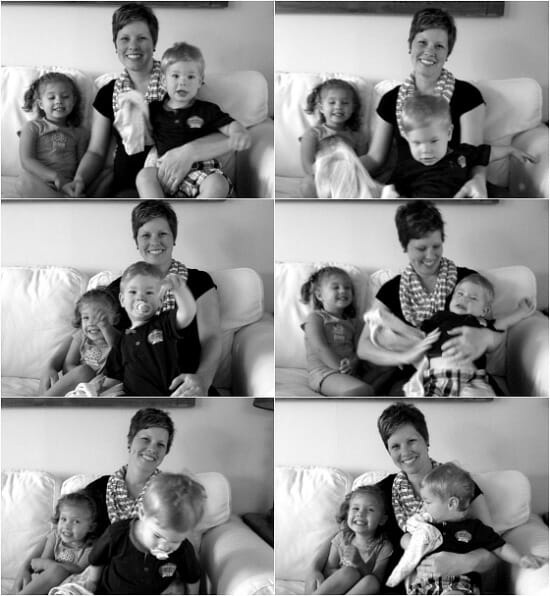 In general, I would consider myself to be a high-energy person. Even without the help of any caffeine or energy drinks, I usually have lots of energy. I'm a morning person who has taught myself how to still be productive in the evening hours, and thanks to a child who didn't sleep for 3 years of her life, I've learned how to easily manage on less sleep.
That said, with about 7 weeks left until Baby Dekker #3 arrives, a laundry list of house and yard projects to finish up before he arrives (more about those projects later this week!), and 2 little rascals to care for 24/7, it's probably no huge surprise that I feel a little LESS energetic than normal these days.
Not only am I carrying an extra 25 pounds of weight around all day long (plus an extra 30 pounds of Simon as he's been very clingy lately), I'm also not sleeping that well due to being quite uncomfortable. My back is sore, my arms are sore, my legs have been SUPER restless, and the warmer weather (that I won't begrudge at all) is making me feel more lethargic as well.
However, I still have a lot to do each day, people to care for, food to make, a home to clean, a business to run, a yard to maintain, commitments to uphold, etc. So I can't just play the "I'm pregnant and tired" card any time I don't want to do something.
In fact, there are many times these days when I don't want to do something because I don't FEEL very energized…
My solution = make myself FEEL more energized.
That's right… even though I might not actually BE very energetic at various times during the day, I have a whole bunch of things I can do to make myself FEEL more energized.
And the interesting thing is that when I start to FEEL more energized, I become happier, more productive, and before I know it, I actually HAVE more energy!
Here are 10 things I do to help me FEEL more energized.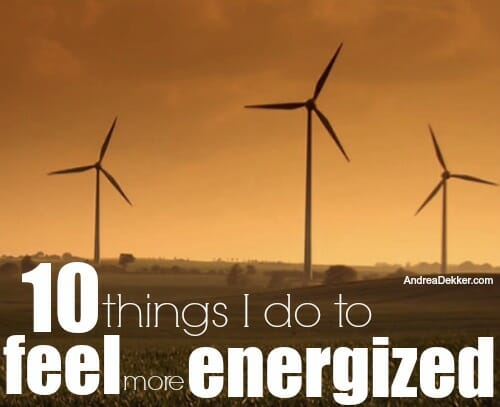 1. I Have a Written Plan
This is often in the form of a daily to-do list… but it doesn't necessarily have to be. It could just a post it note or alarm on my phone reminding me of the next thing I need to do.
Having a plan (that I almost always make the night before) helps me because I know exactly what I need to do when I wake up the next day. This means that even though I'm usually super tired after another restless night of sleep, I'm much less tempted to just sit around, lay on the couch, or watch TV until the kids wake up.
I have a plan and although I might not necessarily feel like doing anything on my list, I can more easily get started on something quick (like putting dishes or laundry away).
By doing one thing, I'm much more likely to keep plowing through my list of things to do, and that productive jump-start right away in the morning really helps me to feel so much more energized for the rest of the day.
2. I "Get Ready"
Now, I'll be honest… I put "Get Ready" in quotation marks because I most definitely do NOT spend much time or energy getting ready.
My definition of "getting ready" would simply be wearing a little mascara, brushing my teeth, doing my hair, and changing into something that I did not wear to bed the night before 🙂 (Read more about my simple morning routine here)
Yes, some days I get more dressed up than others, but how fancy or cute I'm dressed is not really the point for me. I just need to know that I'm ready for the day day and that I can leave the house at a moment's notice if necessary.
By "getting ready" (even if it's only yoga pants and a t-shirt) I definitely FEEL more energized.
3. I Stay Hydrated
As I mentioned a couple weeks ago, I'm a HUGE water drinker. I know that staying hydrated helps me feel more energized… as well as so many other benefits (which I mentioned in this post)
4. I Know My Food Triggers
Yes, I'm 100% all-for eating everything in moderation. However, I also know that there are some foods and certain eating habits that make me feel more energized than others.
For example, if I don't eat enough for breakfast, I feel hungry and tired and cranky all morning long. Often, I'll end up snacking on junk ALL morning long and feel sluggish for the rest of the day.
And if I eat too much for lunch, I'll feel like taking a nap in the afternoon instead of being productive during Simon's nap — so I try to stick with large breakfasts and smaller lunches with a couple healthier snacks in between.
5. I Try to Stay Moving
I'm actually not big on exercising (as much as I hate to admit that). I do go for lots of walks with the kids, but besides that, I don't do any other form of traditional "exercise". However, I DO try to keep moving.
Sometimes I'll do jumping jacks, or high knees, or leg lifts with Nora — just to make her laugh (she is desperately trying to learn jumping jacks!) Other times, I'll walk up and down the stairs a couple times or even just do a little stretching.
It might sound crazy, but just a few simple movements get my blood flowing and help me FEEL more energized.
6. I Know When (and How) I Rest Effectively
This one might sound a bit crazy… but it is a huge issue for me.
The fact of the matter is that I CAN NOT take a nap. Not only does my brain usually find it hard to shut off in the middle of the day for a nap, I also know from much experience that if I take a nap in the middle of the day, I will almost always wake up with a headache and much crankier than if I had just stayed awake.
There are a few exceptions to this, but for the most part, I am much more energized by simply closing my eyes for 10 minutes or zoning out to a quick TV program on Netflix than I am trying to take an actual nap.
7. I Surround Myself with Energy
I spend all day with 2 little people with seemingly endless amounts of energy — and although that is sometimes exhausting for me, there are many other times when their energy rubs off on me and helps me to feel more energized.
Also, I have a really hard time being around people who constantly complain about being tired or busy or stressed. I feel like almost every single adult is frequently tired, busy, and stressed… and although there are definitely times for venting and sharing our frustrations, I personally chose not to spend massive amounts of my time with people who complain about these things.
Those type of people tend to drag me down and wear on my patience, making me feel less energized and generally in a worse mood.
8. I Take Time to Do Things I Enjoy
One of my favorite ways to feel more energized is by doing something I love doing — maybe it's planting some flowers outside or doing a good deep-clean in the kitchen.
Maybe it's working on my digital photo albums in complete silence after the kids go to bed. Or maybe it's taking a quick walk ALL BY MYSELF after Dave gets home from school.
Whatever it is, doing something I really enjoy (even if it's just for 15 minutes) is almost instantaneous energy for me!
9. I Get Rest When I Know I Need It
Although I can generally manage quite well on less sleep than most people, there are definitely days and weeks when I KNOW I need to make sleeping and resting a priority.
When I feel this exhaustion setting in, I will do everything possible to rearrange my schedule to allow for earlier bedtimes, later wake-up times, and more resting periods during the day.
By doing this, I rarely reach the point of being overly exhausted, and I'm often back to feeling super energized in a day or so.
10. I Fake it 'Til I Make it.
While I don't normally promote "faking it", there are certainly times during the day when I don't feel like chasing kids, pulling weeds, making dinner, or writing a blog post.
However, all those tasks need to get done at some point — and if the other tricks mentioned in this post don't work for me for whatever reason, there are times when I just need to fake it (yes, this is easier to say than actually do).
After faking it for a bit (sometimes only a few minutes) I already start to feel more energized.
I realize these suggestions won't work for everyone, but since I am frequently asked questions like "how do you have so much energy?" or "what are your secrets to finding more energy?" I figured this might be a helpful post for many of you.
We all have days and weeks and periods of our lives when we don't feel very energized. The next time you feel a little less energetic, try one of these tips and see if it helps you!
Do you have any other tips for FEELING more energetic?