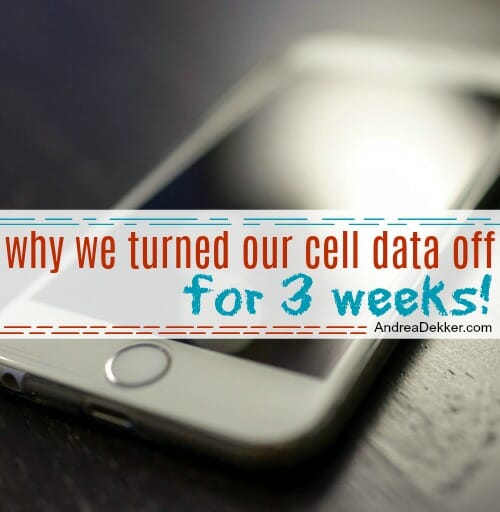 Last month, Dave and I got a notification from Verizon saying we only had 10% of our data remaining — even though we were only a few days into our month!
A couple days later, I checked our account again and we only had 1 % of our data left!
YIKES!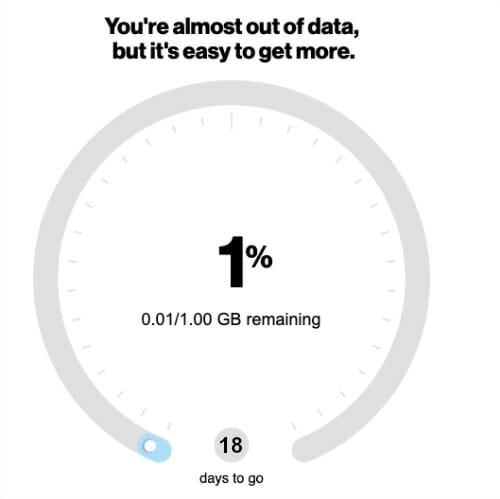 We thought it might have been because I was trying to send videos of Nora's dance concert to our families via text message… or maybe because Dave was home for summer vacation. 🙂
Whatever the case, we had 3 choices moving forward.
1. Go over our data for the month and pay the fee.
This was obviously the easiest choice — and not too expensive as it only cost $15 per extra GB of data for the remainder of the month. This fee would be a one-time fee.
Since we're on a super-low 1 GB plan to begin with (Grandfathered in from YEARS ago) we knew there was little to no chance we'd use more than 1 extra GB, and $15 would be all we had to pay.
2. Purchase extra data.
After speaking with customer service, we realized we could add 1 extra GB of data to our plan for less than $5 per month… BUT we would never be able to go back down to the 1 GB plan again (since we are Grandfathered in).
Initially, that seemed like a logical choice as it was "only" $5 per month… but then I started doing the math and realized that would add up to almost $60 more per year — which could turn into hundreds of dollars of extra payments over the next few years.
And like I mentioned earlier, we've previously NEVER come close to using a full GB of data each month, so it's most likely completely unnecessary to have twice as much data right now.
3. Turn our data off for the rest of the month.
One very obvious, completely free, but not so convenient option was simply to turn the data off within our phone's settings.
This would make it impossible to use any more of our data, and ensure we wouldn't have any extra charges or penalties.
Of course, it also meant our phone were now basically "dumb phones" unless we were connected to WiFi.
.
Based on the title of the post — I'm sure you can guess which option we chose!
We turned the data off on our phones for almost 3 full weeks… and we realized a few things in the process.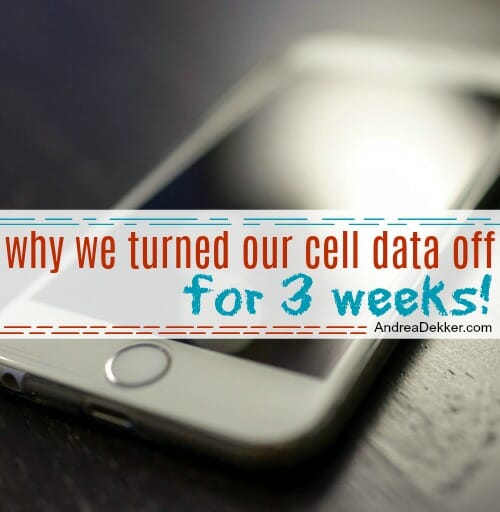 We rely on our phones A LOT… maybe too much!
Even though we don't travel long distances in the summer, our family actually goes many places during the day — and this little data experiment helped us to see just how much we relied on our phones for directions, information, coupon codes, payment options, etc. etc.
Without data on our phones, we had to be much more prepared and plan ahead if we were going anywhere since we didn't have our smart phones with endless amounts of information to fall back on.
This wasn't necessarily a bad thing, just a change we had to get used to — sort of like back when we were in high school and needed to print off a MapQuest to get anywhere new!
We like not having our phones with us all the time.
I do not think it's horrible to keep cell phones with you at all times — in fact, I do usually take mine wherever I go as I use it for a camera, to read books, to figure out where I'm going, and just for basic safety purposes. However, it was interesting how much more often Dave and I left our phones on the counter, in the diaper bag, or on the charger when we knew we couldn't get data… and it was kind of nice for a change!
As much as I hate to admit it, living without data on our phones made it very obvious just how often we used our phones throughout the day, simply for checking email and social media — 2 things we could no longer do unless we were connected to WiFi.
Of course, there are many MANY times when having access to data is extremely helpful, but there are also many times (as we now realize) when we just used our phones as a way to "kill time" when we could have been engaging with people around us.
We take a TON of pictures!
After we turned the data off and stopped carrying our phones around with us as much, we also stopped taking nearly as many pictures (which is not great in my opinion).
For the 3 weeks our data was turned off, I have significantly less pictures of everything — and I'm certain it's because I didn't have my phone with me throughout the day.
As much as I love documenting our life in film, and then making digital photo albums with our pictures, it was sort of refreshing to just sit back and watch instead of always looking for opportunities to take pictures.
.
Now, obviously it would NOT have been a big deal for us to pay the $15 fee to go over our data plan for the month. We truly didn't turn our data off to save $15. I promise!
Dave and I simply decided that since it was summer vacation and we knew we didn't really NEED our phones, it would be a fun (and eye-opening) experiment for us… and it was!
I certainly do not think everyone should or could do this type of experiment — but I do think Dave and I will try to leave our phones on the counter more often… especially for the summer!
Have you ever turned your data off for an extended period of time? What did you notice?