This post contains affiliate links. Read my disclosure policy and contact me with questions.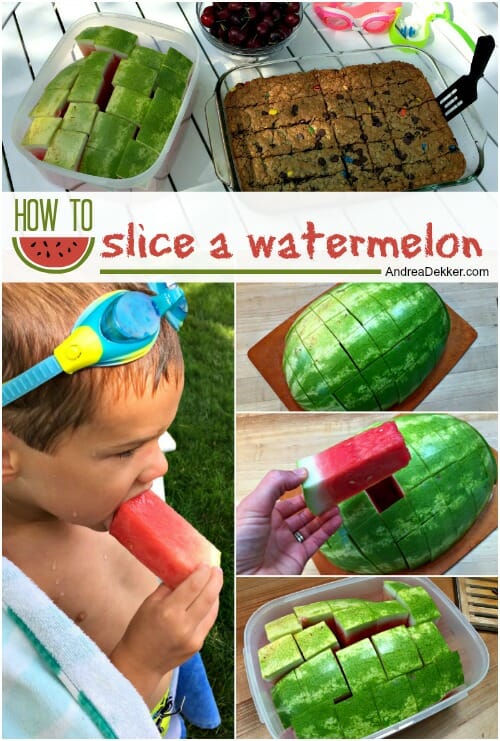 Earlier this spring, I shared the following picture of our kid's eating watermelon on my Facebook page with the caption: "watermelon is apparently "better" when eaten in a wedge versus cut up in a bowl".
A couple people responded that instead of cutting it into wedges (which are fairly awkward to store and eat) I should cut it into "sticks". One reader even shared a picture of how she cut her watermelon into sticks… and instantly, the lightbulb went on inside my brain.
This idea is genius!
It's SO quick and simple to slice up a full watermelon, it's SO much easier for kids to hold and bite, and it wastes significantly less watermelon too!
I'm certainly not the original person to dream up this idea, BUT I knew I had to share it on the blog because the last 2 times I've sliced a watermelon this way, the people we were with were awed by the idea — so I know I'm not the only one who's never tried this before!
Go out a buy yourself a watermelon and give this trick a try!!
How to Slice a Watermelon…
STEP 1: Cut watermelon in half, lengthwise (this method works best with oval watermelons as opposed to circular ones).
STEP 2: Lay the cut surface down on a cutting board.
STEP 3: Cut 1″ to 2″-wide slices, top-to-bottom, and then again side-to-side.
STEP 4: Remove outer rind pieces, cutting off any good fruit into a separate container.
STEP 5: Place inner pieces on a rimmed platter or in a large food storage container (so the juice doesn't spill out).
I use the largest container in this set (pictured above) for watermelon!
STEP 6: Eat and enjoy!
It's even better when served with a pan of my Monster Cookie bars!
SO simple… right!
I honestly can't believe I've lived 34 years now (eating countless watermelons over those years) without ever thinking of cutting a watermelon this way.
It only took me a minute or 2 to slice up a full watermelon — and yes, the kids thought it was super cool to eat this way!
The PERFECT summertime treat!
Tell me I'm not the only one who has never cut a watermelon this way before!?!?
Do you have any other tricks for quickly and easily slicing various fruits or veggies?