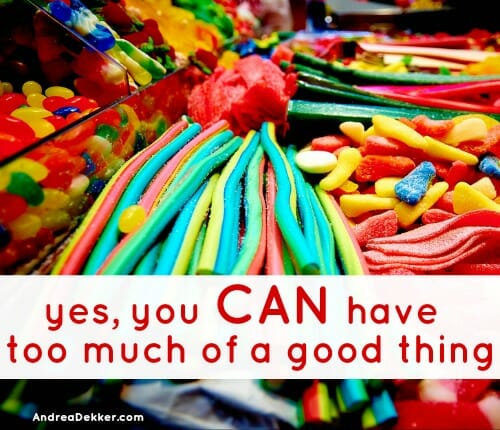 Have you ever felt like you were juggling too many responsibilities, being pulled in too many different directions, or "wearing too many hats"?
Have you ever felt bad for saying "no" to something that seemed so good?
Have you ever let yourself be guilted into saying "yes" even though you already had way too much on your schedule?
I'm guessing the answer for almost everyone reading this is YES! YES! and YES!
.
The thing is, most requests for our time, talents, money, and other resources are GOOD requests.
These are good causes, good organizations, good churches, good communities, good opportunities, good experiences, good schools, good friends, good neighbors, good family members.
This is why we feel SO bad saying "no".
What makes it even trickier is that in most situations, there will be some positive gain from saying "yes" to all these good things.
You will be blessed by your involvement.
Your children will learn a new skill.
Your family will have a new experience.
You will gain a new friendship.
You will get a promotion from work.
We convince ourselves to say "yes" over and over and over again because it's such a good cause, a good opportunity, a good experience… but we fail to fully think through both sides of the equation.
Even though we might benefit in some ways, there will also be negative consequences as a result of saying "yes".
You sacrifice sleep.
Your physical and emotional health deteriorates.
You have less time for your family, your spouse, your children, or your friends.
You don't practice any self-care.
You don't have time for activities you used to enjoy.
Eventually, you will end up with too many yeses — too many "good things" on your plate.
And yes, you CAN have too much of a good thing!
Don't believe me? Here are a few examples to prove my point…
Makeup = Good — Too much makeup = Scary
Candy = Good — Too much candy = rotten teeth and hyper kids
Food and drink = Good — Too much food or drink = a stomach ache
Electrical power = Good — Too much power = a blown fuse and power outage
Water = Good — Too much water = disastrous floods
Toys and clothes = Good — Too many toys and clothes = clutter and mess
.
YES, use your gifts and talents to serve others, use your time and energy to be a blessing to those in need, use your money to make a difference… but also use discernment and say "no" when you have too much on your plate.
There are millions of "good things" you could say "yes" to every day… but if you don't take care of your health, your family, your house, and your life, you will eventually burn out and realize you sacrificed an awful lot for those "yeses".
If you feel burnt out, tired, exhausted, overwhelmed, stressed out, or like you're wearing too many hats, it's probably time to take a step back, look at ALL those good things you're doing, and figure out a way to cut back. It won't be easy, but I don't think you'll regret it.
What are some good things you have said "no" to?