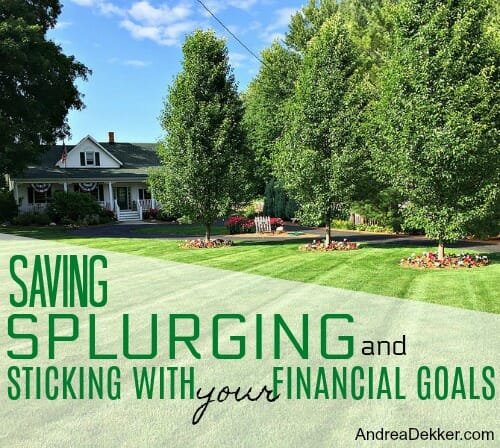 Over the years, Dave and I have joked with friends and family about how we have literally gone full years of our life without spending a dime on travel or entertainment (yes, I know… it's shocking, but very true!)
We don't travel or go on family vacations, we don't go to movies, we don't go to events or parties, we don't go to concerts or sporting events, we don't do much "culture", we don't sign our kids up for sports or music programs (yet), and we don't do many things that aren't family friendly (most of which happen to be free).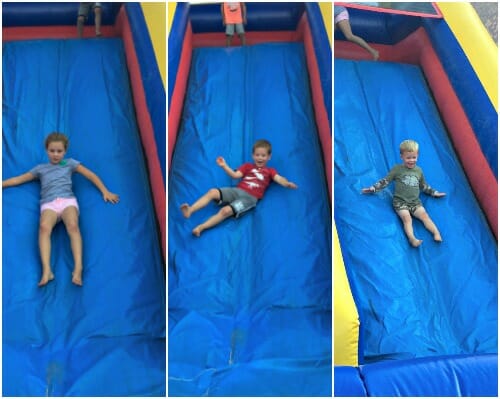 A free pizza dinner and fun for the kids at their school last week.
Free Jimmy John's lunch and bounce-house fun, hosted by our car mechanic.
Free snacks, games, prizes, and activities at Family Night after VBS in August.
Free rides at the fair, thanks to a summer reading program at the library.
We also aren't big on going out to eat. We don't ever go to fancy restaurants, we've never gone "out for drinks", we almost never go anywhere just the 2 of us, and we rarely ever go out to eat as a family. We do use freebie coupons we get to various restaurants (hey, free food!) and we will bring pizza or Culver's home to eat every once in a while… but that's about it right now.
It's just not our style, it's not something we enjoy doing all that much, it's not a way we choose to spend our time or our money, and it's not important to us at this point in our lives.
Interestingly enough, the fact that we don't spend time or money on all that many extra activities often means people categorize us in one of 2 ways:

Totally boring blobs who never do anything fun or have any real "life experiences".
Amazingly frugal and disciplined over-achievers who are laser-focused on our long-term financial goals.

I guess if I'm really honest, we're a little bit of both… but if I had to choose, I'd rather be perceived as amazingly frugal and disciplined! 🙂
The funny thing is… no one ever seems to care about the fact that we spend LOTS and LOTS of money on our home and our yard.
Seriously, we spend thousands and thousands of dollars on house and yard projects, general home maintenance, yard tools and equipment, decorations, antique store finds, annuals, potted plants, hanging baskets, etc.
I wouldn't be surprised if we spend more on our house and yard every year than the average family spends going out to eat every week or traveling on a few smaller vacations.
.
So technically, if someone lived in a tiny apartment with no yard but traveled and ate out all the time, they could very easily be spending less money overall than Dave and I are.
And that's OK!
Neither way of saving and splurging is right or wrong… it's just a difference of priorities!
Dave and I prioritize our home and yard over many other things we could spend money on — mainly because we are always home to enjoy our home and yard, and we like inviting others over to enjoy our home and yard as well.
Just for kicks, I looked up how much we've spent on travel, entertainment, AND restaurants so far in 2018… not surprisingly, the number was very low ($216.00, to be exact), or an average of $5.68 per week so far this year!

$5.68 per week for a family of 6!

I also looked up how much we spent on all clothing, shoes, accessories, hair cuts, cosmetics, beauty products, etc. for our entire family… and it works out to roughly $7 per person, per month!

It's almost laughable!
What might not be so laughable is how much we just spent on our recent bathroom renovation.
I believe I have everything tallied up now… and the total is right around $4000. This is more than we were anticipating in the beginning, but there were SO many custom features we implemented to best-utilize our space. We felt like it was worth the extra we paid to get exactly what we wanted since we'll use this space several times a day for many, MANY years.
But still… $4000 for a HALF bath!
The bathroom did turn out REALLY well though!
If I just shared the bathroom numbers in this post, half of you would walk away thinking how wasteful Dave and I are, or how frivolously we throw away our hard-earned money.
Thankfully, I THINK most of you know how frugal we are in MOST areas of our life — which allows us to splurge on other areas that are more important to us.
And I want to emphasize the US part.
House projects ARE important to US… travel, entertainment, and restaurants are NOT important to US (at least not right now).
In 5 years, our house projects will be finished, our children will be older, and the ways we allocate our time, energy, and finances might look completely different than they do today.
I'm OK with that as long as we continue to do what works best for OUR family.
Free carousal rides at the mall via tokens we were gifted last year.
Freebie kid's meals at Wendy's via coupons from the library.
I have a feeling many of you would go nuts if you restricted your entertainment budget and stayed home most of the time… so you're willing to spend more on traveling, eating out, and fun entertaining experiences. You might also think spending large sums of money on your home sounds ridiculous… and it might be ridiculous if your lifestyle is focused on traveling instead of being home.
As I mentioned above, there's no "right" or "wrong" way!
So… the next time you read about a crazy blogger who only spends $5 a week on entertainment and travel for her entire family (hypothetical situation, of course!) just realize she most likely spends her money in different areas — maybe even an area you are very frugal in.
You know YOUR financial goals, you know what YOU choose to save on, and you know what YOU can afford to splurge on!
If your budget allows, PLEASE just go on vacation or go out to eat guilt-free… no explanation needed. After all, you didn't just spend $4000 on a half bathroom renovation!