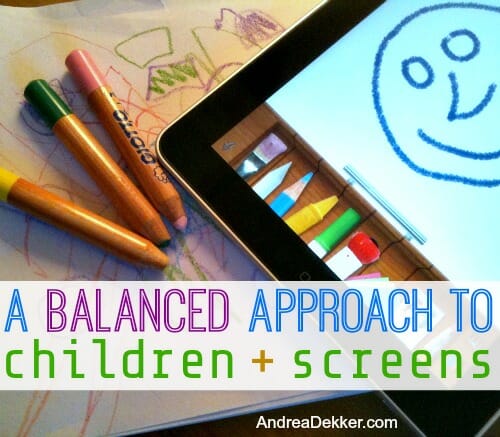 If I had to choose one word to sum up my thoughts on children and screens, it would simply be:
"Moderation."
Shocking… I know!
As with most things in life, I'm a fan of the "all things in moderation" approach — and yes, that even includes screen time for my children.
While our kids are still far too young (in my opinion) to have access to a computer, a cell phone, or even their own tablet, they definitley do enjoy watching shows on Netflix or via the Disney Jr and PBS Kids apps, and we all love doing Facetime with out-of-town relatives.
Nora also has a reading App her teacher requested we put on the iPad. She does that (or reads actual books) on Sunday afternoons when the other kids are napping.
We sometimes use screen time as a babysitter (no shame!); we sometimes use screen time as an incentive or reward for completing other tasks quickly and without complaining; we sometimes take screen time away as a punishment.
However, most of the time, our children's screen time is simply part of their daily routine.
.
We usually enjoy a little down time to watch a show during our mid-morning and mid-afternoon snacks, when we need a break from whatever else we were doing. Then after the show is over, we switch gears to something else. We might get games or puzzles out, do some baking or getting dinner in the oven, color, play with gak, go outside, etc. etc.
The TV or iPad is just ONE of the things we do each day — just like eating, getting ready, playing with toys, going to school, running errands, etc. It's not good or bad — it just IS.
Of course, there are lots of people now days who feel the need to express their thoughts about how screen time is corrupting our children's minds… ironically, these expressed "concerns" are usually from people much older than me, with no children's minds to worry about!
One person I follow on Facebook recently shared an article (along with their strong opinion) about how iPads in particular are "ruining our children's lives".
I briefly skimmed the article, but what I found more fascinating was this particular comment….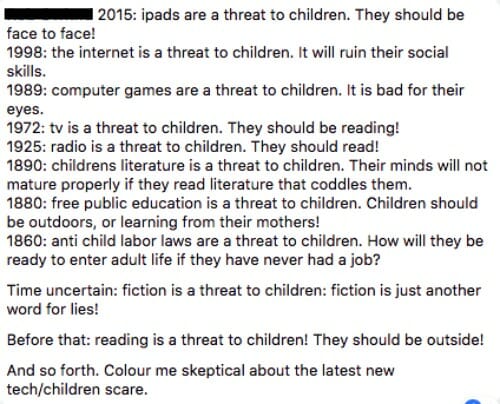 Honestly, I wanted to slow-clap.
That comment is EXACTLY how I feel and EXACTLY what I want to say any time anyone makes a comment about children and technology!
Yes I think technology needs to be monitored; yes I think parents need to know what their kids are doing online (and set limits when necessary); yes I think there CAN be lots of scary things to worry about online so parents must talk about this with their children.
But that's just part of life in the 21st century.
There were lots of things other parents had to worry about in the past that we no longer need to concern ourselves with.
Technology and "screens" aren't going away anytime soon, so we might as well accept that they will be a huge part of our children's lives, and simply learn to live WITH them and help our children live WITH them.
If you share my thought process, OR if you're looking for more information to help you evaluate the use of screens in your home, I thought the following NPR video clip was quite helpful and extremely SIMPLE!
.
Enjoy Screens…
Screens are a wonderful tool we can use to make our lives easier and more enjoyable.
For example, the kids and I often do Facetime with relatives who don't live close by. We also enjoy taking videos of the kids doing silly things and then watching them back again (we cast them to our TV via ChromeCast).
We have a talking gorilla app on the iPad that repeats whatever the kids say back in a silly voice — they think it's hilarious!
There are a lot of fun (and educational) things that can be done with screens — so make sure you and your kids take the time to actually ENJOY them.
.
Not Too Much…
As with anything, there should be limits — those limits will look different for every family, possibly every child.
Some simple rules our family has are:
no screens in the bedrooms
no screens at the table
no screens after dinner (I should clarify that Dave and I use screens after the kids are in bed)
no screens when friends or other guests are over
Since our children are younger, we have so much more control over their screen time, but it's still good to have a few guidelines in place now that will hopefully help them to limit their own screen time as they get older and become more independent.
.
Mostly Together.
I mentioned above that we DO use the TV as a "babysitter" — and honestly, I'm totally OK with that (on occasion).
There are plenty of other times when we use screens together as a family (like when we watch silly home videos, do Facetime with relatives, or watch movies together).
If you have older children, I think it's a good idea to let them show you what they are doing, what Apps they are using, etc. so you can learn about it and better monitor their usage.
Also, keep in mind our children are learning how to use screens FROM US! By using screens together, we can help show and teach them appropriate usage, and hopefully the fact that screens are helpful and useful… but that our lives don't have to revolve around our screens.
.
I personally feel like these 3 guidlines are totally doable for most families — definitely not way over-the-top, and they still keep it fun and light-hearted.
Of course, they won't work for every family or every child, but they are a start!
Oh, and for anyone interested, I've found the websites listed below to be quite helpful and informative for parents of all-aged children.
I'd love to hear your thoughts too… especially if you have older children.