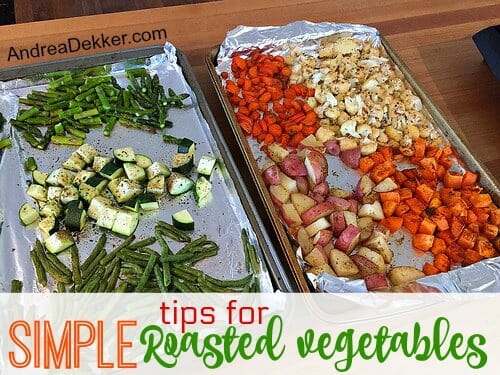 Dave and I have long been fans of roasted veggies — in fact, it's probably my favorite way to eat cooked veggies (I do love grilled or sautéed veggies too!)
I actually got rid of my steamer a year ago because we NEVER used it anymore — the veggies just have SO much more flavor when roasted, grilled, or sautéed.
When we were first married, I shied away from roasted vegetables because I wasn't exactly sure what I was doing (I grew up on steamed and boiled vegetables). However, after a bit of trial and error, as well as lots of different flavor combos, I feel extremely confident in my ability to roast almost any vegetable!
Of course, it helps that I can simply hop on the internet and search for different ideas, recipes, seasoning combos, etc.!
If you're new to the world of roasted vegetables, I hope today's tips will give you the nudge you need to give them a try. They are SOOOOO delicious!
.
Tip #1: The only ingredients you need are some type of oil, salt, and pepper.
Yes, you can definitely add more ingredients and get more creative with your seasonings, but the only things you really need for roasted veggies to be super yummy is some type of oil, salt, and pepper.
I almost always use Extra Virgin Olive Oil, but I promise you, vegetable oil and melted butter will work just fine! You don't need a lot — just enough to coat the veggies so they don't burn.
Side note: If you see that your veggies are getting quite brown before they are soft, you can spray them with a little cooking spray — kind of crazy, but it really works!
Once the veggies are coated with oil, sprinkle them liberally with salt and pepper and pop them in the oven.
There are all sorts of different seasoning combos you can try once you get the hang of roasting veggies, but to start out, just keep it simple with oil, salt, and pepper!
.
Tip #2: You don't need a crazy hot oven.
If you look online, most recipes for roasted vegetables will tell you to preheat your oven to 400ºF – 45oºF… and if all you're cooking in your oven is vegetables, this is fine.
HOWEVER, since I'm almost always roasting vegetables while I'm cooking the rest of our dinner, I usually keep my oven temp between 350ºF and 375ºF.
This means my veggies take a bit longer to soften up, but I can roast them right along side my casseroles, pasta dishes, roasts, or anything else I'm making that day.
Feel free to adjust your oven temperature, just know the veggies will take a bit longer at a lower temperature — but they will taste just fine!
.
Tip #3: Don't worry if they get a little over-done.
When it comes to steamed or boiled veggies, there really isn't anything worse than soft, mushy broccoli and cauliflower, limp asparagus, or soggy beans.
However, roasted vegetables are much more forgiving (at least in my opinion).
I most definitely prefer slightly over-done roasted vegetables as I think they have even more flavor and a much better texture than under-done veggies.
Depending on the temperature of your oven and how much food is in your oven, the time to cook your veggies could vary widely. I usually check mine about 10 minutes before I think they'll be done. That gives me a rough estimate to gauge the rest of my meal by. Are the veggies still really hard and will need at least 20 more minutes? Or are they almost ready to eat?
And when in doubt, leave them in the oven for a few more minutes!
.
Tip #4: Use aluminum foil for easy cleanup.
This might sound gross to some of you, but I honestly use the same baking sheets over and over and over again (without washing them) because I simply line them with aluminum foil!
I spray the foil with cooking spray, then add the oiled veggies, and nothing sticks!
At the end of the meal, I simply toss the aluminum foil and pop my pan back in the cabinet for the next night.
.
Tip #5: Always roast more than you think you'll want or need.
Since it takes at least 30-40 minutes to roast veggies like carrots, sweet potatoes, cauliflower, etc. it's not really something you can quick whip up when you walk in the door.
I almost always roast triple the veggies I think we'll eat for one meal. That way, we have lots of leftovers for the next day.
I put roasted peppers, onions, and potatoes in my omelets, I sauté zucchini noodles with roasted asparagus, zucchini chunks, broccoli, and cauliflower for an amazingly delicious (and really quick) lunch, and I eat leftover sweet potatoes as a snack with a little butter and cinnamon (so good!)
Dave and I have always enjoyed leftovers (I know some people don't) but we both think that roasted veggies taste fantastic as leftovers, so it's definitely smart to roast a bunch at a time.
.
Tip #6: Roast a variety of veggies at the same time.
As you'll notice from all of my pictures, I usually roast a bunch of different veggies all at the same time — HOWEVER, I do have to stagger the roasting times as some veggies take much longer to roast than other.
I usually start out by putting bite-size chunks of sweet potatoes, carrots, and cauliflower on my baking pan first. Then, 15 minutes later, I'll add beans, broccoli, and regular potatoes, then 15-20 minutes later, I'll add zucchini, peppers, and asparagus. 10 minutes later, everything is finished at the same time!
Obviously, you'll need to play around with this a bit as all ovens cook and bake differently — but it won't take long and you'll start to realize how your oven cooks and can add your veggies to the baking sheet accordingly.
.
Bonus tip: Don't worry about messing up!
I know none of us want to waste food — but if you think about it, the absolute worst thing that could happen if you royally mess up your veggies is a little wasted food and maybe some money spent ordering a pizza… but I'm pretty sure it won't come to that!
Pick one of your favorite veggies and do a quick internet search on how to roast them.
If you need a little extra hand-holding, I've linked to a few recipes already shared on my blog — they'll walk you through the process step-by-step and only roast one veggie at a time so you don't get too overwhelmed.
Before you know it, you'll be roasting 2 or 3 full sheet pans of veggies like we do! 🙂
What are your favorite roasted veggies?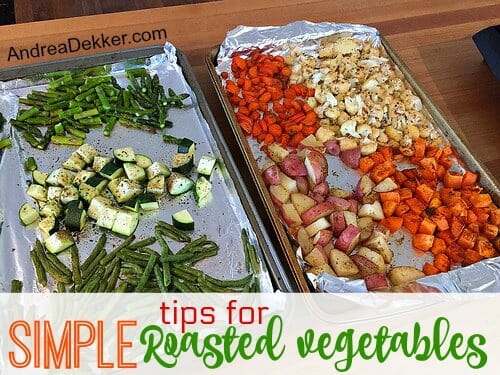 .