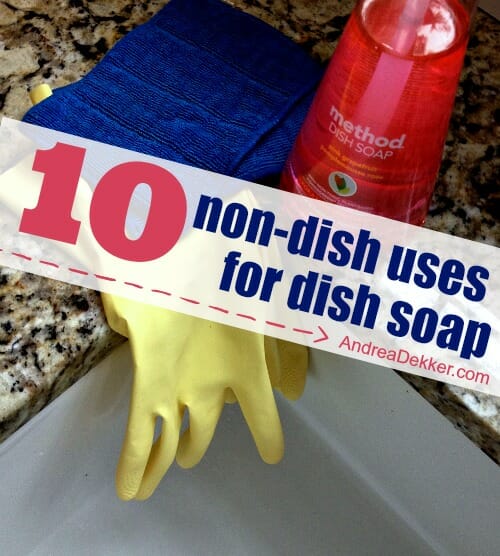 Dish soap is one of the household cleaners I have chosen not to replace with a natural or DIY homemade cleaner — and I don't think that will change for a while.
You see, along with washing our dishes, we use dish soap for SOOOO many different tasks in and around our house. It's such a versatile cleaning tool, relatively inexpensive, and easy to find at any grocery store or home store.
If you've never tried using your dish soap for anything other than dishes, you're totally missing out!
Here are 10 of my favorite non-dish uses for dish soap.
1. Kill Boxelder Bugs.
I HATE these bugs — they are SOOOOO nasty and we seem to have them everywhere around our house in mid spring and late fall. I've done quite a bit of research on how to kill them and how to keep them away from our house, and unfortunately there are not many great solutions besides cutting down and removing every Boxelder tree in your neighborhood.
And since that's not a realistic solution, I kill as many of the bugs as I can.
If you struggle with Boxelder bugs, simply pour 2 T. of dish soap into a large spray bottle, fill the rest with water, gently shake, and spray the bugs directly. They literally die almost immediately — even in mid-air while they are flying.
I keep a spray bottle full of this homemade concoction easily available during warmer weather and am constantly spraying them when I'm outside. I also make up large batches of this cleaner in one of our gallon pressure sprayers to kill them in masses when they are really bad!
2. Glasses Cleaner and Defogger.
Almost every single morning, Dave cleans his glasses with a teeny, tiny squirt of dish soap and water before heading out the door to school. After drying the lenses with a soft cloth, he's ready for school.
I did a little research on this one too, and apparently that's a really good way to clean glass as it also serves to defog it (this works well with swimming goggles too).
3. Tile and Shower Cleaner.
I've shared this homemade tile shower cleaner recipe on my blog before, but you can make your own super simple tile and shower cleaner by mixing 1 t. dish soap with 2 c. warm vinegar (the warm vinegar helps to better dissolve the soap).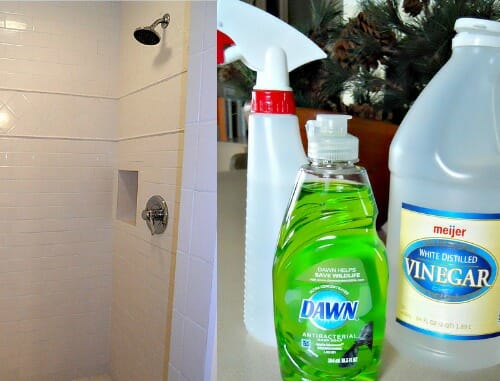 4. A Natural Way to Kill Weeds.
This doesn't work quite as well as RoundUp, but if you're looking for a natural, child and pet-safe weed killer, this is a great option.
Mix 1 t. of dish soap with 1 c. of salt and 1 gallon of white vinegar. Pour or spray the solution on weeds sprouting in the cracks and crevices of sidewalks, front walks, and patio pavers . Then wait a few days for them to shrivel up and die!
NOTE: this is NOT good for plants, so try to avoid plant leaves when spraying this!
5. Laundry Stain Remover.
My aunt actually shared this tip with me years ago — and she learned it on a whim while they were camping.
She has 5 boys (hello clothes stains) and forgot to bring any type of stain remover along on their camping trip. So in a desperate attempt to save her boy's clothing, she tried dish soap, and it worked perfectly!
6. Clean Oil Stains from Concrete.
We have a nice, easy-to-clean painted garage floor (which we absolutely LOVE). However, that wasn't always the case. We used to have a very stained and chipped and yucky garage floor.
I found that by covering the stain in baking soda, pouring some dish soap over it, and then scrubbing with a bristle brush, you can actually get stains out of concrete.
Please note that this method might not work on long-standing stains, but it is a pretty quick, simple, and frugal fix for more recent stains.
7. Safely Clean Granite or Other Natural Stone Counters.
When we renovated our kitchen in 2012, we knew we wanted granite counters. We found a great deal from a local company (here's the link) and are THRILLED with how they looked.
However, I knew I couldn't clean my new granite counters with my beloved vinegar kitchen spray as vinegar can etch away at granite and other natural stone surfaces.
So I found a homemade granite countertop cleaner that works really well — just a little rubbing alcohol, dish soap, and water!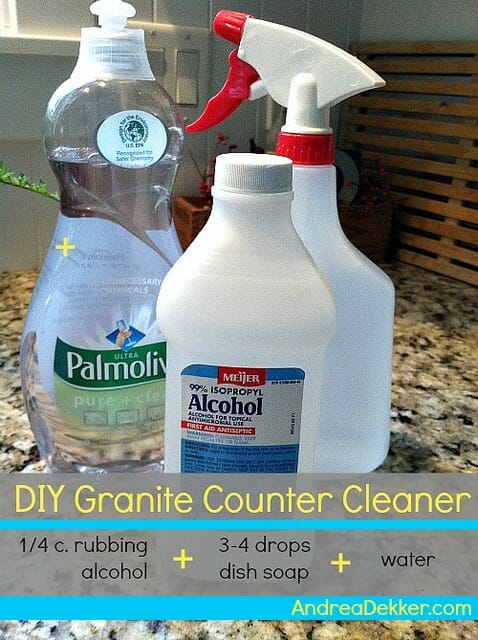 8. Remove Greasy Buildup from Hair.
I personally have really dry hair, but I have friends with very greasy hair and they periodically scrub a bit of dish soap in their hair after shampooing with regular shampoo. This apparently helps to remove any extra greasy buildup in their hair.
It's also a great way to get sticky stuff like Vaseline, peanut butter, etc. out of your hair (not that we've ever had any experiences with this!)
9. Homemade Bubbles.
With just a little water, corn syrup, and dish soap, you can make endless amounts of homemade bubbles and keep your kiddos occupied for hours and hours!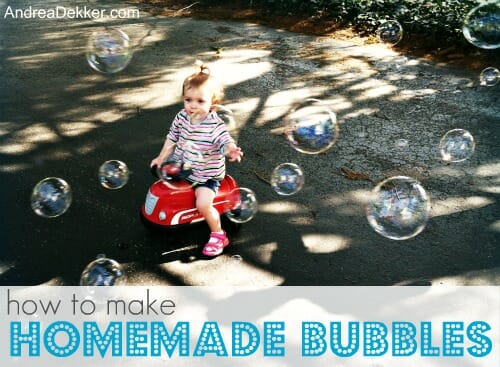 10. DIY Ice Packs.
Squirt a cup of dish soap into a tightly sealed baggie (I usually double-bag it) and put it in the freezer for a few hours. It won't quite freeze all the way, so it's a perfectly pliable ice pack for your lunch box or for body injuries.
Not only is this a really simple way to make your own ice pack, it's also a fun experiment to try with kids!
.
I'm sure I could keep going with this list for a while — there are just so many different ways to use a simple bottle of dish soap. And, since you can get dish soap for $0.99 a bottle at my grocery store (sometimes even less) I'd say it's a pretty frugal way to go!
One thing to mention, I usually buy Method dish soap (pink grapefruit scent) for our everyday dish soap needs. However, I buy the blue Dawn dish soap for many of these special uses (bug and weed killer, shower and concrete cleaners, bubbles, etc). I've found that for some reason, the blue Dawn really does work best!
What are your favorite non-dish uses for dish soap?